Busan
Busan Sex Guide advises where to find sex, working girls, prostitution, street hookers, brothels, red-light districts, prostitutes, erotic massage parlors, strip clubs and escorts in Pusan, South Korea.
Busan (부산, 釜山, [1]) (formerly romanized as Pusan) is a city located in the south-eastern province of South Gyeongsang, South Korea.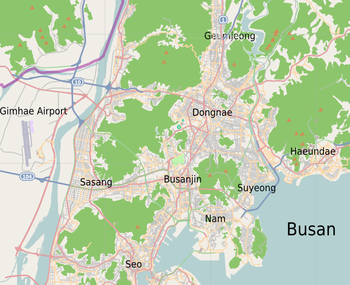 Sex Scene and Prostitution
Prostitution in South Korea is illegal, but according to The Korea Women's Development Institute, the sex trade in Korea was estimated to amount to 14 trillion South Korean won ($13 billion) in 2007, roughly 1.6 percent of the nation's gross domestic product.
The number of prostitutes dropped by 18 percent to 269,000 during the same period. The sex trade involved some 94 million transactions in 2007, down from 170 million in 2002. The amount of money traded for prostitution was over 14 trillion won, much less than 24 trillion won in 2002. Despite legal sanctions and police crackdowns, prostitution continues to flourish in South Korea, while sex workers continue to actively resist the state's activities.
Hundreds of thousands of Chinese women (both Han and Korean Chinese) are engaged in the prostitution businesses such as hotel, massage parlor, noraebang room, room salon and so on in Korea.
Sometimes it can be difficult to get services from Korean working girls in Busan if you are a foreigner.
Red Light Districts
Green Street is the biggest Red-light district in Busan. Korean prices are 70k for 30 minutes, about 120k sometimes for Japanese (because they are willing to pay more and having often more money than other customers), and about 70-80k for 30 min if you're any other foreigner. As with all RLDs, some are Korean only. You can get there from Jagalchi Station Exit 2, bear left. Cross the street and walk past the 7-11. Keep going down Gudeok road and turn left at the traffic light. After about a block on Cheonma road, turn right, go all the way down and turn left. You may have to walk up some steps. It is a glowing pink terrace, looks like a Sonic level or something. (Google Map Coordinates: 35.0945,129.0212)
Haeundae is the most infamous red light district in Busan. From the Haeundae subway station, take exit 5 toward the beach. Turn right on the street before the main one along the beach. Go all the way down, past the Family Mart and Dongsung Motors car dealership. Make a right, past the first left, past the big parking lot, and make the second right. In this side street, make the first right after the small parking lot. The whores will all be on the right side, smiling at you if you're drunk, grimacing at you if you're white, or ignoring you if you're black. Short Time Service is about 100k, bareback service is sometimes also offered but like it's written above, your chances as a foreigner of getting even a belly rub are low. This is by no means the only P4P location in Haeundae, just the highest quality one. The girls might be filthy, but they are mostly good-looking. You can try your luck at the many double-barber pole places around the area. (Google Map Coordinates 35.16 , 129.157)
Minam area. Take Exit 10 at Minam Station, take a right. Alleys on either side of the pedestrian bridge. Some of them are older women, better service, no rush, shower and toothbrush included. (Google Map Coordinates: 35.2071, 129.07071)
The area known as the "Foreigners' Shopping Street", but commonly referred to as Texas Street is cleaned up and less obvious than some. A lot of Russian influence here. Most places cater to foreign sailors. In the day, it's a decent shopping area, though nothing to go out of your way for. At night, the shops close down and the hostess bars and nightclubs open, changing the place into a low-key red light district. But still pretty safe, like anywhere in Korea, to stroll around in and explore. Of course you should use common sense when visiting this area.
Deokcheon/Gupo area. There are a lot of sexy noraebangs around the Gupo market, incall/outcall services between Deokcheon and Gupo, and on the outskirts of Deokcheon. Across the street from Kappa Sushi there's Eros noraebang right on the main street. That area is pretty seedy, judging by the prostie ads. Services in this area is not too much recommended. You are essentially paying 50k to feel disappointed and ashamed of yourself.
Prostitutes and Sex Workers
Most prostitutes will not risk their health with anyone with possible HIV/AIDS risk for any amount of money. Korea's HIV rate is extremely low compared to the HIV rate for example in the United States of America.
Street Hookers
You can find streetwalkers in Busan from these areas:
One place for mostly Russian and Filipina street walkers in Pusan is Texas street.
Strip Clubs & Lap Dance
There are probably not any strip clubs in Busan or they are somewhere underground and very difficult to find.
Brothels
There is a small brothel boulevard very close to the famous Haeundae Beach. Down a little alley just across the street from the bustling and bright beach is a row of windows, like salon windows. At night, while bars and clubs on all the adjacent streets and alleys are intoxicating the men and women of Haeundae, the alley of big, glass windows is attracting customers as well. There are lots of girls behind the windows wearing neon bras and a few inches of spandex around their hips, balanced on toothpick legs that teetered on transparent, plastic platforms. There are no red lights, no barber poles spinning in opposite directions. It's not sure if they take any westerns as customers.
Check out red light districts in Busan.
Erotic Massage Parlors
You can notice these kind of salons of two spinning poles outside.
Check out red light districts in Busan.
Transsexuals / Shemales
You can find from internet trannie escorts in Busan.
Gay and Lesbian
Beomil area is the gayest part of Busan, and it's still not very gay. There's no red-light district here, just dozens of back alley gay establishments. Start with Banana bar, the bartender is a friendly bloke and will hook you up with a little gay map of all the gay hook up spots in Korea.
Here is a list of gay saunas and bathhouses in Busan (men only):
JACK'D, Jwacheon station Line 1, Exit 7, 4F
Dong-Kyong Sauna, Seomyeon Station Line 1, Exit 8, 2F
Bohemian Hyugetel 보헤미안 휴게텔, Small side alley Jjajang, kt남부산지사 정문 맞은편 쟁반짜장 옆 골목
Samson Hyugetel 부산삼성휴게텔, 5/F 666-2 Jeonpo-Dong, Busanjin-Gu, 5F, Subway Seomyeon Station Exit 8
올림픽사우나 Olympic Sauna, Choryang 3-dong, dong, 1203-3, 2F
Otoko Hyugetel 휴게텔은 오또, Jwacheon station Line 1, Exit 7, 4F
K Hugyetel, Jwacheon station Line 1, Exit 3
Busan Feel Spa & Gay massage, Jeon Po Dong, Sae Jong Grangsia C Dong 1701. Every day 02:00 a.m. - 02:00 p.m.
Sexual Services for Women
Sex Shops & Adult Stores
It's probably easiest way to buy sex toys, sex essentials, lingeries etc. online in South Korea. Most used online sex shop is called Sexy With Me.
Escort Services & Agencies
Sleeping
Stay Safe
Generally speaking Busan is as safe as most places in South Korea, which is to say very safe.
Busan is very safe to roam around freely at night. Be a little bit cautious when most bars close at around 3AM. Do note that some bars stay open until the business dies down and in many cases this may not be until sunrise. Also take care in the area around Busan Station. If any place could be deemed seedy in Busan (which would be a stretch) this area could be considered so.
On the metro late at night, you may encounter elderly men who are rather vocal, and under the influence of alcohol, who may be unpleasant towards you. This is however unlikely to be dangerous, and you should just move to another metro car.
There are occasionally sand storms from China covering Busan. You should avoid going outside if one passes through.
Every summer the local press gets very concerned about foreigners behaving badly on Busan beaches, usually by photographing Korean girls wearing bikinis, although the same press publishes similar photos of foreign women on Busan beaches. Since it can be a police matter, be careful what pictures you take on the beach.
See Also