Guangzhou
From WikiSexGuide
Guangzhou Sex Guide advises where to find sex, working girls, prostitution, street hookers, brothels, red-light districts, prostitutes, erotic massage parlors, strip clubs and escorts in Guangzhou, China.
Guangzhou or Canton (广州) , the capital of Guangdong Province, is the third biggest city in China after Beijing and Shanghai with a population of more than 12 million. Founded in 214 BC, the city has been a springboard for trading, cultural exchanges, many revolutions and reforms, making it an unavoidable stopover to understand what shapes the modern China.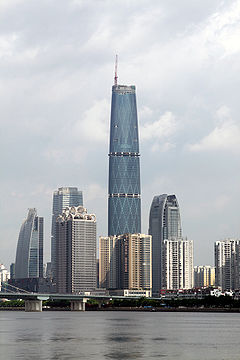 Sex Scene and Prostitution
In Guangzhou there are prostitutes everywhere, and although it is illegal, it's hardly like if they try to hide the fact that they exist. You can find prostitutes everywhere in China, in the 发廊's (those small hair saloons), massage parlors and pretty much anywhere in close vicinity to hotels etc. These places work in close relationship with the police (at least the sucessful ones), and they are notified hours or even days before raids etc. Obviously there is corruption involved. The police get payed money or get free visits, or maybe both in exchange for information.
Sex tourism is a big business in China. Almost every five-star hotel has a group of women hanging around that offer a variety of services for male travelers. Many hotels, including state-owned ones, employ the prostitutes themselves.
Red Light Districts
A red-light district is a part of an urban area where there is a concentration of prostitution and sex-oriented businesses, such as sex shops, strip clubs, adult theaters, etc. The term originates from the red lights that were used as signs of brothels. There are areas in many big cities around the world which have acquired an international reputation as red-light districts. Some red-light districts have acquired a touristic interest beyond sex tourism, and can be perceived as places of artistic, historic or cultural interest, whether or not they still serve the sex trade.
Probably the most famous red-light districts in China are located in Shanghai, Shenzhen and Dongguan.
See also: List of red-light districts
Prostitutes
Prostitution is illegal but practiced openly. Prostitutes work out of five-star hotels, karaokes, entertainment centers, dance halls, boxing clubs, beauty parlors, hairdressers, barbershops, saunas, bathhouses, massage parlors, nightclubs and on the streets. Prostitutes operate openly in almost every major hotel in China. In one survey, 10 percent of sexually-active men admitted having paid for sex with a prostitute. Single foreign men often receive phone calls from prostitutes in their hotel rooms.
The women who works as prostitutes in Guangzhou come from very different places of life. Some of them grew up in poor villages and came to the city to find job so they can support their families. They end up as prostitutes because they can't find a well paid job, and prostitution, although considered unmoral, is good money for a relatively easy job.
Street Hookers
You can find street walkers in Guangzhou from these areas:
Often about 10 working girls in an alley of Sha Wei Village.
Garden Hotel area. Not that great, and is hit or miss.
Strip Clubs & Lap Dance
There are no official strip clubs in Guangzhou, but there should be lots of them "underground". Taxi drivers often know right places.
Karaoke
Prostitution and karaoke often go hand and hand. By one count there are over a thousand karaokes in the Guangzhou-Shenzen area that offer the sexual service of 300,000 women, most of them migrants from Sichuan. The Enjoy Business Club karaoke parlors in Guangzhou have singing rooms in the downstairs rooms and sex upstairs in private rooms.
Here are some KTVs in Guangzhou:
Kama Nightclub, 248号 Hengfu Road, 金怡楼. is a place to pick up "working girls". Every race of girls have their corners Blacks, Russians, Latinas and Asian. The KTV here houses more than 80 luxuriously-decorated rooms, with the price ranging from 480RMB to 2,380RMB. Ever room is equipped with Internet access. Guest can also enjoy live broadcast of the games, matches, concerts and others vie the satellite television service. The Kama Club houses rich music elements. There are different themes every month.
MIAMI NICHIS 迈阿密夜酒吧, Tel:020-87592009. Guangzhoushi Tianhe Road #621,15F West Tower, (广州市天河路621号15层(天娱广场西塔楼))
Ye Yan Club Ktv 夜晏国际会所, Tel:020-87590111. Guangzhoushi Tianhe Road #621,16F West Tower, (广州市天河路621号16层(天娱广场西塔楼))
Jia Zhou Hong Ktv & Bar 加州红Ktv&Bar, Tel:020-87576278. Guangzhoushi Tianhe Road #625,11F. (广州市天河路625号11楼(天娱广场))
Agile KTV 雅居乐KTV, Tel:020-8112-3188. Foshanshi Nanhaiqu Yanbu Suiyanlu Foshan Agile Hotel 2F, (佛山市南海区盐步穗盐路佛山雅居乐酒店2楼)
Brothels
Brothels are often disguised as hair salons or operate out of working hair salons. They are common sights in cities and towns of all sizes and operate for the most part without any interference. Pimps outside barber shops boast that their girls are cheap, beautiful and da pao ("set off a bang"). The usual charge is around $25.
Hostess Bars and Three-Accompany Girls
In China, there are many hostess bars, places where young ladies entertain, chat up, flatter and pander to male customers by lighting their cigarettes and pouring their drinks. The women generally don't have sex with the male customers. Hostesses are generally prohibited by their employees from dating their customers after they get off work.
Women who work at nightclubs, hostess bars and karaokes are often called "san pei xiaojie" (literally "three accompaniment girls," meaning drinking, singing and dancing). They "accompany" men as they drink, dance and sing karaoke. Although many limit themselves to serving drinks, singing and dancing others will do more if the price is right.
Kama Nightclub, 248号 Hengfu Road, 金怡楼. is a place to pick up "working girls". Every race of girls have their corners Blacks, Russians, Latinas and Asian. The KTV here houses more than 80 luxuriously-decorated rooms, with the price ranging from 480RMB to 2,380RMB. Ever room is equipped with Internet access. Guest can also enjoy live broadcast of the games, matches, concerts and others vie the satellite television service.
Erotic Massage Parlors
In Guangzhou, it's not difficult to find an erotic massage parlor which offers happy ending massage as most saunas in Guangzhou provide such services. Also, in some hotels and spa centers, technicians will ask you if you want to have extras after the normal massage services are finished. The rate of these services are usually no more than 500 RMB in Guangzhou. Many popular erotic massage parlors as well as their reviews can be found on Guangzhou Happy Massage like Deyi Sauna, Waterway Spa Hotel and No.9 Spa Club etc.
There are tens of hudreds of erotic massage parlors in Guangzhou. Here are some of those erotic massage parlours or spas, where you can get at least happy ending:
Foshan Centenio hotel's Sauna in 5th floor: You pick up your girl then start your time 2 hours. Girl with FS costs 800 - 900RMB including the room.
South America Leisure Hall 南美休闲会馆(滨江西路店), Address:No.16, Hai Ming Street, Bingjiang West Road, Haizhu District, 地址:海珠区滨江西路海鸣街16号南美大酒店内(近人民桥). Tel:020-34345540, 28377777.
Haisha Health Center 海莎健康中心(现改名叫海星桑拿), Address: 3/F, Block A, Huahai Building, No.232, Jiangnan Avenue, 地址: 海珠区江南大道中232号华海大厦a座3楼. Tel:020-84414213.
Anshang Shuitang Spa Club 岸尚水堂水疗会, Address:No.28 Nanzhou Road, Haizhu District, 地址:海珠区南洲路28号. Tel:020-34259500
Star Islands Foot Massage, Address: 123 Yushan West Road.
Jin Long Wan Leisure Club, 106 National Road.
Shangshui International Spa, Inside Panma Chang, No. 668 West Huangpu Avenue. Tel: 3888-0688.
Ocean Hotel Sauna Center, Address: 4 / F, Ocean Hotel. 412 East Huanshi Road, Yuexiu District.
Freelance Hookers
Freelance prostitutes, who work out of beauty parlors, often meet different clients at different places, taking calls from different salon managers on their cell phones. Pimps sometimes solicit foreign customers at first asking for $150 a night for girls displayed on their cell phones and then dropping the price to $80 a night.
Freelancer bars in Guangzhou:
Cafe Xperience 西罗西咖啡吧, Tel:020-8754-9199. Guangzhoushi Tianhequ Longkouxilu#189 1F #1-2, (广州市天河区龙口西路189号首层1-2号)
Transsexuals / Shemales
There are many transsexual escorts advertising online. Check out "Hunting" Gay Bar mentioned in Gay Section. They host occasional drag queen shows.
Gay & Lesbian
Homosexual sodomy was banned in the People's Republic of China from at least the twentieth century, until it was legalized in 1997. In 2001, homosexuality was removed from the official list of mental illnesses in China.
Here are some places to visit in Guangzhou. Taxi drivers can read the addresses if they are not written in western letters.
Gay Saunas and Bathhouses in Guangzhou:
会所金雄汇 Jinxiong Health Club, Regent Terrace Road, Zhujiang New City Golden to Golden Harvest Court, 21F, Room 2107. 珠江新城金穗路丽晶华庭金来阁2107房
芳村会所 Fangcun Club, 芳村大道中珠江隧道旁
广州怡安阁 Guangzhou Yiange Xiu Xian, Yi An Lu 2F. 怡安路2F
LGBT Bars and Clubs:
Rich's 88 贵族酒吧(俱乐部), Tianhe Dasha, Tiyu Xilu. 天河大厦, 体育西路, 天河. For mixed gay and lesbian guests, trannies welcome.
Velvet, (mixed) (1/F no 403 International Electronic Mansion, Huanshi Dong Lu, Chinese Overseas Village, 8732-7801, 8732-7802.)
Gays head to this place when the other clubs empty. Very smoky and crowded place. After 3am they turn down the music and people start leaving. Generous on alcohol. Beware of bartenders are not very honest (double check the prices); rude and incompetent security; pick-pockets. This is a fashionable club with plenty of foreigners and some gays.
SUNS, (on Guangzhou Party Pier. Zhujian old beer factory. On GZ TV Tower side of the river (go east, right after the Liede Bridge.) All taxis know this place because it is the only area that closes late (5-6am) and so straights also go there.
Gay Bars:
红人馆 Bear Pub, 63 Xizeng Road. 西增路63号. For men only. The Chinese name of the pub has nothing to do with 'Bear Pub,' although the place is full of pandas. Directions: "Get off at Metro Line 5 Xi Cun Station, Exit D. Turn right when you get out of Exit D, walk for 50m and then turn right again. Walk through Xi Zeng Rd and you will see a big gate at the end of the road."
Hunting, (north end of Jianshi 5 Ma Lu, next to People's Cafe.). "A new very cool gay bar has opened in Guangzhou. Hunting 's cocktails are great and use real alcohol. Moka, the manager.
Pub186 (at TianHe Beilu and Tiyuxi Lu.). They have a drag queen show and gogo dancers.
Gay Clubs and Discos:
PAPA Club, Taikoo Warehouse No. 3, Haizhou Dist, 155-0788-9944, 186-6566-3102.
PAPA Club is now the biggest gay club in Guangzhou. Since the opening they have made a party every weekend, on both Fri and Sat (same theme). The cocktails are limited and fake, but place is a huge improvement on gay scene. Lot's of muscular Chinese go there.
Rich-e, (Chuang Yi) (Tianhe Bld, 133 Ti Yu Xi Lu, in the west gate of the Sports Center in Tianhe Dist, 3886-2388.)
The English name is a shortened rendition of the Chinese which means "Coming Out Of The Closet." This venue has some of the hallmarks of a genuine gay club. The crowd here is less chic than Velvet, but more friendly. Nice mix of ages and social backgrounds to give a democratic feel, and an absolutely incredible floor show towards 1am, with very well-built male dancers who do erotic, acrobatic dancing. Foreigners are very welcome here but may get somewhat bored with the Chinese obsession with dice and drinking games. Fun crowd at this dance bar.
Gay Spas and Beauty parlors (for men only):
广州OSO质男SPA广州大道店 Guangzhou OSO Spa Guangzhou Avenue, Guangzhou Middle Ave 300. 广州大道中300号
广州OSO质男 SPA五羊屯店 Guangzhou OSO Spa Wuyang Tuen, Zhong Shan Yi Road. 广州市越秀区五羊新城寺右新马路
Sexual Services for Women
Women have to be careful when ever they hook up with locals in China. You can get some great sex, but you can also get in to trouble. Remember that China still has quite communist minded people. Of course there are also millions of male tourist visiting China every year so if you don't like local men you will find easily foreigners especially in big cities.
Sex Shops & Adult Stores
Here are some sex shops in Guangzhou:
There is one right next to the Ocean Hotel.
Escort Services & Agencies
No matter independent escorts or escort agencies, they put their ads on various escort websites, such as Backpage, Chinadaily,Escort Find and Guangzhou Massage Parlor (with real pics and reviews) through the Internet. The rate of agencies will be a little more expensive than independent escorts as agencies will charge you for the agency fee. Moreover, to attract clients, the pictures of girls in the ads are usually not genuine or have been edited with photoshop(a tool used to beautify pics). Hence, searching for escort services are like buying lottery, sometimes you get a good girl with wonderful services and sometimes you get a terrible one.
Sleeping
Here are some Girl friendly hotels in Guangzhou, which means that you can take a guest (girl) in your room. Hotel names and addresses are also in Chinese if you need to show it to taxi driver:
Ginza Hotel 银座酒店, Address: 228 Yushan Avenue, Shiquao Street, Panyu District, 地址:番禺区市桥街禺山大道228号. Tel:020-34810888; 34811333.
Yingshang Jinyi Hotel 迎商·金艺宾馆, Address: 318 Dade Road, Yuexiu District, 地址:越秀区大德路318号. Tel:020-83397788.
Fortune Hotel 莱福广武酒店, Address: 603 Tianhe Road, Tianhe District, 地址:天河区天河路603号. Tel:020-61213888.
Guangzhou Easun Guotai Hotel 易尚国泰大酒店, Address: No.376 Huanshi Dong Road, Yuexiu District, 地址:越秀区环市东路376号. Tel:0086-20-86009099.
President Hotel Guangzhou 广州总统大酒店, Address: No.586, Tianhe Road, Tianhe District, 地址:天河区天河路586号. Tel:020-85512988.
Bravo Hotel Guangzhou 广州番禺喜悦假日酒店, Address: NO.223, North Guangming Road, Panyu District, 地址:番禺区市桥光明北路223号. Tel:020-84892888.
Guangzhou Sheraton Hotel 广州粤海喜来登酒店, Address: Tianhe City, NO. 208, Tianhe Road, Tianhe District, 地址:天河区天河路208号天河城内(近体育中心). Tel:020-66688888.
Guangzhou Marriott Hotel Tianhe 广州正佳广场万豪酒店, Address: NO.228, Tianhe Road (near sports center), 地址:天河区天河路228号(近体育中心). Tel:020-61088888.
Water Way Hotel 水善坊酒店, Address: NO.163, Souh Donghua Road (near Peizheng elementary school), Yuexiu District地址:越秀区东华南路163号(近培正小学). Tel:020-83806868.
Landmark International Hotel – Guangzhou 华厦国际商务酒店, Address: No 39-49 Linle Road, Tianhe District, 地址:天河区林乐路39-49号. Tel:(8620)37855988.
Stay Safe
Guangzhou, which has been the first open port in China, is generally tolerant of different cultures. Crimes that target foreigners are not common despite the city's reputation for petty crimes. Pickpockets are active in shopping area and transportation hubs. Safety has improved a lot since the 2010 Asian Games but the best defense, as always, is to avoid flashing your valuables in public, wandering around alone late at night. Use only official taxis and change money at banks instead of grocery stores.
As the richest province of China, it has attracted an enormous number of immigrant workers from other mainland provinces and some developing countries. Drug trafficking is a serious offense and foreigners are not exempted from the death penalty. The police is known for expanding its Arabic- and English-speaking forces to deal with the rising drug trade among foreigners.
Traffic conditions in Guangzhou have drastically improved in recent years and rules are practiced - relatively. However, like everywhere else in China, cars do not yield to pedestrians and zebra crossings are for display only.
Emergency numbers are: Police: 110; Fire: 119; Medical: 120; Traffic accident: 122
See Also