South Korea
South Korea Sex Guide advises where to find sex, working girls, prostitution, street hookers, brothels, red-light districts, sex shops, prostitutes, erotic massage parlors, strip clubs and escorts in Korea, Asia.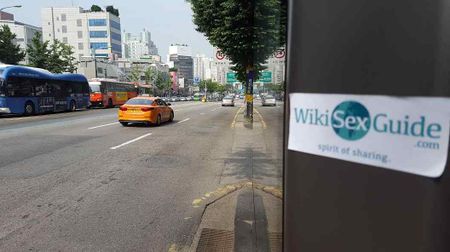 South Korea (Korean: 한국, 韓國 Hanguk) [1], formally the Republic of Korea (대한민국, 大韓民國 Daehan Minguk) is a country in East Asia. South Korea occupies the southern half of the Korean Peninsula, with North Korea to the north, China across the sea to the west and Japan a short ferry ride to the southeast.
Sex Scene and Prostitution
Prostitution in South Korea is illegal, but according to The Korea Women's Development Institute, the sex trade in Korea was estimated to amount to 14 trillion South Korean won ($13 billion) in 2007, roughly 1.6 percent of the nation's gross domestic product. 46,000 brothels operate within the prostitution industry within South Korea.
The number of prostitutes dropped by 18 percent to 269,000 during the same period. The sex trade involved some 94 million transactions in 2007, down from 170 million in 2002. The amount of money traded for prostitution was over 14 trillion won, much less than 24 trillion won in 2002. Despite legal sanctions and police crackdowns, prostitution continues to flourish in South Korea, while sex workers continue to actively resist the state's activities.
Hundreds of thousands of Chinese women (both Han and Korean Chinese) are engaged in the prostitution businesses such as hotel, massage parlor, noraebang room, room salon and so on in Korea.
Since the collapse of the Soviet Union, young Russian girls have been commonly seen in the red district of Korea. They can be found in the bars, strip club and coffee shop for entertaining the customers. Between January 2000 and March 2001, approximately 6,000 Russian women entered Korea through Busan port and Gimpo. In 2000, 3,064 Russians entered South Korea on E-6 visas, 2,927 of them women (Jhoty, 2001).
South Korean officials are also trying to get rid of the prostitution, if you read the statistics.
In 2009, security services in South Korea arrested 73,000 people for various prostitution charges across the country. In 2012, the number was 21,123 people.
Although final figures were unavailable, South Korean media stated that criminal justice programs increased enforcement in 2013 due to criticism on the lower arrest rates. In a single day in December, authorities arrested 650 people for prostitution related charges. During the raids, the Seoul Metropolitan Police Agency shut down 231 illegal casinos and brothels that were operating across the city.
Between November and December 2013, criminal justice agencies shut down a total of 76 illegal bordellos that were operating in South Korea.
South Korean law mandates that men who are arrested for prostitution solicitation must attend "sex offender schools" in an attempt to lower repeat offenders. In 2009, the number of men forced to attend the classes peaked at almost 35,000. In 2011, the number of men dropped to 7,400. Criminal justice officials in South Korea believe that the decline in attendees is not because there are fewer men visiting sex workers, but due to the difficulty in detecting prostitution. A government report estimated that there were 147,000 sex workers in South Korea.
Regions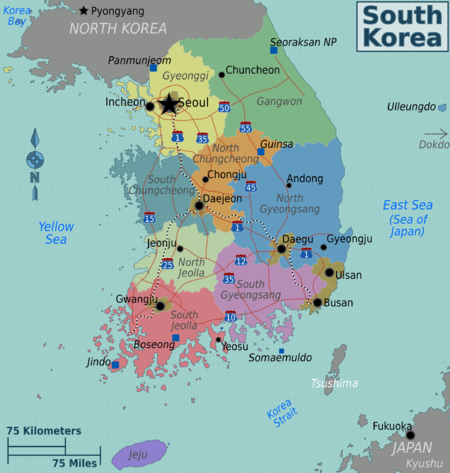 Gyeonggi
surrounding Seoul and covered in its urban sprawl. Notable Places: Korean Demilitarised Zone, Suwon.
Gangwon
natural wonderland; Seoraksan National Park, east-coast beaches and ski resorts. Notable Places: Chuncheon
North Chungcheong
landlocked province filled with mountains and national parks. Notable Places: Danyang, Cheongju.
South Chungcheong
central western part of the country. Flat area made up of rice paddies. Point where main train lines and highways converge and known for its hot springs. Notable Places: Daejeon, Gongju, Boryeong.
North Gyeongsang
largest province and richest area for historical and cultural sites. Notable places: Andong, Gyeongju and the islands of Ulleungdo.
South Gyeongsang
known for its gorgeous seaside cities and most respected temples. Notable Places: Busan, Haeinsa Temple, Jinju.
North Jeolla
Great Korean food. Notable Places: Jeonju
South Jeolla
Lots of beautiful small islands and landscape, fantastic food (especially seafood along the coast) and good for fishing. Notable Places: Gwangju, Boseong, Yeosu.
Jeju
Korea's honeymoon island, built by a volcano. Great scenery with wild flowers and horseback riding. One of the few places you may need a car.
Cities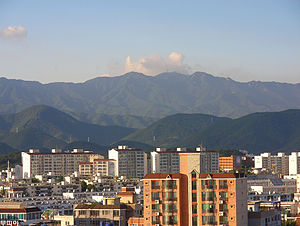 Live Sex Cams
Can I watch Live Cams in South Korea? - Yes, you can! Basically you can watch our online live sex shows for free anywhere in the world if you're connected to internet. You can choose any girl from our trusted Live Sex Cams! Join to get 10 free private teasers and 9.99 credits for free!
Live Sex Cams are booming at the moment. Webcam models can be found from all over the world and you can find girls, guys, trannies, couples and groups of different ages performing to you. Watching live sex shows is usually free, but if you buy some credits, you will have much better chances to see adult action as desired! It's possible also to hire a webcam model to a private chat room where you can ask the person to fulfill your fantasies.
Dating
Dating in South Korea can be a bit tricky due to cultural differences, so your best bet is to sign up for a dating site before your trip so you can meet a few locals ahead of time. AdultFriendFinder.com lets you meet local members in South Korea and get to know them on a personal basis before you arrive. Take advantage of site features like live chat and member to member webcams so you can begin flirting before arranging a face-to-face meeting. Since your time in South Korea may be limited, get to know each other's desires beforehand, so that when you meet you can start having some real fun.
Gay & Lesbian
Lesbian, gay, bisexual, and transgender (LGBT) people in South Korea face legal challenges and discrimination not experienced by non-LGBT residents. Male and female same-sex sexual activity is legal in South Korea, but same-sex couples and households headed by same-sex couples are currently not entitled to the same legal protections available to heterosexuals.
Homosexuality in South Korea (Republic of Korea) is not specifically mentioned in either the South Korean Constitution or in the Civil Penal Code. Article 31 of the Korean Human Rights Committee Law states that "no individual is to be discriminated against on the basis of his or her sexual orientation." However, Article 92 of the Military Penal Code, which is currently under a legal challenge, singles out sexual relations between members of the same sex as "sexual harassment", punishable by a maximum of one year in prison. The Military Penal Code does not make a distinction between consensual and non-consensual crimes and names consensual intercourse between homosexual adults as "reciprocal rape" (Hangul: 상호강간; Hanja: 相互强姦). But a military court ruled in 2010 that this law is illegal, saying that homosexuality is a strictly personal issue. This ruling was appealed to South Korea's constitutional court, which has not yet made a decision.
Korea Escorts and Escort Services
Check out WikiSexGuide Adult Classifieds!
Stay Safe
South Korea is a very safe country, with reported crime rates much lower than in Western countries. Look up the violent crimes rates and rankings for the world. South Korea and Japan are two of the safest and most orderly nations in the world. It is safe to walk around at night even in the major cities. The threat of violent crimes against locals is low and virtually nonexistent against tourists. Just don't go around picking fights. The only foreigners who encounter trouble in Korea are drunken ones that provoke fights at bars or clubs.
An understandable concern about traveling to South Korea is the possibility of war. It should be noted that this concern has existed since the end of the Korean war over 60 years ago, and in all that time there have been very limited hostilities. Wikipedia will give you a good idea of the recent history.
See Also