Budapest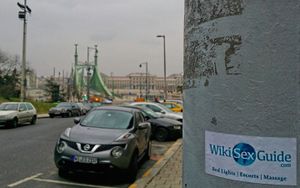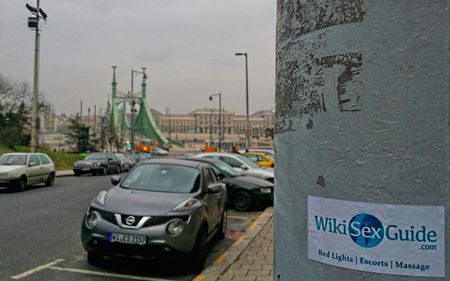 Budapest Sex Guide advises where to find sex, working girls, prostitution, street hookers, brothels, red-light districts, prostitutes, erotic massage parlors, strip clubs and escorts in Budapest, Hungary.
Budapest (Approx. Hungarian pronunciation: "boo-dah-pesht") is the capital city of Hungary. With a unique, youthful atmosphere, world-class classical music scene as well as a pulsating nightlife increasingly appreciated among European youth, and last but not least, an exceptionally rich offer of natural thermal baths, Budapest is one of Europe's most delightful and enjoyable cities. Due to its scenic setting, and its architecture it is nicknamed "Paris of the East". This is Budapest sex guide to tell where to find prostitution, hookers, brothels and escorts in Budapest, Hungary.
Sex Scene and Prostitution
Budapest is a famous prostitution city in Europe. Prostitution in Hungary has been legalized and regulated by the government since 1999. Under the law, prostitutes are basically professionals who engage in sexual activities in exchange for money. The government allows this activity as long as they pay taxes and keep legal documents.
According to the law, local authorities are obliged to mark zones for legal prostitution if there is profound local need. Most local authorities deny the existence of such need, and they often refuse to designate such zones. The trade union of Hungarian prostitutes is still fighting for the zones. There are strict conditions under which prostitutes are to operate, keeping distance away from schools or churches. It is illegal to lend a flat to a prostitute, or to run brothels.
See also: Budapest Escorts
Budapest Female Escorts
Check out WikiSexGuide Adult Classifieds!
Red Light Districts
Budapest has a reputation for being a kind of massive red-light district. This may have been true once, and the laws may well still be more accommodating here (or look the other way more concertedly), but for a visitor keen on something other than sex the red light district is basically invisible and with the exception of the occasional strip-club emerging after 9:00pm (there are a total of two that assert themselves in the center city) and a handful of x-rated video shops, the sex industry has no real marketing presence for those not seeking it out. Most sex business these days in Budapest happens indoors because this is much easier and safer for the working girls.
Prostitutes and Sex Workers
Prostitution itself is not a crime, but providing support for it or deriving any kind of profit from it is.
Despite this Budapest is known to many as the capital of sex. They make no secret of the fact that they travel here because of the extensive sex industry and because the prices of sexual services are lower. Another thing that makes this possible is the current attitude of the law enforcement agencies, who turn a blind eye to the enterprises involved with and active in the sex industry.
The foreigners (tourists, businessmen) concentrated in the capital started to discover the girls of Budapest and the possibilities it offered. The most striking thing in this era must have been the enormous difference between the prices. If you were trying to spend a Western salary here, you practically felt like everything was for free. Sex included. Another absolutely palpable difference was and still is the beauty of Hungarian girls. Usually not many people could resist the temptation and started pouring almost all of their money into Budapest nightlife, more specifically into the sex industry.
These days, much of the sex business is in apartments all over the city, with 1-4 girls per apartment. The girls advertise on the internet: you call the number they provided, they give you an approximate location. Then, when you are near the location, you call again and they provide exact address and the number to ping at the gate so that they can let you in. Generally, girls tend to speak at least a minimal amount English necessary to conduct business (although by and large their clientele is local). Some websites also indicate the languages a specific girl speaks.
Prices vary. Most girls who advertise on the web charge HUF 10,000 (33€) for half an hour, HUF 12,000 (40€) for an hour. Some are slightly more expensive. Sex in brothels can be as low as this and as high as triple the price. On the street, girls often ask very high prices and you need to negotiate. Starting prices can be as high as HUF 20,000-25,000 (66-80€) for one hour.
Street Hookers
You can find street prostitutes in Budapest from these areas (note that these areas frequently change as police sometimes close a location down in effect, by placing a few officers on the spot for the entire night), weekends are always best time to search street girls. Most girls come out around 10pm and work all night.
You can find lots of girls standing in front of different hotels in city center. You will get a BJ for about 10-20 000 HUF and one hour suck and fuck around 15-30 000 HUF depending your looks and negotiation skills. You can also pay in Euros.
In Budapest's main street Váci Utca there are always girls jumping on foreign tourists and businessmen. A good place to spot these pro ladies is the terrace close to the Burger King.
Street action is also taken place near the Meridian hotel and between Szabadkai and Gubacsi street.
You can usually also find street hookers in Thököly street (between Dosza Gyorgy and Hungaria), Chazar Andras Utca Ulloi street, near Budapest Kileti Pu railway station and the rather seedy area around the Ferencvaros railway station.
Another good hunting ground makes the area between the hotel Sofitel Budapest Chain Bridge and the river Danube.
In the Népliget Park nearby the TIT Planetarium Budapest you can also find often street hookers.
When you have a car at your disposal you could go into the direction of Gyor, Dabas or Kecskemet, where you will notice a lot of hookers waiting along the road.
Nepliget International Coach Terminal (Nepliget Volanbusz palyaudvar) and the West End shopping centre nearby: especially around the Burger King and the metro station you can find a lot of roma girls offering sex for money. Note that the West End area is only during the day - police stop the action at night.
Blaha Lujza square, sometimes gipsy streetwalkers can be spotted here.
InterContinental Budapest, in the area around this hotel on Apaczai Csere J. u. 12-14 you can spot many Roma girls willing to join you to your hotel or apartment.
Astoria, in the underpass and above ground, on the northeast side (corner of Rákoczi and Károly körút) there are a number of streetwalkers. They also stroll a half a block on the north side of Rákoczi and on Károly körút up to the theater.
Üllői út - this is the road to the airport. There are girls near Nagyvárad tér (primarily on the right side when driving to the airport) and further down, towards Határ út. Some are especially pretty, but some seem very youmg Most of the action is between 10 pm and 1 am.
Kamara erdő, on the outskirts of the town, near the motorway to Vienna.
Teréz körút, on the entire street (north side only) but especially closer to Octogon. Their primary haunt is in front of the McDonalds near Octogon. The stroll area then continues down on Andrassy ut to Opera.
Rákóczi út, on the are around the Burger King (Rákóczi út 1-3), you can find streetwalkers at nighttime mostly only on weekends.
Strip Clubs & Lap Dance
They come in two varieties. In most strip clubs, it's extremely difficult to get sexual services from the dancers if they are obeying the rules. Instead they might offer you a two-girl private (15 min) lesbian show for about 30 000 HUF (local money).
Then there are a handful of clubs where sex is available, but not with all dancers. Usually, there are one or two girls available for sex, who are usually much less pretty than the dancing-only girls. In addition, there are some brothels that disguise themselves as strip clubs, but those are listed below under "Brothels".
In Budapest strip clubs you will find very sexy strippers who of course dance for you and if you are lucky and the girl really likes you it is possible that she will touch your privates or kisses you but that is really an exception.
At some strip and gentlemen´s clubs you can get private dance or a traditional dance on your table, lesbian show, a show with things pulled out of vagina and so on. Also sometimes customers are pulled up to a stage to do a show with the dancers.
Some nude bars require you to pay entrance and some don´t. But usually the ones with free entrance have an increased price for drinks.
Almost all strip clubs also offer a taxi or limo service to bring you to their club and not like many other cab driver to the rip off clubs. Be aware of the rip off strip bars! In general you can say that only go in recommended clubs, not only avoid the stated rip off clubs because there is a number of clubs which are mostly unknown, also the rip off clubs change their name often.
Warning: watch the drink list closely when you are ordering drinks at strip clubs. Sometimes they try to con you having small prints hidden (on last page?) in the lists and you will end up paying high extra charges.
Here is a list of no-sex strip clubs in Budapest:
4 Play, Nagymező utca 49, 36 1 705 7510
Rather like a pub.
Dolce Vita • Október 6 u 5 • 00-36-1-266 4049
Be a careful when visiting this club. The usual trick is €50 drinks for the girls and so on. They often have a sexy girl standing in the street near the Costa coffee to try and get you to come in.
P1, 1051 Budapest, Podmaniczky Frigyes tér 2., +36 20 333-8679
Open: 9 pm - 5 am. Unlimited all night drinking for 50€ if you arrive by their free limo service. About 15-20 sexy girls work at the same time each night.
50 Euro will get you unlimited drink consumption including premium drinks (except champagnes), free admission, free car services (available in one direction), VIP service and table. Restaurant open 7pm - 1am & Club: 9pm - 5am, Closed at December 24, 25, 26, and 31. Free taxi service +36 20 222-44-22
X-Play Night Club (formely known as JET Night Club), Budapest VII, Akácfa utca 7
The most clients are brought in by taxi drivers who receive a percentage of the fee. The cost of drinks is normal, but there is a minimum18.000 HUF (60€) drink charge fee (written in small letter on the menu). Wine is usually charged 48.000 HUF (155€).
Royal Delight Night Club, Budapest XI. district, Herceghalom utca 3.
This club is quite new and far from the centre. Quality of the girls is rather low, and after a free entrance exorbitant amounts of money are charged for the first drink, sometimes as much as 18.000 HUF (60€).
Dream Night Club, Budapest VI., Teréz körút
Overpriced drinks and said to be one of the most dangerous clubs in Budapest. Relatively new club, close to the centre of Budapest, in the 6th district, on the corner of Teréz körút and Aradi út.
Carpe Diem Night Club (formerly known as Flash Dance), Budapest V., Váci utca 32.
Located on the main street of Budapest, Váci utca. Very small club with super high prices. Not recommended because one dance can cost hundreds of euros.
Broadway Cafe (former Sin City), Budapest, VI., Nagymező utca 23.
Some scams happened in the past when it was called Sin City, but these days it is said to have better reputation and customers have not complained as much.
The following strip clubs have one or two girls available for sex, but not all:
Marilyn Table Dance Bar • Baross utca 4 • +36-1/266-56-14
You pay for about 1500-2000 HUF for a pint, entrance is for free and you need to pay for the girls dancing.
Unnamed strip club on Galamb utca, near the Marriott
Peep shows in Budapest:
Several peep shows located in the city centre have also other erotic services on the menu and sometimes girls provide even full service. Most peep shows are located on József körút (like József körút 68). But also on Osvát utca 9 and Ferenc körút 68 you will find establishments.
Brothels / Nightclubs
Brothels in Hungary are not legal but seem to be tolerated to some extent. That said, they are a bit of a dying breed as most of the action is moving to the internet, where the girls who advertise rent their own apartments.
Be careful when asking for the taxi driver's help when looking for sex or brothels in Budapest. They will probably try to steer you to one of the strip clubs, since they tend to pay them the best money. Fine if this is where you want to go, but not so helpful if you want to find new places for sex.
Hotel staff can also recommend prostitutes. Major hotels (and plenty of small ones) tend to have a few girls that they regularly offer to clients. This is a reasonably safe approach as the girls have an obvious stake in playing fair with you.
Zug Bar, One of the oldest and most trustable brothels, with generally a reasonably wide selection. The club operates as a drink bar/topless bar, the girls dance on the stage. It is a bit of out of town, but not too far, about 20 minutes by cab from downtown at night. Open 9 pm to 5 am. Check out their website: Zug Bar - The award from the US Army for "entertaining" soldiers is really funny.
Hallo Bar, Kiraly Utca 65, +36 1 322 4621
Strictly take-out only. On premises, there is stripping only. Recommended because of the beatiful girls.
Club Kiraly, Kiraly utca.70 , 06-1-352 1359
Across from Hallo Bar.
Small club, usually 3-4 girls only. Also operates as a normal hotel.
Mambo Night Club, on Hegyalja út.
The selection varies, and there are sometimes some girls who dance only. A bit pricey, with HUF 30,000-35,000 for an hour, but centrally located, near Elizabeth Bridge on the road leading to the motorway to Vienna.
Sweet Escorts, near Nyugati on Teréz körút.
This brothel does not disguise itself as a night club. You must ring the bell from the street. Security or the owner will come down and lead you upstairs, where there are 4-8 girls usually. Most of them are 30-40 years old and not the best looking ones, but the prices are affordable: about 12,000 HUF for half an hour.
Unnamed brothel, on Perényi út, across the street from the shopping mall.
Dial +36 70 602 9973 for exact address. They like you to book ahead at least 30 minutes. The girls are pretty, but it can be a rip-off. Sometimes you pay full price, and then the girl tells you you are not her type and she will only felate you, etc.
Unnamed Chinese brothel, near KÖKI shopping center.
There are 3-4 Chinese girls with a mama-san. Language is likely to be a barrier as they tend not to speak any language beyond Chinese.
There are also a number of brothels outside Budapest, but not too far, on the roads towards Vác, Kecskemét, etc.
Erotic Massage Parlors
Erotic massages in Budapest are amazing, but they usually do not offer full intercourse. Many independent escorts also provide erotic massage and there are also girls who advertise online and only offer a massage with happy ending, but no sex. These independent massage girls usually charge 15000 HUF (50€) for one hour oil massage including a hand-job. Most erotic massage parlours first make you pay for the massage such as oil massage or thai massage and then you can negotiate with a girl about extra services in a private massage room.
Here are some of the massage parlours in Budapest.
Budapest Erotic Massage, 1143 Budapest, Utasz utca 9, (doorbell nr. 20)
Massage House Rozsa, utca 101, VI. district (Doorbell nr. 61)
Very close to the famous Parliament is located Pesti Masszázs Ház, a stylish erotic massage salon with a large offer of very beautiful masseuses providing excellent service.
A3 - Body Massage located on Vorosmarty Square nummer 2, the girls do not provide full service but some erotic services are on the menu if you wish.
Masszázs Trió, massage salon with many photos of masseuses on site.
Japan Massage, oriental massage salon in city centre (Székely Mihály str 5) offering full body massage and other sensual and relaxing massage techniques, also sauna and jacuzzi available.
My Massage Angels, massage salon situated close to the Buda Royal Castle.
Flora Massage, located 2 minutes from the Urania National Cinema, which is between Astoria and Blaha Lujza Square halfway. Out-calls are possible only within Budapest city limits. Phone number: +3630 9930 681. E-mail: flormasseuse@gmail.com Website: http://flormassage.com/pictures_erotic_massage_budapest.html
There are also two Thai Massage Parlors on Párizsi street and one in Bajcsy-Zsillinszky ut 58 called Jazmin Thai Massage & Spa (Tel: +36 1 269 0601) which is open 10am-9pm. One hour costs 6 500 Ft, but extras are not guaranteed at this Salon.
Escort Service & Agencies
Check out WikiSexGuide Adult Classifieds!
There are many professional Escort Agencies in Budapest that provide you with a wide selection of girl to meet with. Also there is a high number of independent escorts operating in Budapest. For an independent high class escort girl in Budapest will charge around 150€ for the first hour, but usually the cost is 50 to 100€ for the hour with most escorts. If you book more hours or example overnight the hourly rate will be of course cheaper.
Some of the escort pictures usually make a man decide this is a point where not too good looking sex workers try to cheat and when you first meet them it will be hard to get out of this situation.
Swinger Clubs
Swinger clubs in Budapest:
Dreamland Swingers Club, Gitar street 11
Club is situated in the 10 th district. On more than 600 m2 there are smokers and non-smokers rooms: Dance floor, Whirlpool, Sauna & Massage floor, Magic-room, Sadomaso room and special rooms at your disposal ( a peeping room, a mirror room, a dark room, a paint-room, and a lockable room). In bar you can find cold and hot meals, sandwiches, salads and desserts besides the wide range of 45 kinds of drinks, bar shows, erotic shows. The price includes 45 kinds of drinks, hot & cold meals, sandwiches, salads, desserts, party & participation. Couples pay 6000 HUF (20€) and single men pay 15000 HUF (50€). Opening hours: Wednesday 8pm-3am , Thursday 8pm-1am, Friday 9pm-5am, Saturday 9pm-5am. House is about 15 mins from the main train station by cab.
One of the best swinger clubs in Budapest. Classy, high level and very good taste in every single room. The couple who owns the place are great hosts, very friendly and sexy looking. Opening hours and entrance fees on Fridays: 9pm-5am (couples 35€, single females 10€, single males 52€), Saturdays 9pm-5am (couples 42€, single females 14€, single males 52€)
Villa69, Máté Street 55. Tel.+3630/450-7833.
Club Hedonism Swinger Club, H-1163 Budapest, Mt u.55 (+36309993838)
24 hour front desk with express check-out service. Air conditioned club seats 50 persons and we have a pool and sauna as well. Close to BNV and Hungaroring.
Transsexuals / Shemales
Most of Shemale Escorts in Budapest are now days online, but there are not many of them. Usual cost for sex with a tranny escort is 30000 forint (100€ / $110).
Gay and Lesbian
Budapest and Hungary is known for the male escorts. Many of them serve both men and women and there are lots of sexy looking young studs available for low cost. Here are some gay places to visit in Budapest:
Gay Saunas and Bathhouses:
Gaysauna 69, Angyal utca 2. Mo, Tu, We, Th, Su: 01:00 p.m. - 01:00 a.m.; Fr: 01:00 p.m. - 02:00 a.m.; Sa: 01:00 p.m. - 04:00 a.m. Very popular sauna. Massage, Tanning, Private Rooms and Jacuzzi.
Magnum Szauna, Csepreghy utca 2. Mo, Tu, We, Th: 01:00 p.m. - 01:00 a.m.; Fr: 01:00 p.m. - 05:00 a.m.; Sa: 01:00 p.m. - 12:00 a.m.; Su: 12:00 a.m. - 12:00 a.m. Biggest and most popular gay sauna in Budapest. This sauna welcomes gay and bisexual men who are looking for a safe, discreet and hygienic palce to meet, date or just relax. In business since 2001. It offers Budapest's largest steam room and one of the largest cruising area in the city. Different theme night such a Magnum Poppers Night on tuesdays, Non stop weekends, Bear parties on saturdays, Wellness days on Thursdays. Also very good massage offered.
Gay Bars, Pubs and Clubs:
Action Bar, Magyar utca 42. Mo, Tu, We, Th, Fr, Sa, Su: 09:00 p.m. - 05:00 a.m. Cruising for gay men only.
Alterego bar&lounge, VI.ker Dessewffy u. 33. - the most exclusive and exciting gay club with a transvestite and live show in Budapest. The club is visited by the hottest gay crowd from Wednesday to Saturday - www.alteregoclub.hu
coXx Club, VII. Dohány utca 38. Mo, Tu, We, Th, Fr: 12:00 p.m. - 04:00 a.m.; Sa, Su: 09:00 p.m. - 04:00 a.m. Special parties and gay cruising.
Funny Carrot, Szép utca 1/b. Mo, Tu, We, Th, Fr, Sa, Su: 07:00 p.m. - 06:00 a.m.
Habroló Bisztró, V. Szép u. 1/b. - Nice and tiny place
Mystery, Nagysándor József utca 3. Mo, Tu, We, Th, Fr: 04:00 p.m. - 04:00 a.m.; Sa, Su: 06:00 p.m. - 04:00 a.m. Medium size, very friendly place with Internet facility, which is suitable for providing information for foreigners
Why Not, V. Belgrád rakpart 3-4. - A very pleasant place at the bank of the Danube. More gay visitors in the evening
Bars, Pubs and Clubs for mixed Gay and Lesbian guests (trannies are welcome):
Alterego Bar & Lounge, Dessewffy utca 33.
Capella Café, V. Belgrád rkp. 23. - Disco with two dancefloors. Not gay, but with sexy drag shows.
Club Underground Cafe & Restaurant, Dohány utca 22-24.
Score Club, Tölgyfa utca 1-3.
Gay Sex Shops and Adult Cinemas:
Blackdream, Maria utca 9, Budapest 1085
, Pest, District 8
 - Phone: (+36-30) 956-9571 (Mobile) blackdream.hu 
Fetish and gay accessories.
Erotika Centrum, Dob utca 11, Pest, District 7 - Phone: (+36-1) 351-1000 gaybears.hu This sex shop triples as a club and a adult cinema.
O Boy, Teréz krt. 35, Pest, District 6 - Phone: (+36-30) 99-1906 (Mobile) oboy.hu Sexy mens underwear.
Sexual Services for Women
Rent boys are pocketing around HUF 28,000 (EUR 110) per hour in Budapest. There are some male escorts who charge less, but quality costs. It is also very easy to fine good looking men from the local clubs who are more than happy to have sex with tourists women.
Sex Shops & Adult Stores
Here are few of the sex shops in Budapest. Some of these shops have adult cinema attached to them which are often popular with bi- and gay-men.
Beate Uhse - VI. Teréz körút 58
Sex Shop Teréz krt - VI. Teréz krt. 11-13
Peep Show Teréz krt - VI. Teréz krt. 41
Sex Shop Ferenc krt - IX. Ferenc krt, 2-4
Tiamo Peep Show - IX. Ferenc krt, 21
Sex Shop Jószef krt - VIII. Jószef krt., 64
Kukkoló Peep Show - VII. Kertész utca 3
Erotikacentrum Sex Shop - VII. Dob utca 11
Intim Center Astoria - V. Károly Krt. 14
Sextreme Sex Shop - IX. Üllői út, 11-13
Sleeping
If you stay in a hotel that gives you a hard time bringing guests, in general you will fix problem with some money, with 10 - 20 euros given to security or reception with explanation that you are expecting visit of some young lady you will make your goal.
To be sure that you can bring girls to your room, it is recommended to rent apartment. Apartments are often quite cheap in Budapest and for 50€, you should get a decent flat where you can have fun with ladies.
Girl friendly Hotels
Most high class hotels in Budapest are usually very girl friendly. Good options are:
Kempinski Hotel Corvinus Budapest, located on Erzsébet Place 7-8.
Le Méridien Budapest on Erzsebet Square 9-10 which has a beautiful panorama view over the Danube and the famous Chain Bridge (Széchenyi Lánchíd).
InterContinental Budapest, the InterContinental Budapest, an upscale hotel at the Danube bank (Apaczai Csere J. u. 12-14.) is reported to be a girl friendly hotel.
Lanchid 19, this design hotel offers brilliant views over the Danube and the city's landmarks. The hotel has a guest-friendly reputation.
See also: Global list of girl friendly hotels
BDSM
Check out WikiSexGuide Adult Classifieds!
Stay Safe
Warning: watch the drink list closely when you are ordering drinks at Budapest strip clubs. Sometimes clubs try to con you by having small prints hidden in the lists and you will end up paying high extra charges.
There is Budapest Bar Scam happening sometimes around Vaci utca in Budapest. Sometimes there are two sexy looking young girls pretending to be students chat up some tourists on Vaci útca. They pretend to not know any clubs around but of course they know definitely where they are going. The clubs they end up taking you are very expensive and you will not go out there under 30.000 HUF per person for a few drinks and sometimes even 100.000 HUF if you spend longer.
See Also