Yumbo Gay Center
The main area for gay and gay friendly bars, clubs and accommodation in Playa del Ingles is the Yumbo Gay Center and its surrounding area. Yumbo Centrum is a very special place for gay and lesbian guests. There are at least 30 venues catering to gay mainstream and specific tastes including: leather, drag, cabaret, sport, cruising and men/women only.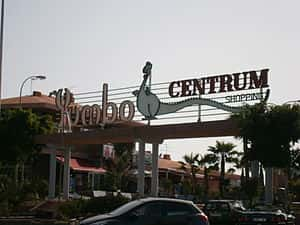 LGBT community started to get to Yumbo center in the period of the nineties, even though its presence was much previous. Guests in Yumbo are mostly single men from age 25 until 45 years. Gran Canaria receive tourists all year around because of its nice weather and the special events that attracts gay tourists. Basically you can find everything about gay scene from Yumbo gay centre.
You can find all the gay bars, gay clubs, gay cruising, gays spas and gay saunas in Yumbo here: Playa del Inglés Gay Scene
Website: Yumbo Centrum
Maspalomas Gay Pride Festival
Each year in the 2nd week of May one of the largest gay pride festivals in Europe is held in the Yumbo Centre and throughout the resort drawing at least 150 000 LGBT people from all over the world.. The 2011 event was attended by over 100,000 people.
In 2013 a fire occurred in the early hours of the morning during the Pride event, causing much damage to the Northern section of the centre, affecting Cruise, Amigo's, Chez Funnyboys and Rickys Showbar. The cause of the fire is unknown but was rumored at the time to be an arson attack by an aggrieved staff member. Most bars re-opened later in the week thanks to the efforts of the workers.
Maspalomas Carnival
Every year between the end of February and the middle of March there is Maspalomas Carnival. Major events take place on the main stage in the Yumbo Centrum.
See Also