Ulaanbaatar
Ulaanbaatar Sex Guide advises where to find sex, working girls, prostitution, street hookers, brothels, red-light districts, sex shops, prostitutes, erotic massage parlors, strip clubs and escorts in Ulaanbaatar.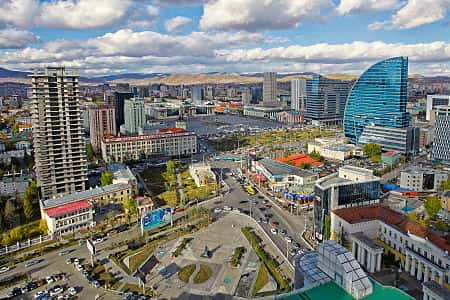 Ulaanbaatar (Улаанбаатар) , also Ulan Bator or simply just UB, is the capital and, with a population of around 1,300,000, also the largest city in Mongolia. In fact, according to recent estimates, this means approximately 41% of the country lives here. It is located just east of the center of the country.
Sex Scene and Prostitution
Prostitution is illegal in Mongolia, but the sex industry is booming, due in part to the explosion of the country's mining sector, which has spawned a huge mobile workforce of men far away from home. While the park in front of the UlaanBator Hotel is a notorious public spot to trawl for sex, the trade is gradually shifting out of sight to karaoke bars, hotels, saunas and massage parlours. There is also an escort agency such as "UB Escorts" where you can book girls for outcall services online either through email or what's app.
Forget the stereotype, Mongolia is home to some classic beauties. Statuesque and slender with subtle, appealing features; these women are erotic, wonderfully feminine and wear bizarrely sexy couture. They are shy and very sub-servant. Just beware of cock-blocks.
Where to Get Sex Now
It is easy to get sex online in Ulaanbaatar. You just need to find the best available girls. See Girls Online Here!
Red Light Districts
There is no specified Red-light district in Ulaanbaatar like the ones in Thailand and Cambodia.
See Also: List of red-light districts
Prostitutes and Sex Workers
Prostitution in Mongolia is illegal but many women who enter prostitution are younger women who will travel abroad to China or other Asian countries. Prostitutes can be found in many places: on streets, in hotels, in brothels and saunas, in massage parlors and on the Internet.
Street Hookers
You may bump in to a street prostitutes around Sukhbaatar Square parks. BJ can be as cheap as 5 dollars. There can be street whores in front of the Ulaanbaatar hotel. But nowadays some of them moving to behind the Stock Exchange House. Girls vary from all ages and from ugly to hot ones. Most of them have STD´s, so be aware. Prices are always cheap, 80 - 100 USD per hour or 120 - 250 per night.
Club Prostitutes
There are prostitutes in disco clubs.
Legends disco - 5th floor, Chinggis Khan hotel Girls from ages 18 - 28, price is 70 - 120 USD. Working hours are 9pm - 4am.
Lion bridge disco - Just behind the Lion bridge. Girls same quality and age as in legends disco. Price 50-100USD. Working hour 9pm - 4am.
Hookup and Pick Up Local Girls
Meeting local girls and getting laid for free is fun! Read more on how to pick up girls in Ulaanbaatar: https://hookuptravels.com/wiki/Ulaanbaatar
Strip Clubs & Lap Dance
The Marco Polo Strip Club can be good or a disappointment depending the day. Nobody cant really speak enough English so you will have a hard time to communicate. It is located at Street Seoul St 27, Ulaanbaatar. Nevertheless, it is a popular place among foreign tourists.
Brothels
Women's activists claimed that there are hundreds of brothels posing as saunas, massage parlors, and hotels in Ulaanbaatar. Some are occasionally raided by police. You can always ask taxi drivers where you can find saunas, massage parlors or hotels with girl service! Often brothels operate in disguise as karaoke bars. A nice hostess near the entrance would shout at you and invite to "sing a song".
Erotic Massage Parlors
If you are looking for erotic massage, you should go to sauna. There are plenty of saunas in Ulaanbaatar, however customers are local guys and Chinese and Korean men. Girls who offer massage are cute, clean and always use condoms. But you never really see whites and black going to a sauna. Local guys, Chinese and Koreans do. Most of big saunas are run by Koreans and in order to go to sauna you need help. When you are in the sauna you can ask them if they offer "special services", usually they say no, but when in the room you can talk with the girl and negotiate. Massage and sex will usually cost around 30 dollars. Usually there is at least a couple of girls working in each sauna.
Live Sex Cams
Can I watch Live Sex Cams in Ulaanbaatar? - Yes, you can! Basically you can watch our online live sex shows for free anywhere in the world if you're connected to internet. You can choose any girl from our trusted WikiSexLive.com! Join to get 10 free private teasers and 9.99 credits for free!
Live Sex Cams are booming at the moment. Webcam models can be found from all over the world and you can find girls, guys, trannies, couples and groups of different ages performing to you. Watching live sex shows is free, but if you buy some credits, you will have much better chances to see adult action as desired! It's possible also to hire a webcam model to a private chat room where you can ask the person to fulfill your fantasies. Try now! WikiSexLive.com
Dating
Dating in Ulaanbaatar can be a bit tricky due to cultural differences, so your best bet is to sign up for a dating site before your trip so you can meet a few locals ahead of time. AdultFriendFinder.com, for example, lets you meet local members in Ulaanbaatar and get to know them on a personal basis before you arrive. Take advantage of features like live chat rooms and member webcams so you know who you are chatting with before arranging a face-to-face meeting. Since time in your destination may be limited, get to know each others desires beforehand so when you do meet, you can skip the awkward introductions and start having some real fun.
Swinger Clubs and BDSM
ALT.com is the best place for local singles, swingers, and couples in the BDSM community to connect with those interested in submissive sex, power exchange, locating persons for new slave roles, erotic BDSM, bondage & fetish sex, as well as live sex dates. Find thousands of play partners for whatever your fetish may be; bondage, foot, cockold, spankings, role-play, electric or water play, sadism and masochism. So whether you have the desire to explore your unrealized fetish fantasies, or you are extremely experienced and would love to train someone new, ALT.com is a community designed for people with like-minded interests to find and connect with each other.
Transsexuals / Shemales
Finding someone for transsexual dating when you're on the road can be a bit tricky, so your best bet is to sign up for a dating site before you go so you can find locals ahead of time. TSdates.com is a dating site designed to help you find exactly what you are looking for in your hookup in Ulaanbaatar. Take advantage of site features like live chat and member to member webcams so you can begin flirting before arranging a face-to-face meeting. With over 40 million members, and thousands of transsexual members around the world, TSdates.com is the world's largest site of sex-minded friends for discreet encounters and will help you find your next transsexual play partner.
Where can I find shemales in Ulaanbaatar? You can watch transsexual live sex shows in Ulaanbaatar as long as you are connected to internet. Check Now: Tranny Live Sex Video Chat
It is very hard to find ladyboys from Mongolia, but if you get into the gay societies, you may find some shemale action.
Gay and Lesbian
Gay modeling in internet is getting more popular all the time and it's a big market alongside with gay porn. You can watch gay live sex also in Ulaanbaatar as long as you are connected to internet. Check it out: Gay Live Sex Video Chat
Gay-friendly club located just behind 50th Delguur and Cass Karoake Place in front of the State Department Store. Cool and very crowded place.
Alluuchuudiin Urgun Chuluu (near Ikh Toiruu), 458-330. Japanese-style sauna bathhouse on the first floor of the hotel. Some Locals go to here to meet visitors and not everyone is gay, so be discreet.
Sexual Services for Women
Women have to be careful when trying to hook up with locals. You can get some great sex, but you can also get in to trouble.
Sex Shops and Adult Stores
If you don't feel like visiting or cannot find any local sex shops in Ulaanbaatar, you can easily order adult products from Online Sex Shop.
There is a sex shop called Intimate Sex Shop and it is located at 3 4 Horoolol, Ulaanbaatar, Mongolia, 976. Most pharmacies will also sell potency pills without a prescription and price for Viagra is around 10 dollars for pack of 4.
Escort Services & Agencies
Finding an escort when you're travelling can be a bit tricky. An ideal solution for having an alternative for escorts is Ashley Madison. There are thousands of horny girls waiting for you. Find all the beautiful young women at AshleyMadison.com!

You can find some escort agencies online or you can ask from taxi drivers or hotel receptionist. These is a whole chain of escort agencies oriented on foreigners. A skillful prostitute may ask from 300$ to 500$ per one hour. And the more you pay, the more thing she will be willing to do for you. Most of women who work in escorts are student from 18 to 23 years old. Some of the most popular agencies is the "UB escorts" agency.
Sleeping
Most hotel room prices range from $30 to $200 per night. Sometimes you can find a room for 20$. Most hotels do not have any stars, but they are still clean and decent and offer nice services. Upper floors of some hotels often serve as hourly rooms for sex and are called karaoke rooms. There are also specific hotels for sexual meetings only.
Stay Safe
UB has a high crime rate which explains all the steel bars and security guards in apartment buildings and larger stores. Pickpocketing is common and violent muggings are increasing so it is advisable to avoid walking alone after dark. Street lighting is unreliable and the city is frequented by drunks and stray dogs. The places where pickpocketing is the most frequent are buses and the Sunny-Tuul market (alias Naran-Tuul market, or Black market), specially the entrances of them. The bus stops close to the State department stores are hot spots for this activity. If you've been attacked or pick-pocketed, please take time to make a deposition at the district police station, and to say it to your embassy if you have one. Most sidewalks are not paved and so can be very muddy and slippery during a thaw or after rain. Walking on the streets at any time is a hazardous business as one needs to contend with ice from about October to March, open manholes and extremely chaotic and wild driving habits. Drivers (including buses and police) pay no attention to pedestrian crossings and will not reduce speed, but simply sound their horns. The automobile culture in this city is too new to have developed safe driving systems and habits.
Unmarked taxis are common and shouldn't be feared. Locals simply stick out an arm and hitchhike anywhere around town. However, it is wise to get a local to interpret if possible and explain the fare system because those taxis tend to overcharge.
Child beggars are common and persistent on the streets, but watch out for groups of them, as one may be trying to pick your pocket. Also be aware that any money you do donate will go straight to their teenage "pimps", and so you may not be helping them as much as you think. Most of the "pimps" are their relatives or friends and the kids actually come from poor families and it does help them.
Walking at night in company shouldn't be too dangerous, it isn't for the locals. But stick to areas where you can see lots of locals (especially women). Coming out of bars late at night is a little dangerous if you are alone, try to have several males in your group.
See Also