Rhode Island
Rhode Island Sex Guide advises where to find sex, working girls, prostitution, street hookers, brothels, red-light districts, sex shops, prostitutes, erotic massage parlors, strip clubs and escorts in Rhode Island, United States of America.
Rhode Island [1] is the smallest state in the United States of America, tucked between Massachusetts and Connecticut in New England. Nonetheless, it has over 400 miles of coastline, courtesy of Narragansett Bay and islands such as Aquidneck Island, home to Newport, the "City by the Sea".
Sex Scene and Prostitution
WikiSexGuide Does Not Support Any Illegal Actions.

Prostitution is illegal in the vast majority of the United States, except some rural counties within the state of Nevada. Due to a US law FOSTA/SESTA, WikiSexGuide doesn't publish any ESCORT, MASSAGE or BROTHEL ads in the United States.
Prostitution in Rhode Island was outlawed in 2009. On November 3, 2009, Governor Donald Carcieri signed into law a bill which makes the buying and selling of sexual services a crime.
Prostitution was legal in Rhode Island between 1980 and 2009 because there was no specific statute to define the act and outlaw it, although associated activities were illegal, such as street solicitation, running a brothel, and pimping. With the passing of the new law, Nevada remains the only US state which allows legal prostitution.
Counties
There are five counties in Rhode Island: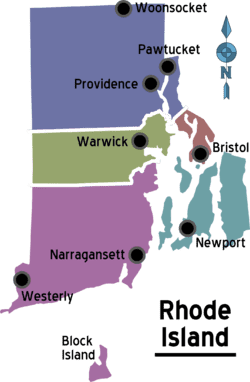 South County (Washington County)
Rhode Islands summer region, full of small communities on and near the beach
Cities
There are 39 cities and towns in Rhode Island. Some of the major ones are:
Gay and Lesbian
Gay modeling in internet is getting more popular all the time and it's a big market alongside with gay porn. You can watch gay live sex also in Rhode Island as long as you are connected to internet. Check it out: Gay Live Sex Video Chat
Arguably one of the most gay-friendly states in the U.S., with scores of bars and entertainment venues in Providence, and even a visible "out" community in smaller towns and villages.
Every year around June, Providence holds their Gay Pride Festival downtown. Many people throughout the city attend the festival. Things rarely happen that negatively impact the festival (other than the weather) because Providence is, for the most part, a pretty open minded place. The festival holds many attractions for many people. There are tons of different stalls to see and to buy from on the day of the festival.
Escort Services
Finding an escort when you're travelling can be a bit tricky. An ideal solution for having an alternative for escorts is Ashley Madison. There are thousands of horny girls waiting for you. Find all the beautiful young women at AshleyMadison.com!

Escort pricing in each American city varies, but you can just call a few agencies to get random pricing and see what the average is.
So, if you are looking for more of a whore type escort you will be paying around $200 or less per hour. High-end escort ask around $250-500/hour usually with a 2 hour minimum and then more high end luxury escort prices are from $750 to $5,000/hour and some may require a full day booking and plenty of notice.
Many of the people do not recommend the cheap hooker type escorts. They give a very bad name to the escort industry, some rip customers off, have mean pimps, are unprofessional or are not good at their job. If this is your first time, you could end up having a very negative escort experience.
You should always screen every escort before hiring her (or him) and know the precautions. See Also: Precautionary Steps When Ordering Escorts
As for strippers for your bachelor party, some escorts will do that, but most won't. There's a huge difference between a exotic dancer and an escort. Most strippers do not escort and most escorts do not strip.
Stay Safe
Providence is the most dangerous city in Rhode Island, according to a most reports.
Law Street, which covers law and public policy, ranked Ocean State communities in its "Safest and Most Dangerous States" list.
In 2012, Providence had 1,133 violent crimes—including 17 murders, 84 cases of rape, 362 robberies, and 670 reports of aggravated assault, according to figures from the FBI's most recent Uniform Crime Report.
Law Street's state rankings only included cities with a population of 25,000 or more. Rankings were based on the ratio of violent crimes compared to population.
Rhode Island was ranked the No. 13 safest state in the country. Maine was No. 1. Tennessee as ranked as the most dangerous state.
Here's Law Street's list of the most dangerous Rhode Island communities:
1. Providence (pop. 177,882): 1,133 violent crimes in 2012
2. Woonsocket (41,147): 220
3. Pawtucket (71,085): 288
See Also