Liechtenstein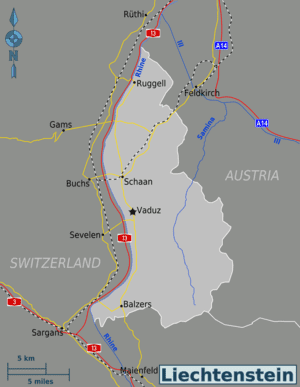 Liechtenstein Sex Guide advises where to find sex, prostitution, hookers, brothels, erotic massage parlors and escorts in Liechtenstein.
The Principality of Liechtenstein (German: Fürstentum Liechtenstein) is a small, alpine German-speaking country doubly landlocked by Switzerland and Austria.
Sex Scene and Prostitution
In Liechtenstein prostitution is forbidden, but the prostitution will be tolerated by the police, but not the street prostitution, so you can find clubs and brothels in Liechtenstein, but nearly no sex worker girls in the street.
Where to Get Sex Now
It is easy to get sex online in Liechtenstein. You just need to find the best available girls. See Girls Online Here!
Red Light Districts
Rossbodenstrasse prostitute zone located in Chur, Switzerland is very close to Vaduz, Liechtenstein. It takes only 30 minutes to drive there and it is definitely worth of trip. Some of the politicians want to ban the street prostitution in Chur, but if this happens, there are still many brothels for sex tourists.
Prostitutes and Sex Workers
Prostitution scene in Liechtenstein is nowhere near as good as it is in neighbouring countries Switzerland and Austria. If you go towards east to Switzerland there are many options to choose from like brothels and other sex venues. Sex prices in Switzerland are a little bit more expensive than what they are in Austria in the east.
Street hookers
In Liechtenstein prostitution is forbidden, but the prostitution will be tolerated by the police, but not the street prostitution. It is very rare to see any sex workers on the streets in Vaduz or any other areas of Liechtenstein. It is recommended to take a short drive to the Chur in Switzerland where you can find working girls from the street.
Strip clubs
Coco Loco, Egerta 54, LI - 9496 Baizers (00423 399 34 11) - Table Dance Bar
Brothels
Best whore houses are located just a short drive away in German and Swiss cities across the border.
Erotic massage parlors
There are no good erotic massage parlours in Liechtenstein where you could get a Happy Ending. Most of these type of sensual massage services can be received in Germany and Switzerland which are both a short drive away from Vaduz.
Transsexuals
There are no trans-girl escorts in Liechtenstein, but most TS/TG/TV and CD girls can be found from Germany and Netherlands. These escorts like to also travel to Liechtenstein if you pay them enough. Price to have sex with a t-girl escort is about 200 to 300€ an hour, and it costs about 100€ more for them to travel to Liechtenstein.
Gay and Lesbian
Gay modeling in internet is getting more popular all the time and it's a big market alongside with gay porn. You can watch gay live sex also in Liechtenstein as long as you are connected to internet. Check it out: Gay Live Sex Video Chat
A domestic partnership proposal by the Freie Liste party (and supported by the gay group FLay) was adopted by the Liechtenstein parliament in October 2007. The Minister of Justice Aurelia Frick presented the draft of the registered partnership bill in April 2010 and on 16 December 2010. It was approved by the parliament in the first and second readings in 2011. A referendum was held in June 2011 and 68.8 percent of voters approved the law, which went into effect on September 1, 2011. A gay and lesbian organization, FLay, was founded in 1998, and organizes social activities for LGBT people in the triangular area between Liechtenstein, Vorarlberg (Austria) and the Swiss Rhine Valley.
Gays should check out the "Cruising World Erotik Markt" in Wels. You can see the location below in the "Sex Shops" section.
Sexual Services for Women
Ladies can find male escorts in Liechtenstein and nearby cities across the border. These type of services cost 100 to 200€, but if you wish not to pay it is quite easy to find sex partners from the local nightclubs and cafes.
Sex Shops and Adult Stores
If you don't feel like visiting or cannot find any local sex shops in Liechtenstein, you can easily order adult products from Online Sex Shop.
There are no adult shops in Vaduz, Liechtenstein and the closest ones are in Mels in Switzerland side.
Erotic Markt - Cruising World Mels, (Riet Center) Wolfrietstrasse 4, 8887 Mels, Switzerland +41 81 723 93 00 http://www.cruisingworld.ch
Magic X, Grossfeldstrasse 63, Mels, Switzerland +41 81 710 62 22
Escort services, agencies, escorts
Most escorts who work at the nearby German and Swiss cities do out-calls to Liechtenstein. The quality of the escorts is same in each country, but girls are cheaper in Germany, so it is recommended to order a girl from a German city.
Sleeping
It is recommended to rent a private flats instead of hotel if you are planning to bring prostitutes to your room in Liechtenstein as most hotels are quite small and they do know who is staying at their premises.
Stay safe
Liechtenstein is easily one of the safest countries in the world, though it is not without its problems. The most common crime in Liechtenstein is of a non-violent nature, though the Principality maintains a well-equipped police force which maintains a presence on the streets. In the late 1990s, the Liechtenstein Landespolizei launched a crackdown on prostitution in Vaduz. Considering the largest cities nearby are Innsbruck and Zürich, outside of Schaan and Vaduz, the whole place can seem very rural. Drunk drivers and winter road conditions may be your only "realistic" concern. Speed limits are strictly enforced by speed cameras which will be very pricey. Don't speed, enjoy the scenery instead!
The country's beautiful scenery is also very dangerous. Cases of hikers finding themselves in difficulty are very common, and extreme care should be taken when leaving the well-marked trails. Follow local advice, read local weather forecasts (newspapers in the Principality print individual forecasts for the different cities in Liechtenstein, which is beneficial because the difference in altitude often cause different weather conditions), and ensure that you have the correct equipment before setting out.
See also