Go-go bars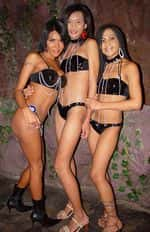 The term go-go bar originally referred to a nightclub, bar, or similar establishment that featured Go-Go dancers; while some Go-go bars in that original sense still exist, the link between its present uses and that original meaning is often more tenuous and regional. Speaking broadly, the term has been used by venues that cover a wide range of businesses, from nightclubs or discothèques, where dancers are essentially there to set the mood, to what are in essence burlesque theaters or strip clubs, where dancers are part of a show and the primary focus.
United States
The term go-go bar is often used for certain sorts of strip clubs. In regions where the term is used, go-go bars are considered lower in class when compared to Gentlemen's Clubs, which offer a more coordinated and show-centric experience. In these bars:
There is no Champagne Court.
Dress codes are more lax for both patrons and performers.
There are no staging, choreography, or special effects considerations.
A House Mother monitors activity and assists performers in the dressing area.
Feature performers usually do not perform at go-go bars.
Southeast Asia
In Southeast Asia, and particularly in Thailand and parts of the Philippines, Go Go bars can include a wide variety of indoor bars with dancers and/or hostesses; these typically do not offer striptease. These are most often venues for prostitution, and the dancers are usually available to be bar fined by customers. These are often, but not exclusively, found in red light districts catering to foreigners.
Live Striptease

See Also