Gay porn
Gay pornography is the representation of sexual activity between males. Its primary goal is sexual arousal in its audience. Softcore gay pornography also exists; it at one time constituted the genre, and may be produced as beefcake pornography for heterosexual female and homosexual male consumption.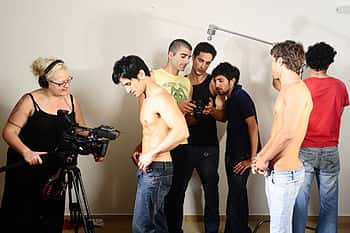 Although pornography has usually focused on heterosexuality, due to the prevalence of the heterosexual orientation, explicit gay material has a long history as well, which reaches back to Greek antiquity, if not to prehistory. Every medium has been used to represent sexual acts between men. However, gay pornography in the modern world is mostly concentrated in the making of home videos (including DVDs), cable broadcast and emerging video on demand and wireless markets, as well as images and movies for viewing on the Internet.
Women watching gay porn
It's been quietly gaining popularity for some time. Now, there can be little doubt. The internet has turned women on to the joys of gay porn. They're watching, writing and even directing it. Porn for women has always had women's sexuality - or perceived lack of it - as the punchline. What turns women on, we are told, is men doing the ironing. Men taking the bins out. Men emptying the dishwasher. Maybe while shirtless. The truth is far more interesting. Because, while 'lesbian porn' has long done a roaring trade among straight men, it seems a growing number of women are turning to man-on-man action to get them going. Indeed, there's an entire subculture of women who believe that, in the words of one online viewer, "there's nothing better than watching two handsome guys fucking".
In August 2005, adult star Jenna Jameson launched "Club Thrust", an interactive website featuring gay male pornographic videos, which was shown to attract a female audience as well. Yaoi comic books and slash fiction are both genres featuring gay men, but primarily written by and for straight women. Some lesbian and bisexual women are also fans of gay male pornography, specifically yaoi, for its feminine-styled men. An analysis by Mother Jones found that Pakistan leads the world in gay porn searching on the internet.
Straight guys as gay porn actors
In adult entertainment, gay porn is unique. The lion's share of gay porn stars identify as straight. This sends some very mixed messages about consent, attractiveness and sexual orientation. The movement toward and demand for bareback porn encourages risky behavior and sometimes even fetishizes HIV transmission. Bear in mind, this isn't a call-to-arms against gay porn, but it's good to be mindful of our consumption and its repercussions.
The straight obsession is strange. It's the ultimate want for what you can't have. But in porn, this unrequited attraction comes to a happy ending. The coach, best friend or handyman are all secretly dying for dick. Watching heterosexually identified men blowing each other, getting fucked and losing their "virginity" seems gratifying on some level.
Despite the debate over bill AB 1576 requiring condoms in porn, there still is a growing number of gay porn producers moving toward bareback porn. Sean Cody, Corbin Fisher, Lucas Entertainment and smaller studios have all started making bareback videos (without condom). The obvious appeal is you can't be as free with unsafe sex in your daily life if you're concerned with sexual safety.
The reason this porn debate is so important is that there is a thin line between gay porn and gay "culture". Gay porn stars become celebrities and even mainstream actors. Gay films also face a pressure to sex it up. The challenge with this sex-obsessed subculture of gay men is there is a thin line between sex positivity and sex addiction. Gay sex addicts have trouble diagnosing their addiction if everyone around them is having sex. It's hard to establish healthy boundaries and worthwhile relationships if sex is so out in the open. Like with any addiction, some sex can inevitably become about "chasing the dragon" with people pushing themselves further and further to chase that high. Shouldn't fisting be something shared between two loving individuals rather than something just casually done?
Notable movies
1970s
Boys in the Sand (Wakefield Poole, 1971) is the first feature gay pornographic film to achieve mainstream crossover success; helped usher in "porn chic." Said to be "a textbook example of gay erotic filmmaking" that was screened in film festivals all over the world.
The Back Row (Jerry Douglas, 1972) is the first feature from award-winning director Douglas. Re-made by Chi Chi LaRue in 2001. Featured in Unzipped Magazine's The 100 Greatest Gay Adult Films Ever Made (2005).
L.A. Plays Itself (Fred Halsted, 1972) is a movie by an influential director (read the chapter consecrated to it in Moore, 2004 for more) and is archived at the Museum of Modern Art (MoMA), New York.
Nights in Black Leather (Richard Abel and Peter Berlin, 1973) is an influential movie starring Peter Berlin.
Falconhead (Michael Zen, 1977) is still acclaimed by cultural critics as one of a few gay pornographic movies that tried to bring complexity to the blue movie. Inspired many contemporary pornographic directors (Morris, 2004). Featured in Unzipped Magazine's The 100 Greatest Gay Adult Films Ever Made (2005).
Dune Buddies (Jack Deveau, 1978) Hand in Hand Films, is a film by a prominent director and studio of the 1970s. Shot on the historically gay-friendly Fire Island, the film (and others of the company) document well the sexual lives of New York City's gay men of the period. Excerpts displayed in the documentary Gay Sex in the 70s.
Joe Gage's wrote an influential trilogy of gay films, collectively referred to as either "The Kansas City Trilogy" or "The Working Man Trilogy" in the late 1970s. The films, Kansas City Trucking Co. (1976), El Paso Wrecking Corp. (1978) and L.A. Tool & Die (1979) were praised for their consistent portrayals of male/male sex occurring between rugged, masculine men who came from blue-collar and rural backgrounds and who related as "equal partners" – avoiding the frequent stereotypes of such men as effeminate inhabitants of urban gay neighborhoods, or who were caught up in a constraining "you play the woman, I'll be the man" mindset of dominant/submissive roles.
1980s
The Bigger The Better (Matt Sterling, 1984); one of Adult Video News' 10 Great Gay Movies.
Les Minets Sauvages (Jean-Daniel Cadinot, 1984) is one of the biggest films of the influential French pornographic director.
The Other Side of Aspen series, beginning in 1983, is among the Adult Video News' top ten all time gay movies.
My Masters (Christopher Rage, 1986) is one movie by a director who has influenced numerous gay artists.
Powertool (John Travis, 1986) is one of Adult Video News' 10 Great Gay Movies.
Big Guns (William Higgins, 1988) Catalina Video; is one of Adult Video News' 10 Great Gay Movies.
Carnival in Rio (Kristen Bjorn, 1989); see History, 1990s section above.
1990s
Idol Eyes (Matt Sterling, 1990) Huge Video is a movie with Ryan Idol. Read Dyer, 1994 for more.
More of a Man (Jerry Douglas, 1994) All Worlds Video is a popular film with Joey Stefano (see History, 1980s section) also featuring Chi Chi LaRue in a non-sexual role. Read Burger, 1995 chapter for an extensive analysis.
Flashpoint (John Rutherford, 1994) Falcon Studios is an award winning film by major director Rutherford. Featured in Unzipped Magazine's The 100 Greatest Gay Adult Films Ever Made (2005).
Frisky Summer 1–4 (George Duroy, 1995–2002) Bel Ami is one of Adult Video News' 10 Great Gay Movies.
Flesh and Blood (Jerry Douglas, 1996) All Worlds Video is one of Adult Video News' 10 Great Gay Movies.
Naked Highway (Wash West, 1997). The narrative and aesthetic qualities of this movie are representative of a new generation of pornographic directors. (Thomas, 2000:66) One of Adult Video News' 10 Great Gay Movies.
Three Brothers (Gino Colbert, 1998) Gino Pictures is a popular movie by influential director Colbert, starring the real-life Rockland brothers (Hal, Vince, and Shane). Featured in Unzipped Magazine's The 100 Greatest Gay Adult Films Ever Made (2005).
Descent (Steven Scarborough, 1999) Hot House Entertainment is a popular gay pornographic video with infrequent artistic qualities, by a prominent director and studio. Created legal dispute in Canada when the government tried to forbid its distribution in the name of obscenity rules.
Skin Gang (Bruce LaBruce, 1999) Cazzo Film is a famous film by art/porn director LaBruce. Aired in gay film festivals around the world.
Fallen Angel (Bruce Cam, 1997) Titan Media is a major film by prominent director and studio. Featured in Unzipped Magazine's The 100 Greatest Gay Adult Films Ever Made (2005).
2000s
DreamBoy (Max Lincoln, 2003) Eurocreme. Spawned a whole series of similarly titled films (for example, OfficeBoy, SpyBoy, and RentBoy)
Michael Lucas' Dangerous Liaisons (Michael Lucas, 2005) Lucas Entertainment is the biggest production by this director and studio. Variously described as a film adaptation of Les liaisons dangereuses (1782), and a remake of Dangerous Liaisons (1988).
Dawson's 20 Load Weekend (Paul Morris, 2004) Treasure Island Media is a major production by infamous director Paul Morris. Created huge controversy because it is mainly composed of bareback sex.
Wrong Side of the Tracks (Chi Chi LaRue, 2006) Rascal Video is the largest production up to date by one of the most enduring pornographic directors of history.
Wet Palms Season One (Matthew Moore, 2004–06) Jet Set Productions pioneered pornography made for online delivery, using an episodic narrative structure based on TV soap operas.
Michael Lucas' La Dolce Vita (Michael Lucas, 2006) At a budget of $250,000, Lucas Entertainment claims it to be the most expensive gay porn film ever made. It contained celebrity cameos and attracted controversy with a lawsuit.
See Also