Myanmar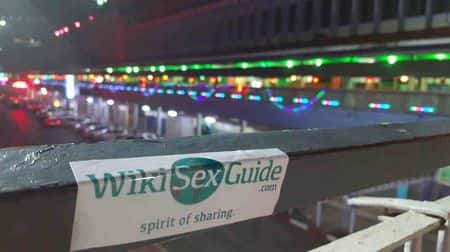 Myanmar Sex Guide advises where to find sex, working girls, prostitution, street hookers, brothels, red-light districts, sex shops, prostitutes, erotic massage parlors, strip clubs and escorts in Myanmar, Asia.
Myanmar, or Burma, officially the Republic of the Union of Myanmar, is a country in Southeast Asia. It lies on the Bay of Bengal and Andaman Sea coast with Bangladesh and India to the west, China to the north, and Laos and Thailand to the east.
Sex Scene and Prostitution
Prostitution in Burma is illegal. Prostitution is a major social issue that particularly affects women.
Burma (Myanmar) is a major source of prostitutes (an estimate of 20,000–30,000) in Thailand, with the majority of women trafficked taken to Ranong, a location that borders Burma at its south, and Mae Sai, which is located at the eastern tip of Burma. Burmese sex workers also operate in Yunnan, China, particularly the border town of Ruili. The majority of Burmese prostitutes in Thailand are from ethnic minorities. Burma is also a source country of sex workers and labourers in China, Bangladesh, Taiwan, India, Malaysia, South Korea, Macau, and Japan.
If you are about to avail and the services of prostitutes in Myanmar; always remember to do it in the safest way possible. There are chances of you being a carrier of HIV and other diseases if you fail to have a sexual intercourse in a safe and secured way. This is the reason it is always suggested that an individual should always try and confirm that the working girl he is about to get intimate with is medically fit and fine with all sorts of sanitation and other important aspects.
In Yangon, prostitution often occurs in hotels that also operate as brothels. The recent appearance of massage parlours began in 1995, with ethnic minority groups such as the Wa running such businesses in particular. Nightclubs in Yangon are also frequented by prostitutes who work independently. Throughout the country, the sex industry generally operates out of restaurants, brothels posing as guesthouses, and nightclubs. Since Cyclone Nargis hit in May 2008, the number of prostitutes in Yangon has increased significantly, thus depreciating prices for prostitution services. In all of South East Asia Burma is by far the cheapest when securing the services of a prostitute eclipsing even the choice and price in Laos. A red light district has also emerged Naypyidaw, Burma's new national capital, with brothels primarily disguised as beauty parlors and massage salons that attract mainly businessmen and military personnel. Approximately 70 brothels, mostly in the form of tents and bamboo huts, operate on a cheaper red light zone, along a 30 mile stretch of highway to Naypyidaw.
Regions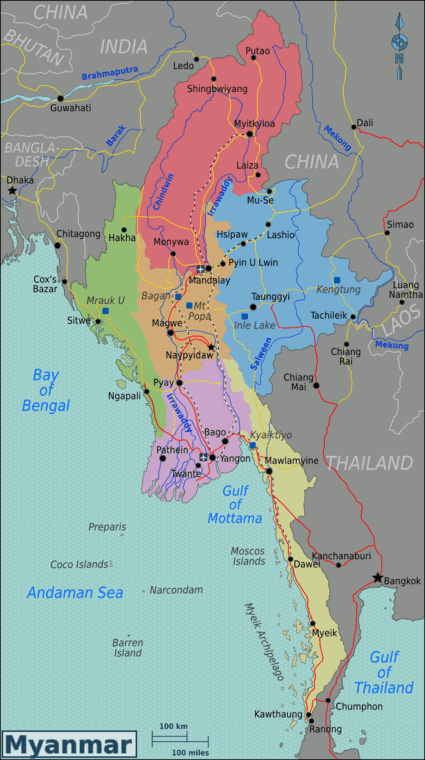 Irrawaddy
The lowlands of the Irrawaddy Delta with the largest city and former capital Yangon.
Central Myanmar
Mandalay, historical and archaeological sites and cool hill towns.
Western Myanmar
Remote mountainous regions and some lovely beaches on the Bay of Bengal.
Northern Myanmar
A huge, fractious region including the southern reaches of the Himalayas and many ethnic tribes.
Eastern Myanmar
The infamous Golden Triangle and a bewildering number of ethnic groups.
Southeastern Myanmar
The southern coastal stretch bordering Thailand with a vast number of offshore islands.
Cities
Red Light Districts
Most of the women are in this sex trade due to poverty and the need for earning more and quick money. You can visit Yangon in order to find some adult actions in store for you. However, always keep a note of it that before you enter a red light district, choose to stay safe and secured. This will help you to know and understand the intention of each and very people around. In case you sense something fishy it would be always better that you avoid that situation. At times word of mouth and other relevant sources having proper information regarding red light districts and the like can come into play as well.
Prostitutes and Sex Workers
Most of the prostitutes and sex workers in Myanmar come from poor households in search of money. These working girls provide their services at various places including brothels disguised as guesthouses, bars, karaoke, massage parlors and more. So, you can visit these places in order to avail and enjoy the adult entertainment services being served by the working girls of Myanmar. However, stay alert and see if the person you are getting hooked up with is a genuine one with no ill motive behind.
Street Hookers
Mong La is a town in Myanmar where you can expect to find adult actions and other related activities. If you come across a streetwalker offering her adult recreational services, always take some time to decide whether she is the right kind of a girl with whom you can expect to have safe sex. It is said that during the weekend the working girls do not run around on the streets like Thailand, India and other nations.
Live Sex Cams
Can I watch Live Cams in Myanmar? - Yes, you can! Basically you can watch our online live sex shows for free anywhere in the world if you're connected to internet. You can choose any girl from our trusted Live Sex Cams! Join to get 10 free private teasers and 9.99 credits for free!
Live Sex Cams are booming at the moment. Webcam models can be found from all over the world and you can find girls, guys, trannies, couples and groups of different ages performing to you. Watching live sex shows is usually free, but if you buy some credits, you will have much better chances to see adult action as desired! It's possible also to hire a webcam model to a private chat room where you can ask the person to fulfill your fantasies.
Adult Locations
The bars and nightclubs, brothel based guesthouses, karaoke bars are some of the mentionable adult locations in Myanmar where you can expect to find working girls offering their range of adult entertainment band recreational services.
Escort Services and Agencies
Finding an escort when you're travelling can be a bit tricky. If you are looking for escorts in Myanmar, Escort Directory is the ideal solution. There are thousands of beautiful young women at EscortDirectory.com waiting for your call!
You can get in touch with the escort service providers online. There are lots of websites available these days. You can look for the availability of escort services in Myanmar by visiting such websites and other online adult forums. This will make the entire process of hiring escort service easy and hassle-free.
Erotic Massage Parlors
You can expect to avail some erotic massage services in certain Burmese spa and salons. The working girls there would come up with alluring offers related to body massage and other special services meant for adults. One can even go through the internet and see if anything relevant is available online. The person can visit happy ending massage websites and go through the details in order to develop an idea regarding the various massage based adult services.
Brothels and Sex Clubs
There are brothels in and around Myanmar that are disguised as guesthouses and parlors. So, you can visit such places and look for relevant services being offered by the working girls over there. You will get to see brothels disguised as guesthouses all over Rangoon. However, be a bit choosy with your service girl and the place you choose to enter. This shall help you to stay safe and away from potential danger and other risks.
Strip Clubs and Striptease
Burmese nightlife is quite famous and you can find nightclub girls with whom one can meet and share some light moments together. Official strip clubs and similar joints might be a rare sight or they must be underground. However, you can always ask the local taxi drivers if they can take you to such places. At times, the local guys come into play in such situations.
Karaoke and KTVs
Yangon has several Karaoke bars and KTVs available for the potential visitors. But, you should always check and confirm whether the KTV or the Karaoke bar you are about to enter is meant for adults. There are several family oriented Karaoke and KTVs in and around Myanmar. So, a bit of research beforehand can lead you to promising and enjoyable consequences.
Swinger Clubs
One can ask and figure out from the foreign couples if they are interested in any kind of swinging actions in Myanmar. Mostly the foreigners tend to look for such activities. Apart from that, one can also choose to go online and join swinger clubs and other related online adult communities. This will help you to get connected with other swingers looking to get involved into similar activities.
Sex Shops and Adult Stores
If you don't feel like visiting or cannot find any local sex shops in Myanmar, you can easily order adult products from Online Sex Shop.
There are online sex shops available. So, you can visit any of these available sex stores and adult shops online in order to buy the product that you have been looking for.
Love Hotels and Short Time Hotels
Love Hotels are basically short time accommodations that are provided to unmarried couples so that they could spend some time in privacy. You can go through the internet and look for love hotels in Myanmar. You may get suggestions and links related to this matter. If you are about to visit a cheap hotel, then take some time to know and understand things properly and confirm that the room is safe enough for private activities.
Nightclubs and Bars
You can find nightclubs and bars in and around Myanmar. Chances are there that you might get hooked up with someone you find attractive. But you need to know that not all female visitors are interested in having sex with random guys. You need to recognize the ones looking for having sex for free. If you come across a working girl offering sexual service, then that's a different matter since it is a paid companionship.
Gay and Lesbian
Gay modeling in internet is getting more popular all the time and it's a big market alongside with gay porn. You can watch gay live sex also in Myanmar as long as you are connected to internet.
Check it out: Gay Live Sex Video Chat
Lesbian, gay, bisexual and transgender (LGBT) persons in Burma face legal challenges and discrimination not experienced by non-LGBT residents. Same sex sexual activity is illegal in Burma and punishable by fines and imprisonment for ten years to life. The past authoritarian nature of the government made it difficult to obtain accurate information about the legal or social status of LGBT Burmese citizens. However, along with the ongoing political reforms, improvements in media and civil freedoms have allowed LGBT people to gain more and more recognition in the country.
The best thing one can do in order to enjoy gay and lesbian companionships to go online and join the gay and lesbian websites available these days. One can become a member and start getting in touch with other likeminded gay and lesbian partners. If you find each and attractive, then some further intimacy can be planned with mutual consent.
Other Adult Services
If you are hiring escort services, then ask the working girl if she has something new and interesting in store. You can even let the escort girls know about your fetishes and desires. At times, the service providers try and manage to come up with personalized adult entertainment services as well.
Dating
Dating in Myanmar can be a bit tricky due to cultural differences, so your best bet is to sign up for a dating site before your trip so you can meet a few locals ahead of time. AdultFriendFinder.com, for example, lets you meet local members in Myanmar and get to know them on a personal basis before you arrive. Take advantage of features like live chat rooms and member webcams so you know who you are chatting with before arranging a face-to-face meeting. Since time in your destination may be limited, get to know each other's desires beforehand so when you do meet, you can skip the awkward introductions and start having some real fun.
Transsexuals and Shemales
You can find local trannies in and around Myanmar. If you fail to get in touch with transsexual and shemale partners directly in the country, then choose to go online. There are several websites and online forums promoting and writing about the availability of transsexual escort services and the likes. So, considering online forums will always be a helpful idea.
Sexual Services for Women
Women can either choose to get lucky with a local guy who she may find attractive enough for a short time affair. Apart from that, the services of male escorts and gigolos are available. One can get in touch with them via escort websites.
Sleeping and Girl Friendly Hotels
You can find sleeping and girl friendly hotels available in Rangoon. These are basically meant for shot time stay. Unmarried couples and people availing sexual services look for such accommodations in order to enjoy privacy. If you find the hotel you are about to enter cheap, then do consider taking a close look at the surroundings. Always check whether the rooms are in proper condition and absolutely safe to spend private moments there.
Stay Safe
The government punishes crime, particularly against tourists, severely; it has a hard enough time convincing tourists to go there due to its international reputation. In addition, many locals, being devout Buddhists, are wary of retribution in their next life should they commit any crimes against others. As a result, as far as crime and personal safety go, Myanmar is extremely safe for tourists, and it is generally safe to walk on the streets alone at night. In fact, you are less likely to be a victim of crime in Myanmar than in Thailand or Malaysia. However, as with anywhere else, little crime does not mean no crime and it is still no excuse to ditch your common sense. As a foreigner, the most common crime you should be worried about is petty theft, so keep your belongings secured. Physical and verbal harassment towards foreigners is uncommon, even on urban walks near bars.
Myanmar is one of the world's most corrupt countries. Officials and other civil servants may discreetly ask you for a bribe, or invent issues (missing forms, closed offices, etc.) in order to get you to suggest one. Pretending not to understand or asking to speak to a superior may work. However, visitors of Caucasian descent are rarely targeted, while those of Asian descent (including South Asians and East Asians) may be forced to give bribes, but the brunt of the problem hits normal Burmese.
Again, Westerners are very rarely asked for bribes. Then too, most bribes are in the order of a US dollar or less and requested by people earning as little as US$30/month.
If you are looking for free sex, then you have to be extra cautious in this matter. You have to understand and recognize people who would like to have sex with you for free. At times, several fraudsters try to con people in the name of such activities. So, it is important for you to avoid such situations and people. Apart from that, confirming the health status of a sex worker before having sex with her is also vital.
STD
Burma has the third highest HIV prevalence rate in Asia, after Cambodia and Thailand. Sex workers are particularly at risk, with 32% infected with the disease. The criminal nature of sex work in Burma, as it is prohibited by the 1949 Suppression of Prostitution Act, also contributes to the ineffectiveness of reaching out to sex workers in Burma with regard to HIV/AIDS awareness and condom usage. In Yangon, there are over 100 brothels and up to 10,000 sex workers, mostly of the Bamar ethnic group, with between 70 to 90% having a history of sexually transmitted infections and less than 25% having been tested for HIV. An anecdotal study found that nearly half of sex workers in Yangon have HIV/AIDS.
See Also