Boy's Town
Boy's Town, (or "La Zona" (en: the Zone) as it is known in Spanish), is a commercial district in the border town of Nuevo Laredo, Tamaulipas, Mexico, serving primarily as a "zone of tolerance" in the city for legal prostitution, and also a variety of other nocturnal entertainment. It is a walled compound containing three short east-west streets and two short north-south streets. It houses a range of brothels, bars, restaurants, small stores, a small police station, and a health clinic. It is located near the intersection of Monterrey and Anahuac Streets, about 5 km southwest of International Bridge #1.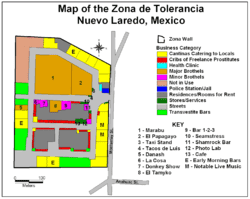 The commercial activities can be differentiated into a number of broad categories, and their spatial organization is outlined in the map. The categories include: (1) primary or major brothels, (2) secondary brothels, (3) "cribs" of freelance prostitutes, (4) cantinas and bars catering to local patrons, (5) transvestite bars, (6) other commercial services, and (7) residences. Furthermore, Boy's Town is protected by a substation of the municipal police complete with jail, and there is a health clinic that performs blood tests and weekly screenings of sex workers for venereal diseases.
Establishments and services exhibit a typical distance decay pattern. All but one of the primary brothels are located near the entrance, secondary brothels and cantinas are located farther from the entrance, and the transvestite bars are concentrated at the far end of the compound. Even the cribs exhibit a distance-decay pattern in that the younger more attractive prostitutes occupy cribs on the central lane (Cleopatra Street), whereas older, or less attractive women rent cribs on the south most lane or in the back near the transvestite bars. This pattern is primarily a function of rental rates for the cribs; being less expensive in the southwest corner of the compound.
Cantinas and bars
The cantinas and bars constitute a significant component of the economy. Most do not operate as brothels, but are instead venues for inexpensive drinks (usually just beer and tequila), live music, and dancing. Some are staffed with women who dance with customers for a few pesos. They provide an inexpensive environment for local males (and occasionally couples) to relax, listen to Cumbia, Norteño, or Ranchera music, and dance late into the night. Several are patronized by off-duty prostitutes and their boyfriends or husbands after working hours in the early morning.
Some transvestism bars also serve as brothels catering to clients who seek to have sex with transvestites, transgender individuals, or homosexual men. They also serve as social entertainment venues for local transvestites and homosexual men themselves. Customers are almost exclusively local males.
Other commercial services
In addition to entertainment facilities, there are a number of small restaurants and street eateries catering to patrons visiting the bars and brothels, and individuals who live and work in there. Other services include small convenience stores, clothing stores, seamstress shops that tailor outfits for the sex workers, and a photo studio.
While accurate figures of the total number of individuals residing in Boy's Town are not available, it ranges into the hundreds at any given time. A large number of sex workers reside in the brothels, cribs, or other rented rooms. Some of the workers live with their boyfriends or husbands in these rooms. Furthermore, several bar owners or managers live there.
Historical precedent
The origins of the Boy's Town concept along the U.S.-Mexico border can be traced in part to the relationship that developed between the United States Army and various ad hoc entrepreneurs in northern Mexico during the army's 1916–17 Punitive Expedition; specifically when General John J. Pershing's forces were pursuing General Pancho Villa in Chihuahua. While the troops were based 100 kilometers south of Ciudad Juárez, Chihuahua, at Colonia Dublain, a small group of vendors, launderers, barkeeps, and prostitutes set up businesses next to the army camp. Eventually, General Pershing ordered that the prostitutes be restricted to the southern end of the camp where they would be inspected and certified by the military medical officers. A flat rate for sexual intercourse was also established.
See Also