Lyon
From WikiSexGuide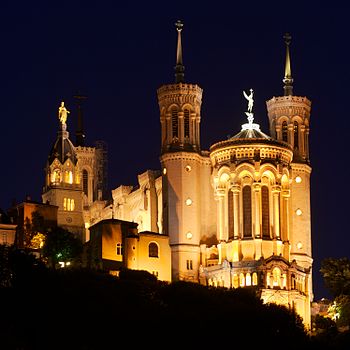 Lyon, also written Lyons in English, is the third largest city in France and centre of the second largest metropolitan area in the country. It is the capital of the Rhône-Alpes region and the Rhône département. It is known as a gastronomic and historical city with a vibrant cultural scene. It is also the birthplace of cinema.
Sex Scene and Prostitution
Prostitution in France (the exchange of sexual services for money) is not illegal, but several surrounding activities are. These include soliciting, procuring, operating a brothel (maison close, lupanar or bordel in French), living off the avails, and paying for sex with someone under the age of 18.
It estimated that about 15,000 – 20,000 women work as prostitutes in France. In 2010, the number of full-time male and female prostitutes was estimated at 20,000 – 30,000, with 80% being foreigners. Sex work in France, like other countries takes many forms. These include street prostitution, escort services, bars and apartment prostitution.
While prostitution is legal in France, as of 2003 sex solicitation is illegal, which lead local prostitutes in Lyon to get creative. White vans line the city and suburban streets in this city; an open door means they're open for business, a closed door (and rocking van) means you'll have to come back later for your turn.
Red Light District
Prostitutes and Sex Workers
Street Hookers
Fickwagen - Usually some trailerpark hookers, but note that trailer sites may disappear without notice
Quai Perrache and Aurtoroute du Soleil
From Kyriad Lyon on Quai Perrache two streets up towards the railway line. Costs about EUR 40 but you need a car to do the deed as you drive to some secluded area to unload. Also black girls a 2-3 blocks the other way.
Some older women in the side streets of Quai Jules Courmont.
Strip Clubs & Lap Dance
Brothels
There are no brothels, pick'up bars or any other public places that offer paid sex in Lyon. Paid sex can be offered outside with street action, in a private apartment or at your hotel with an escort, but unfortunately not in a public place. If it is offered it usually is a rip off.
Swingers Clubs
This is the list of french swinger's club in Lyon and surrounding areas.
In a swinger club, after you pay entrance, sex is offered for free. But for a single man, it is hit or miss to get action and sex is not guaranteed. A good advice for a single man is always to call before, and be well dressed and it will be easier to enter. Avoid the afternoon's, because there will be mostly singles at that time.
Swinger Club Locations
Le Diablotin, 42550 Pontempeyrat
Open: Fri 9pm-till and Mon, Sun 3pm-10pm couple+single Sat 9pm-till. Couple only. Phone: 04 77 50 69 92
La Diligence, Morville 21500 Fresnes
Open : Thu-Sun 10pm-4am. Entrance : 26€/couple 40€/single. Phone : 03 80 92 12 76 Homepage : www.le-relais-fr.com
Eclypse, 10 rue Montplaisir 26000 Valence
Phone 04 75 56 57 52 Homepage : www.sauna-club-eclypse.com
Eviden's, 6 rue Sainte Marie des Terreaux 69001 Lyon
Open : Wed-Fri 4pm-8pm 10am-till..Tue, Sat 10am-till. Couple only Sat, Entrance: 20€/couple afternoon 30€/couple evening 30€/single afternoon 65€/single evening. Phone : 04 78 29 49 40 Homepage : www.evidens-libertin.com
Ile du Levant, 50 rue de Verdun 26500 Bourg les Valence
Open : Mon-Fri Sun 2pm-7pm Tue-Sat 10.30-till late. Entrance : 35€/afternoon 45€/evening. Sauna, hamman & Jacuzzi. Phone : 04 75 43 13 68 Homepage : www.clubiledulevant.com
L'imprévu, 4 rue du Compte de L'isle 50170 Pontorson
Open : Mon Tue, Thu 3pm-7pm Thu-Fri 10pm-till late. Entrance : 40€/single 20€/couple. Phone : 02 33 68 29 53 Homepage : www.limprevu.net
Le Move, 32 Quai Arloing 69009 Lyon
Phone : 04 72 20 07 24 Homepage : www.clublemove.com
Le Neptune, Rte de Boege Mijouet 74250 Fillinges
Open : Thu 9pm-1am Fri Sat 10pm-5am Couple only Sat. Entrance: 40€. Phone : 04 50 36 42 87 Homepage : www.club-neptune.net
Number One, 158 avenue de Pressensé 69200 Vénissieux
Open : Mon-Fri 2pm-7pm Wed-Sat 9.45pm-till late. Entrance: 20€/afternoon 20€/couple evening 65€/single evening. Sauna & Hammam. Phone : 04 78 01 87 96 Homepage : www.le-number-one.com
Royal Club, 1 chemin des Voyageurs 69360 Ternay
Open : 8.30pm-5am. Phone : 04 78 02 42 65 Homepage : www.leroyalclub.com
La Venus, Rue du Bousquet 07800 Saint Laurent du Pape
Open : Tue-Sun 10.30-till. Couple only on Saturday. Entrance: 35€. Phone 04 75 85 05 32 Homepage : www.venus07.com
La Villa, 127 Route de Marseille 26200 Montelimar
Phone : 06 79 50 00 99 Homepage : www.encour.fr
Why No, 313 Rue Duguesclin 69003 Lyon
Open: Mon-Fri 2pm-8pm 10pm-till… couple+single Sat 11pm-till couple. Jacuzzi & sauna. Phone: 04 72 71 05 02 Homepage: www.whynotclub.com
L'Auberge, Route de Marennes 69360 Simandres
Swimmingpool & restaurant. Open : Mon-Fri 12am-2.30pm 3pm-7pm Sun 4pm-7pm couple+single Sat 6pm-till. Couple only. Phone : 04 78 02 96 54 Homepage : www.clubauberge.com
Le Body'X, 47 route de Saint Pierre 74800 Amancy La Roche sur Foron
Phone : 04 50 25 58 98 Homepage : www.le-bodyx.com
Capricia ,, Route deLyon 01990 St Triviers sur Moignans
Open : Fri-Sat 11pm-till late. Homepage : www.capricia.com Phone : 04 74 55 81 27
Le Cleo, A3 sortie Aiguebelette 73470 Nances
Open : Fri Sat 9pm-6am couple only Sun 3pm-3am. Entrance: 40€. Phone 04 79 28 75 45 Homepage : www.lecleo.com
Le Cocoon, 36 rue du Saget 74100 Annemasse
Phone: 04 50 84 22 33 Homepage: www.lecocoon74.com
Erotic Massage Parlors
Transsexuals / Shemales
You can sometimes find transsexual street walkers from Quai Perrache area.
Gay and Lesbian
Gay Saunas and Bathhouses in Lyon:
Double Side Lyon, 8 Rue Constantine
Sun City Lyon, 3, rue Sainte-Marie des Terreaux
Le Bellecour, 4 rue Simon Maupin
L'Oasis Club, 2 Rue Coustou
Gay Bars and Clubs:
Station B, 21 place Gabriel Rambaud
Le 1er Sous-Sol, 7 rue du Puits-Gaillot
Friends Club, 22 rue Josepph Serlin
SMAC 69 (Le Bar du SMAC), 30, rue Burdeau
L'United Café (UC), Impasse De La Pêcherie
Matinée Bar, 2 Rue Bellecordière
Le Forum Bar, 15 Rue Des Quatre Chapeaux
L' Etoile Opéra, 26 Rue De L'arbre Sec
Lesbian Bars and Clubs:
Le Domaine, 9 rue du jardin des plantes
Le L Bar, 19 Rue du Garet
Sexual Services for Women
Sex Shops & Adult Stores
Escort Services & Agencies
Sleeping
Stay Safe
Real security problems in the Lyon center are rare, but the usual advice applies.
Rue Ste Catherine, behind Place des Terreaux, is locally famous for its bars; on weekend nights there are a lot of drunk people on the street, who might be violent. The police keep a close watch but it is probably better to avoid the area if you are on your own, especially after 3AM when the bars are closed. Similar problems may be encountered in Vieux Lyon.
In populated places such as Rue de la République or outside Part-Dieu station, you may come across people advertising for charities; they can be recognised by their specific, coloured clothing. They will not ask you for money but rather give you information documents which encourage you to donate. Homeless people sell newspapers such as Macadam or Sans-abri which help them making some money without begging; they should have an ID card issued by the editors. But there are also people trying to con you and get money for some imaginary charity, sometimes by selling postcards or other items. Never give money directly to someone on the street who claims to be working for charity and does not have official documents, or if the documents look doubtful.
Emergency numbers
The European emergency number ☎ 112 should be used on mobile phones.
See Also