Saskatchewan
Saskatchewan Sex Guide advises where to find sex, working girls, prostitution, street hookers, brothels, red-light districts, sex shops, prostitutes, erotic massage parlors, strip clubs and escorts in Saskatchewan, Canada.
Saskatchewan is one of Canada's 10 provinces, located in the Prairies. Its southern third is predominantly prairie (with a reputation for being very flat), while its northern two-thirds is covered in the boreal forest of the Canadian Shield.
Sex Scene and Prostitution
Licensed strip clubs are no longer allowed in Saskatchewan, but the government says it will make an exception for charitable events once a year.
Stripping in Saskatchewan has succesfully been banned since a change in the law in 2015 restricted such activity to unlicensed premises. There was a brief spell from 2014 to 2015 when stripping was legalized in clubs and bars but the change to restrict the activity to premises that did not serve liquor proved that 'alcohol free' strip clubs were not popular in Saskatchewan.
Prostitution and escort agencies are currently legal in Saskatchewan, though street solicitation is not, but this occurs a lot in the poor areas of Regina and Saskatchewan. Sex is sold on the streets of these cities for as little as $20 for a hand-job in the car. These kind of prostitution activities are not only illegal in Saskatchewan, but they are extremely dangerous, since the street sex workers in Regina and Saskatchewan are often drug-users and gang members. So it is not uncommon for the punter to be robbed and beaten up.
Regina and Saskatoon are must see places for anyone visiting Saskatchewan. Both cities have quite good sex scene if you are in to the erotic massage parlors which are very common in Regina where you can see a lot of Asian massage salons along the Victoria Avenue and in the surrounding streets. These Thai and Chinese massage shops started opening in Regina during the years 2010-2014 and before that time there were only couple of rub&tuck shops in Regina.
Regions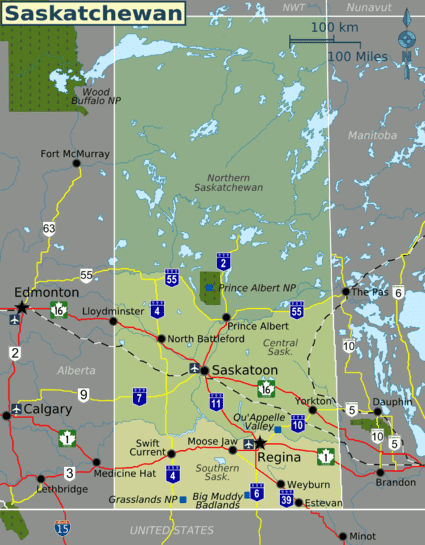 Northern Saskatchewan
Lakes and boreal forest
Central Saskatchewan
The middle of the province with its largest city, Saskatoon
Southern Saskatchewan
Prairie and grassland south of the the South Saskatchewan and Qu'Appelle Rivers, including the capital, Regina
Cities
Street Prostitutes
If a Streetwalker is Saskatchewan is white, black or Asian, chances are she is not really a prostitute, but a cop. There are not too many white street prostitutes in Saskatchewan (and no black or Asians). About 95% of them are Native Americans. Take always a good look at them, if they look like they're 25 or older and have nice looking clothes on, good make up and good posture and are white, then it is a cop. Sting operations in action are following; the cops will plant a good looking decoy somewhere on the stroll and park a van near by, a john picks her up (she's bugged) and they follow the car listening for the solicitation. Then they nail the john.
Live Sex Cams
Can I watch Live Sex Cams in Saskatchewan? - Yes, you can! Basically you can watch our online live sex shows for free anywhere in the world if you're connected to internet. You can choose any girl from our trusted WikiSexLive.com! Join to get 10 free private teasers and 9.99 credits for free!
Live Sex Cams are booming at the moment. Webcam models can be found from all over the world and you can find girls, guys, trannies, couples and groups of different ages performing to you. Watching live sex shows is free, but if you buy some credits, you will have much better chances to see adult action as desired! It's possible also to hire a webcam model to a private chat room where you can ask the person to fulfill your fantasies. Try now! WikiSexLive.com
Dating
Dating in Saskatchewan can be a bit tricky due to cultural differences, so your best bet is to sign up for a dating site before your trip so you can meet a few locals ahead of time. AdultFriendFinder.com lets you meet local members in Saskatchewan and get to know them on a personal basis before you arrive. Take advantage of site features like live chat and member to member webcams so you can begin flirting before arranging a face-to-face meeting. Since your time in Saskatchewan may be limited, get to know each other's desires beforehand, so that when you meet you can start having some real fun.
How to find Sugar Babies & Sugar Daddies
If you are looking for an alternative to escorts in Saskatchewan with a girl who doesn't charge by the hour, sugar dating is the ideal solution. There are thousands of beautiful young women at SecretBenefits willing to do anything for a man who will help them pay their bills.
Often referred to as the "Tinder for Older Guys", SecretBenefits matches hot young women interested in pampering older gentlemen. You don't have to be a millionaire at SecretBenefits.com, you just need to be a respectful gentleman who knows how to treat a woman.
Gay & Lesbian
The largest city in Saskatchewan hosts the largest Pride event in the region, Saskatoon Gay Pride, in mid-June - the dates this year are June 8 to June 15, 2013. Saskatoon, with a population of about 225,000, is slightly larger than Saskatchewan's provincial capital Regina - it's relatively conservative metropolis, at least compared with other large Canadian cities, but this friendly river town does have a growing GLBT community, and the annual Gay Pride event continues to grow in popularity at a rapid rate.
In Regina there has always been one gay bar which is called "Q Nightclub And Lounge". The locals just call it a "Gay Bar". It is located at 2070 Broad St, Regina, SK S4P 1Y3, Canada. Divas Nightclub and Pink Lounge & Nightclub are the main gay friendly bars in Saskatoon. Overall the people in the Saskatchewan are very gay friendly and have always been. There is also a huge Filipino population in Saskatchewan, so you will find many cute and sexy Filipino guys in Saskatchewan who are often up for a sexy hook ups with gay and bi-curious men.
Escort services
There are escort agencies and many escorts advertising online and in the newspapers of Saskatchewan. The StarPhoenix is the main newspaper in Saskatoon and Leader Post is the one in Regina. You can find many escort and erotic massage ads from these magazines. You have a wide variety of escorts to choose from in Saskatchewan. Average cost for one hour of sex with an escort is $200-$300. There are Black, First Nations, Caucasian, Asian & Latino sex workers in all shapes and looks. You can hook up with a hot Asian girl or a with a big white girl.
Stay safe
If you are going to have deal with street hookers in Saskatchewan, then please note that these girls are often using drugs or they are members of the gangs. Gangs in Regina and Saskatoon are very bad ass and you do not want get in to a trouble with them. Street prostitutes do also carry weapons such as guns, knifes, needles and knuckle braces. They are not afraid to beat the shit out of you. So the recommendation is not to pick up street whores when visiting Saskatchewan.
Roads can be horrible at the winter time in Saskatchewan. Be extra careful because truck drivers go speed of 110km/h in highways wether it is -30 and snow is blowing or if it is a warm summer day! Also Regina and Saskatoon are the crime capitals of Canada.
Rural crime rates in Saskatchewan are the highest in the Canada.
The report, released May 7 2017 the crime rate in rural Saskatchewan was 13,829 per 100,000 population. The Canada average was 6,210 per 100,000.
Saskatchewan's rural north had the worst crime rate, at 59,574 per 100,000. The rural south had a rate of 9,053 per 100,000, and Regina and Saskatoon combined had a crime rate of 10,138 per 100,000.
COps have been pointing to the spike in meth use and the drug trade as a driver of crime for years. According to the report, drug offenses have gone up 22% in rural Saskatchewan since 2009.
The most popular crimes in rural Saskatchewan are mischief, with a rate of 3,894 per 100,000; level one assault – the type that causes little to no physical harm – at 1,502 per 100,000; failing to comply with a court order, at 1,219 per 100,000; disturbing the peace, at 1,090 per 100,000; theft under $5,000, at 1,071 per 100,000; alcohol-impaired driving, at 908 per 100,000; and breaking and entering, at 862 per 100,000
See Also