Jalan Bukit Bintang
Jalan Bukit Bintang is a place for sex workers. Jalan Bukit Bintang and Sultan Ismail, Kuala Lumpur's golden triangle, looking for fun and "pussy".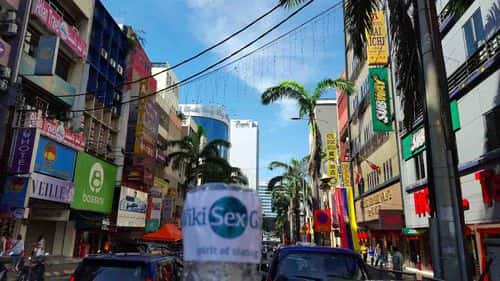 Higher class prostitutes or call girls (sometimes also called escorts) normally ply their trade at nightspots in Jalan Bukit Bintang, Jalan Sultan Ismail, Jalan Horley and Jalan Imbi. With the influx of prostitutes from China, Thailand, Indonesia, Myanmar and the Philippines, the local girls are getting the run for their money. Of all these foreigner women, those from China (locally called China Girls) seem to have entrepreneurial advantage - read How "China Dolls" Make Money In Malaysia.
There is a huge disparity in the earnings of a high class prostitute and a lower end hooker in Kuala Lumpur. A high class call girl with a regular clients would be able to earn as much as RM2,000 per night, or even more. She often also works as a Guest Relations Officer (GRO) at an exclusive karaoke lounge to solicit for clients and earn a salary with tips as well. However, life is different for hookers operating at Lorong Haji Taib or Chow Kit. They generally earn just enough for the basic living necessities. They would be lucky to earn RM50 a night. Some supplement their income working as GROs for tips in budget karaoke lounges locally called papaya farms.
See Also