Geylang
Geylang is by far the biggest Singapore's red light district. Thousands of prostitutes and massage girls from various countries offer their bodies and services in a small area of 10 side streets of the Geylang Road. The even Lorongs from 2 to 20 host various massage shops and a lot of cheap hotels. The massage shops are legal brothels where guests can obtain a 45 minute massage with extras for around 40 to 80 Dollars. During daytime pimps approach passing people to invite them to have a look at their girls that are lounging inside various hotel rooms. They are available for the same price as the massage girls. Occasionally you will see streetwalkers. They will speak to you and propose a small deal.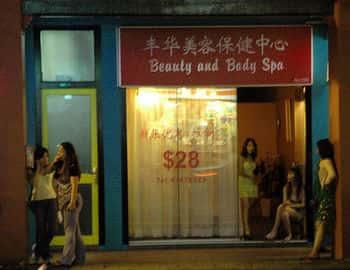 Wait until sunset and the nature of the streets in Geylang is changing. Suddenly, thousands of hookers stand on the broadwalk for public viewing. The most attractive are the Singaporean and Chinese girls that stand in front of the Darlene Hotel on Talma Road along Lorong 8. The hookers stand shoulder to shoulder on the sidewalk as you and others pass by. Some are cute like photo models, most of them are slim and in great shape. It is an overwhelming presentation of flesh. When you continue to walk thru the Lorongs and their connecting alleys you will meet many more nationalities. Many girls from Thailand, Indonesia and Malaysia, some from Sri Lanka. One back street is dedicated to Indians. The Indian whores do not stand and smile, they sit on wooden chairs in front of small shacks, where they take their customers.
How to get to Geylang?
If you do not want to visit this place by a car, it is also very easy to arrive in Geylang other ways. Several MRT stations are located nearby; namely the Aljunied, Kallang and Paya Kebar MRT stations. The Geylang Lorong 1 Bus terminal that serves the district roads is located in the Kallang Planning area.
See Also