Orchard Towers
Infamously known in Singapore as the Four Floors of Whores, the Orchard Tower is filled with pubs and KTV lounges where females and transvestites are available for just a drink or to sleep with you overnight. Orchard Towers is a 18-story office building in Singapore located on the corner of Claymore Road and Orchard Road.
This place is patronized by many Caucasians and tourists, probably due to the English-speaking Filipinos. The girls are mostly from Philippines and Thailand, aged in the 20s or early 30s. Overnight rates range from $150 to $250, and do beware of your belongings when she leaves your room the next morning.
The pubs at Orchard Tower may be patronized by local females who are not sex workers so beware of who you approach. If you have a thing for transvestites, try these pubs "Crazy Horse" or "Club Romeo".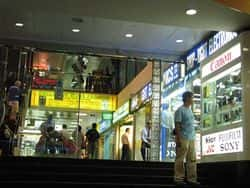 Venues
Ba Li Ba
Blue Banana
Bongo Bar
Club Romeo
Country Jamboree
Crazy Horse
FHM
Harry's Bar
Ipanema
Naughty Girl
Top 5 (formerly known as Top 10)
Peyton Place
Moonshin
See Also