Asian Massage Parlors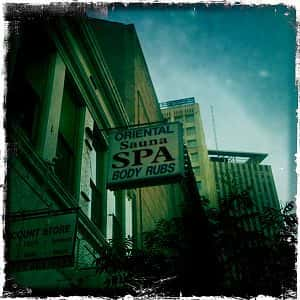 What is an Asia Massage Parlor?
An Asia massage parlour is a business where customers can receive a Happy Ending or other type of Erotic massage, the person who works in a Asian massage parlor is called massage girl or massage technician, it is usually performed by a girl on a guy, and the girl finishes off the guy with a full blown hand job. Sometimes a blow job or sex is also possible. Now that is pretty exciting, and definitely a fetish straight out of a fantasy world for most guys. Some Massages are often accompanied by some relaxing Asian music in the background. In all over the world, you can always find ads for the those Asia massage places. Asian Massage Parlors are very common in USA, Canada and Europe. They usually go by the name of "Sauna," "Spa", "Body Work", "Body Rub" or "Accupressure." any place that says accu-pressure is a code word for massage parlor. On the flip side – if you go to any place that says accu-puncture – do not bother asking the 70 year old Chinese guy who works there for a hand release.
How to Recognize Asian Massage Parlors?
They are everywhere you can find them in the world, some of them use words like Spa, Acupressure, Bodyrub, Sauna, Massage, etc in the name. Places that use terms like LMP (Licensed Massage Provider) or your local equivalent typically are not an AMP. If you would like to figuring out if it is a Asian massage parlor, the following is a quick checklist to see if you are in a massage parlor where you can get a happy ending:
Charges in USA or Canada $30-40/half hour or $50-80/one hour (in Europe usually 30-35€/half hour or $50-70/one hour)
Has curtains on the front windows and the outside lighting is dim, or sometimes flashy christmas lights on the windows
Usually no VISA or Credit Card signs on the front window
Has a very Asian sounding name
Is open at least till 9pm, sometimes until midnight or even 24h.
You usually only need 3/5 of these to be sure it is a massage parlour with extra services.
They are usually in somewhat run down buildings in strip malls and such places.
The Difference between Asia Massage Parlor and Regular Massage Parlors
The Asian massage parlour is different from other massage parlors in only a couple ways.
They usually offer a "Table Shower", "Sauna" or "Body Shampoo" services. This is where they lay you on a table in a giant shower stall, and clean you from head to toe. Then they sometimes stick you in a warm sauna for a few minutes before taking you to the massage room. Keep in mind that all this pampering is taken out of your 60 minute session. Sometimes a girl comes to and takes a bath with you.
The massage rooms usually look like seedy little bedrooms instead of legit businesses with real massage tables. But keep in mind, some Erotic massage parlos have actual massage tables.
Most "Happy Ending" massage salons will make some lame excuse why they are not taking appointments for women.
What You Need to Know After You Enter an Asia Massage Parlor:
You go in and say I want a half or one hour massage. Some places also offer 1,5h or 2h masasages. They will lead you to a massage room, you strip completely naked (if you keep your underwear on they might think you just want a regular massage, or you are a cop).
Do not use the towel they provide to cover yourself. Basically you want them to find you on your stomach, completely nude. This signals to them that you know what is going on.
They will then begin to massage you gently. First 15 minutes should be a legit good massage. They will then slowly start to massage your ass cheeks, and do little touches on your nuts. This do feel amazing.
Then girl will ask you if you want to be massaged on your front (or some variation thereof), and at this point you just turn around. They will massage your chest and front legs a bit, and then they will either point to your penis, ask "what else do you want", "do you want a Happy Ending", "do you want this to be massaged", etc...
They will often discuss the price for the extras at this point, or it they will just expect a $20-$40 tip at the end in North America or 20-40€ tip in Europe.
You finish, they provide you a hot towel or a showe and you leave happy!
See Also