Wrocław
From WikiSexGuide
Wrocław Sex Guide advises where to find sex, working girls, prostitution, street hookers, brothels, red-light districts, prostitutes, erotic massage parlors, strip clubs and escorts in Wrocław, Poland.
Wrocław[1] (Polish: Wrocław , pronounced Vrots-waf; also known as Breslau, its German name, and English name until 1945) is the largest city in the Dolnoslaskie (Lower Silesian) Voivodeship in Poland.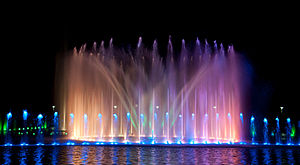 Sex Scene and Prostitution
Prostitution (Prostytucja) in Poland is legal, but operating brothels or other forms of pimping or coercive prostitution and prostitution of minors are prohibited.
Red Light Districts
There is no specified Red-light district in Wroclaw like the ones in Germany and Netherlands. There are lots of great brothels though, so you should still have a great time.
See Also: List of red-light districts
Prostitutes and Sex Workers
Wroclaw is a great place as most cities in Poland, when it comes to prostitutes. You can fuck in brothels as cheap as 100zl and still get a good quality girls. Some brothels will charge couple of hundreds of zl. But quality is not always better in these places, only the rooms and building may be fancier.
Street Hookers
You can find street walkers in Wroclaw from these areas:
There are sometimes pretty looking prostitutes hanging out in the lobby of Sofitel Hotel, located in Old Town at Ul. sw. Mikolaja 67, Wroclaw 50-127.
There are some street prostitutes hanging near the train station at the intersection between General Tadeusza Koscuiski street just before the Pulaskiego street intersection. Streetwalkers hang around a shack opposite Zielony Dom building after 8 or 9 pm. You can see the area from map wikimapia Prices can be as cheap as 50 zl, but quality is definitely not the best.
Also in the streets up north of the main square and around the railway station in Wroclaw you can sometimes spot streetwalkers at evenings.
Strip Clubs & Lap Dance
Here is a list of strip clubs in Wroclaw. Entrance fee is usually 20 to 30 Zloty, other costs are open limit.
Gogo.pl • pl. Orlat lwowskich 20a • 21.00 - 04.00
Hot Girls Club • Lelewela 23/6 • (071) 795 75 76
Night Club Atena • Krzywoustego 260 • 071 345 83 80
Strip Night Club Afrodyta • ul. Strachocinska 21 • + 48 (71) 3458380
For erotic shows and striptease you can also head to Go-Go Club on Kazimierza Wielkiego street 39.
Pruderia is an upscale striptease club in Wroclaw located on pl. Solidarności 1/3/5.
Sex Clubs
Leit Motiv on pl. Orląt Lwowskich 20 is one of the city's legends in adult entertainment. There is always a large number of pretty girls available that are willing to accompany you to the club's private rooms. The atmosphere in Leit Motiv is always relaxing and not pushy. The stylish club has a decent numer of beautiful ladies providing hot erotic shows for its customers.
In Pub 22 (Robotnicza street 74) you can also go private with the hostesses and massage and outcall escort service is offered as well.
Close to the Sofitel Wroclaw Old Town hotel you can find nightclubs Angels (Olawska street 19/8) and Club Eden (Św. Mikołaja street 13/2).
Atina is an upscale nightclub on Krzywoustego street 260 with pretty girls who have a decent grasp of English and who are available for outcall escort.
Brothels
Little brothels and private houses (prywatnys) are spread all over the city but not always easy to find. Many nightclubs and striptease bars in Wroclaw are in fact sex clubs/brothels and offer the opportunity to spend private time with the club girls.
Venus on Wawrzyniaka Street 33.
You can find a brothel on Kosciuszki street 35/3, between post office and Poker Club.
Another one is Laluna Klub on Bolesława Prusa street 32.
Club Aftrodyta is a quite nice brothel in Wroclaw. You can take a taxi from anywhere in the city (around 30-50zl), but always pay the fee price of the run when you arrive. Otherwise, the taxi driver will charge you for the waiting time. Once you leave the club, just ask them to call you a cab. There is a nice choice of all style of girls. Classic price for one hour 250zl or half hour is 150 zl. If you buy a drink for a girl it will cost about 40zl. You can ask for some speciality services and pay them directly to the girls. Try to avoid the women from ukraine working there, they try to hassle you for an extra tip for merely, touching their tits.
Club Eden is a another place close to Sofitel Hotel. There is a small line up, 2 to 5 girls. Style very different from Aftrodyta. One hour 100zl or 30 minutes 80zl. You can fuck more than one time with the girl, just agree on it before, otherwise girl will try to leave after one shot.
Here is some other brothels in Wroclaw.
Angel Club, Michalczyka 17
Sweet Cabaret, Wroclaw. Bielany, Sloneczna 1: bit outside the city.
Apartment brothels
Prices range from 120 to 200 Zloty.
Lelewela 23/6: Was the best place years ago, but when it reopened the lineup just was average, location is above standard as the prices are too.
Pradzynskiego 20/13: They always had a good selection.
Rejtana 8/1c: Selection often was just a little less good than on Pradzynskiego.
Mikolaja 13/2: Mixed experiences, but worth to try.
Sliczna 22c / 39: Just average brothel.
Hallera 41/8: May not exist anymore.
Kosciuszki 145/1: Not very pretty ladies.
Erotic Massage Parlors
Here is some massage studios listed, where you can get happy ending.
In Pub 22 (Robotnicza street 74) you can also go private with the hostesses and massage and outcall escort service is offered as well.
Emmanuelle on Bogusławskiego street 75.
Abab Abi on Slezna street 88 C1.
Dakini Tantra Spa, ul.Biskupia 8/10 (V-Floor), specialized in tantra massage servcies for men, women and couples.
Phone number 518 750 460. Ul. Stefana jaracza. 120 PLN/hr.
Phone number 793 085 497. Same address as above. 120 PLN/hr.
Phone number 664556943. Ul. Biskupie. 150 PLN/hr.
Phone number 691064944. Plac konstytucja 3 maja. 200 PLN/hr.
Phone number 530782505. No address known. 120 PLM/hr.
Transsexuals / Shemales
Gay and Lesbian
Wrocław's gaylife concentrates around two gay discos and one sex club which are usually open during weekends. There are also branches of Polish two main LGBT organisations there. The gay march is held annually.
Gay Friendly Clubs
H2O Club - Ul. Zelwerowicza 16 18, Wroclaw
Coffee Planet - Rynek Starego Miasta, Wroclaw
Orthopedia - Ul. Piotra Skargi 18, Wroclaw
Cactus Club - Aleksandra Zelwerowicza 18a, 53-681, Wrocław,
Sexual Services for Women
Sex Shops & Adult Stores
This is a guide on where to find adult cinemas, sex cinemas, adult arcades and porn cinemas in Wrocław.
Pink Shop - Ul. Biskupia 10 10b
Video shows, Gay friendly place.
Annmarie Sex Shop - Stanisława Worcella 5
Phone number +48 696 969 802, Opening hours: 7 days a week: 11-21
Escort Services & Agencies
Average price for 1 hour with escort is 200-400 zl per hour in Wrocław.
Sleeping
You should not have a problem in most hotels in Wroclaw if you bring a guest to your room. If you bring street hookers who look like junkies to your room, then the hotel management may give you a trouble.
Girl friendly Hotels
Many hotels in Wroclaw have a relaxed attitude when it comes to bringing girls to your hotel room.
The comfortable 5 star Sofitel Wroclaw Old Town has a girl friendly attitude and you can usually find pretty pro-girls in its lobby bar. The Sofitel Wroclaw Old Town is located on Świętego Mikołaja street 67 in the heart of the old city centre, close to the beautiful market square and the Hala Ludowa concert hall.
In the same area as Sofitel on Kielbasnicza street 20 is the beautiful decorated Art Hotel. This 4 stars hotel is situated in a beautiful historical building, just 150 m away from the medieval Market Square.
Close to Strachowice Airport you will find Campanile Wroclaw (Jagiełły street 7) which is girl friendly as well.
The girl friendly hotel HP Park Plaza at the bank of the Oder river (Bolesława Drobnera street 11/13) provides good value for money and its reception and security staff does not object bring ladies for the night.
Another girl friendly hotel in Wroclaw is Radisson Sas on Jana Ewangelisty Purkyniego street 10. The hotel has a very convenient location within short walking distance to all highlights of the city and shares its beautiful courtyard with the Academy of Arts.
A smaller but cosy and also girl friendly hotel is Hotel Tumski on Wyspa Słodowa street 10.
In the centrally located hotel Orbis Wroclaw on Powstańców Śląskich street 7 bringing in girls in not a hassle either.
Stay Safe
Wrocław, like most of Poland, is a very safe city and violent crime is very rare.
You should exercise the usual caution and keep guard of your valuables especially around crowded places. In pubs and clubs, don't leave your belongings unattended.
See Also