Turkey
Turkey Sex Guide advises where to find sex, working girls, prostitution, street hookers, brothels, red-light districts, sex shops, prostitutes, erotic massage parlors, strip clubs and escorts in Turkey, Europe and Asia.
Turkey (Turkish: Türkiye) is on the Mediterranean, in the Anatolian region of West Asia, with a small section in Southeastern Europe separated by the Turkish Straits (Bosphorus, Sea of Marmara, and Dardanelles). With the Black Sea to the north and the Aegean Sea in the west and Mediterranean Sea to the southwest, Turkey is surrounded by Bulgaria and Greece to the west, Armenia, Azerbaijan and Georgia to the northeast, Syria, Iraq and Iran to the southeast. This is a Turkey guide on where to find sex, prostitution, hookers, brothels and escorts in Turkey.
Sex Scene and Prostitution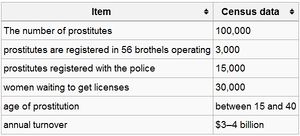 Prostitution in Turkey is legal and regulated. Brothels are also legal. However, many local governments now have a policy of not issuing new registrations, and in some cities, such as Ankara and Bursa, brothels have been demolished by court order.
Strips clubs are also present in current Turkey. Strip clubs must also be licensed and strippers must be registered and have regular health checkups. All persons entering strip clubs must be at least 18 years old.
Based upon reports and figures collected by a non-governmental organization, there are around 118,000 females working as prostitutes in Turkey.
The majority of the hookers are street workers. Over 100,000 females work as street prostitutes across Turkey.
In addition to the street, there are 15,000 sex workers who are officially registered with the government, and an additional 3,000 prostitutes working in brothels located in 55 of the 81 provinces of Turkey. There are reports of whores working in the brothels until the age of 60.
You can see the locations of brothels and Red Light Districts of Turkey from here: Red-light Districts in Turkey
The illegal brothels that make up the prostitution industry in Turkey generates over $4 Billion a year.
Regions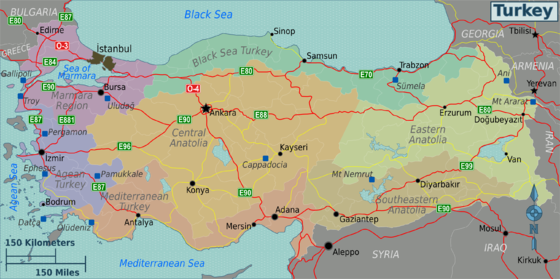 Aegean Turkey
Greek and Roman ruins between azure sea on one side and silvery olive groves on the other
Black Sea Turkey
Heavily forested mountains offering great outdoor sports such as trekking and rafting
Central Anatolia
Tree-poor central steppes with the national capital, Hittite and Phrygian ruins, and moon-like Cappadocia
Eastern Anatolia
High and mountainous eastern part with harsh winters
Marmara (region)
The most urbanized region with Byzantine and Ottoman monuments in some of the country's greatest cities like Istanbul.
Mediterranean Turkey
Mountains clad with pine woods ascending right from the heavily-indented coastline of the crystal clear sea
Southeastern Anatolia
Semi-desert Middle-Easternmost part of the country
Cities
Live Sex Cams
Can I watch Live Cams in Turkey? - Yes, you can! Basically you can watch our online live sex shows for free anywhere in the world if you're connected to internet. You can choose any girl from our trusted Live Sex Cams! Join to get 10 free private teasers and 9.99 credits for free!
Live Sex Cams are booming at the moment. Webcam models can be found from all over the world and you can find girls, guys, trannies, couples and groups of different ages performing to you. Watching live sex shows is usually free, but if you buy some credits, you will have much better chances to see adult action as desired! It's possible also to hire a webcam model to a private chat room where you can ask the person to fulfill your fantasies.
Dating
Dating in Turkey can be a bit tricky due to cultural differences, so your best bet is to sign up for a dating site before your trip so you can meet a few locals ahead of time. AdultFriendFinder.com lets you meet local members in Turkey and get to know them on a personal basis before you arrive. Take advantage of site features like live chat and member to member webcams so you can begin flirting before arranging a face-to-face meeting. Since your time in Turkey may be limited, get to know each other's desires beforehand, so that when you meet you can start having some real fun.
Gay & Lesbian
Turkey is considered to be quite safe for gay and lesbian travelers, and violence against homosexuals is quite rare. There are no laws against homosexuality in Turkey, but same-sex relationships are not recognized by the government and revealing your orientation openly is very likely to draw stares and whispers.
Turkey has got a traditional bisexual or hetero flexible culture taking its root from the history. The classic gay relationship in Turkey is between real gay men and bi-curios men. In this culture the bi-sexual men would never consider themselves as gay - or even bi-sexual, and the gay partners are mostly expected to be more feminine/queer. Hetero-flexible/bisexual guys are supposedly top (aktif = active is the common word in local culture) and do not have sex with each other. This culture can be defined as buggery or sodomy in the western meaning. As a reflection of this bi-sexual culture, there is a big transvestite & transgender society in Istanbul and in other big cities of Turkey. In the last 15 years gay culture has been westernized rapidly, and the interactions between gays themselves have become more common. In fact there is still not a sharp distinction among the sexual orientations. The border-line is very transitional between straight, bisexual, gay, queer, transvestite and transgender people.
Escort services
There are many internet agencies in Turkey. Government is blocking their sites but many can be found listed online.
Stay safe
Big cities in Turkey, especially Istanbul, are not immune to petty crime. Although petty crime is not especially directed towards tourists, by no means are they exceptions. Snatching, pickpocketing, and mugging are the most common kinds of petty crime.
Avoid dark and desolate alleys at night. If you know you have to pass through such a place at night, don't take excessive cash with you but instead deposit your cash into the safe-box at your hotel. Stay away from demonstrating crowds if the demonstration seems to be turning into an unpeaceful one. Also in resort towns, when going to beach, don't take your camera or cell phone with you if there will be no one to take care of them while you are swimming. If you notice that your wallet has been stolen it is wise to check the nearest trash cans before reporting the loss to the police. It is often the case that thieves in Turkey will drop the wallet into the trash to avoid being caught in possession of the wallet and proven a thief. Obviously it is highly likely that your money will no longer be in it, but there is a chance that your credit cards and papers will be.
See Also