Indianapolis
Indianapolis Sex Guide advises where to find sex, prostitution, hookers, brothels, erotic massage parlors and escorts in Indianapolis, Indiana.
Indianapolis is in the Nine-County Region of Indiana, right at the center of the state. It is the state capital and largest city of Indiana, United States of America, and is in Marion County. The population within city limits is approximately 830,000 people, making it the 13th largest city in the US. The metropolitan area has about 2 million (23rd in the US). Indianapolis is also known as the "Racing Capital of the World" due to the proximity of the Indianapolis Motor Speedway, home of the Indy 500 and Allstate 400 at the Brickyard (formerly known as the "Brickyard 400"). The city has several attractions outside of sports, including museums, a large zoo, several arts and historic districts, and a beautified downtown.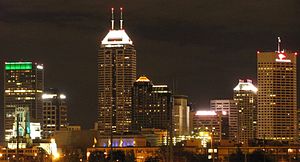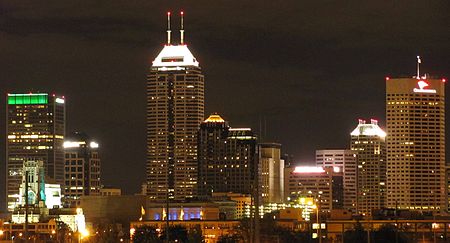 Sex Scene and Prostitution
In Indiana, it is illegal to buy or sell sex or promote or make money from the commercial sex trade. For more information on prostitution laws generally, see Prostitution. Under Indiana's laws, a person commits the crime of prostitution by engaging in (or agreeing or offering to engage in) sexual conduct in exchange for money or other property.
Sexual conduct includes intercourse, touching another's genitals and "deviate" sexual conduct (oral or anal sex).
Indianapolis Female Escorts
Check out WikiSexGuide Adult Classifieds!
Red Light Districts
There is no Red-light district in Indianapolis like the ones in Berlin and Amsterdam.
Prostitutes and Sex Workers
Most hookers advertise online in Indianapolis, like they do in every other city. Average cost is $100-$150 for quickie and $150-$250 for hour for internet hooker. Some can be very gorgeous and really hot ones usually charge $300 for hour. You can also find street prostitutes from various locations, massage parlours are all over the city and they have lots of young asian girls working and internet is full of escort agencies and escorts.
Street Hookers
Usually streetwalkers in Indianapolis charge $20-$40 for hand-job, $20-$50 for blow-job and $40-$80 for sex.
See also: How To Pick Up Hookers in North America
Street Prostitution Locations
Some of these areas can be totally dead these days and you have to be in the area at the correct time to find any street prostitution activity. Weekend and night times are always best times to search street whores.
East Washington St, Irvington Plaza area. - Some decent looking whores, but mostly nasty.
Around 10th Street and nearby area above 10th. - Woodruff Place is a beautiful area of houses, but as soon as you leave those few blocks, you can see streetwalkers.
Truck stops on the south side of Indianapolis. - Some pretty streetgirls.
Strip Clubs & Lap Dance
Indianapolis, Indiana is a small Midwestern city, but has some great strip joints. Each of these three strip clubs, which are all located within the Indianapolis city limits, have quite unique features to them and different atmospheres and vibes. If you are visiting Indianapolis or live there, and are in the mood for a strip club, consider one of the following.
Strip Club Locations
The Red Garter Gentlemen's Club and Cigar Lounge
437 South Illinois Street
Indianapolis, Indiana
As Indianapolis natives and frequent visitors know, the city centre itself is very small, but the city limits extend for miles. The Red Garter Gentlemen's Club is the only strip club in the downtown area of Indianapolis. So if you are in downtown Indianapolis for work, to catch a Colts game or jut for some sightseeing and don't want to travel too far for strip bar, the Red Garter is the place to go.
It's not just the accessibility and proximity that make this one of the best Indianapolis strip clubs, however. This is truly a 'throwback' strip club to a time before corporate chains and publicly traded places. Not that there's something inherently right or wrong with either, but The Red Garter is a very unique experience. There are not that many places these days where you can find Red Cobbler wrestling...which consists of two hot girls wrestling around in a pudding like substance.
The Red Garter hosts amateur stripper nights, and given its proximity to the Indianapolis Colts home field, the Red Garter is a big destination for pre and post game activities.
One of the main things that the Red Garter is known for as well is a VIP room which you can reserve for 30 minutes for a very private erotic dance, or for a very fun group party such as a bachelor or divorce party.
Within walking distance of most all downtown hotels, this is a place to check out when you're in Indianapolis.
7916 Pendleton Pike
Indianapolis, Indiana
As part of a publicly traded chain of strip clubs, PT's Showclub nevertheless earns its name by putting on quite a show. It really seems to know what people are looking for when they visit a strip club, or at the very least, what will prompt them to come, spend money and come back again. First of all the dancers here might just be the sexiest of all Indianapolis strip joints. And despite its upscale image and mission, PT's Showclub also hosts down home, fun themed events such as cash prizes for amateur dance nights. PT's Showclub has 6 stages and with 50 to 80 entertainers at a time. One of the advantages that strip clubs that are part of large, publicly traded strip joint chains have is the ability to get national contest winners, and PT's Showclub often will have winners of various contests (such as Miss Nude USA winners). While these girls aren't exactly household names, they certainly come with great credentials!
4011 Southeastern Avenue
Indianapolis, Indiana
Brad's Brass Flamingo bills itself as "the home of the $10 lap-dance." As with most things in Indianapolis, the city's strip clubs are places where your dollar will go a long way. Even though the lap dances are very cheap, the cover charge low (if not non-existent if you look for the specials), and the drinks inexpensive, you will not feel as if you are at a budget place. Brad's Brass Flamingo offers a huge television for watching the game, a well maintained pool table for between erotic dance entertainment, and great cigars and drink specials. This is a popular bachelor party destination and a good place for after work beers.
317-244-1989 8013 W Washington St Indianapolis, Indiana
Club Type: Topless
317-898-0424 8501 E Pendleton Pike Indianapolis, Indiana
Club Type: Topless
3535 W 16th St Indianapolis, Indiana
Club Type: Topless
317-639-4622 2320 W 16th St Indianapolis, Indiana
Club Type: Topless
317-297-2705 5054 W 38th St Indianapolis, Indiana
Club Type: Topless
317-545-5100 7259 E Pendleton Pike Indianapolis, Indiana
Club Type: Topless
317-356-7044 5255 English Ave Indianapolis, Indiana
(317) 635-7494 1539 South East Indianapolis, Indiana
Club Type: Topless
(317) 241-2211 2211 Kentucky Ave Indianapolis, Indiana
Club Type: Topless
317-787-3442 4444 S Harding St Indianapolis, Indiana
Club Type: Topless
317-637-6252 255 W Morris St Indianapolis, Indiana
Club Type: Topless
317-299-0433 3810 Lafayette Rd Indianapolis, Indiana
Club Type: Topless
3512 Madison Ave Indianapolis, Indiana
Club Type: Topless
317-266-0467 2014 W. Washington St. Indianapolis, Indiana
Club Type: Topless
317-897-6574 3849 N Post Rd Indianapolis, Indiana
Club Type: Topless
3035 Lafayette Rd Indianapolis, Indiana
Club Type: Lingerie
See also: Indiana Strip Clubs
Brothels
There are no Brothels in Indianapolis like the ones in Bangkok or Amsterdam, but most massage parlours offer hand jobs, blow jobs or sex for a reasonable rate. So you can still make your little friend happy.
Erotic Massage Parlors
Granted, every city has the massage parlour that is known for a little tug and pull and possibly a bit more. If you have ever been to one you know the routine, but if you do not here is the rundown.
When you enter some parlours have the ladies lounging around in a common area or living room. Most of the girls are from South Korea, Japan, the Philippines or China. Sometimes there may be European girls or Mexicans in the mix as well. If there is no common area each lady will come in and introduce herself.
The owner then introduces the girls that are working. They will guide you to the back of the studio and lead you to a room with a bed, where they will ask you for the house fee. This house fee usually runs $40 to $80. This is where you can indicate which girl you are interested in.
Be aware, some massage parlours may have their own order which decides which girl gets the next client. As well if there is only one girl free, then you do not really have a choice. However, if you are not happy with the girl you get and you see that there is others available do not be afraid to inquire. The owners are usually polite and accommodating for the most part and want you to have a good "experience". Likewise if you do not see anyone that interests you, feel free to leave. If you have already paid the house fee they are usually willing to refund it.
Once you are settled into the room, the girl is sent in and will start by chatting with you. Usually they will rub your back a while and then once she ask you to turn around she will touch accidentally your cock and proceed to ask if you want any extra services.
Suffice to say that the more generous you are with the tip, the more generous she will be with the time you spend together.
Massage Parlour Locations
There are about 35 erotic massage parlours in Indianapolis and most will offer sex behind the curtains. See the full list of Indianapolis Erotic Massage Parlors.
317-903-1001 3675 W 86th St Indianapolis, IN, 46268
$ 60 Chinese massage
317-941-1575 10042 E 10th St Indianapolis, IN, 46223
$ 60 Chinese massage
317-838-0661 3102 E Main St Indianapolis, IN, 46231
$ 60 Asian massage
Quality Therapeutic Massage
317-660-5333 3520 E. 96th St Indianapolis, IN, 46820
$ 70 Chinese, Korean massage
317-697-5979 5550 W 10th St, Suite C Indianapolis, IN, 46224
$ 70 Asian massage
317-897-3333 9541 E Washington St. Indianapolis, IN, 46229
$ 60 Asian massage
217-577-3790 & 317-253-1676 5501 E 71st St Indianapolis, IN, 46220
$ 60 Asian massage
317-454-2554 8580 Cedar Place Drive Suite 117 Indianapolis, IN, 46420
$ 60 Chinese massage
See the full list of Indianapolis Erotic Massage Parlors.
Escort Service & Agencies
Check out WikiSexGuide Adult Classifieds!
Transsexuals / Shemales
You can find t-girl prostitutes from internet who usually charge $120-$200 for half hour or $200-$300 for one hour. Occasionally there is some Shemale hookers in the streets who charge $40-$80 for quickie. Just be aware that most street level t-girls can be dangerous.
Transexual Friendly Clubs
Drag performance and dance in ultra-modern club Downtown - 2145 N Talbott St , Indianapolis, IN
Small, intimate watering hole 1446 E Washington St , Indianapolis, IN
Gay and Lesbian
In the 12th largest city in U.S., you're bound to find some gay 'ol times and entertainment in a relatively conservative city where the gay population is strong but still finding its voice. Many of the downtown nightclubs and restaurants are open to all walks of life, and there is plenty of historical exploration for the more site-seeking traveler. Most long-standing gay establishments still thrive in the gay 'hood, Circle City
Gay Clubs
Leather/Levi/Bear bar Downtown - 501 N College Ave , Indianapolis, IN
A heated patio, live entertainment--10,000 watts of sound Mass Ave - 231 E 16th St , Indianapolis, IN
Downtown gay sports bar Downtown - 822 N Illinois St , Indianapolis, IN
English Ivy's Restaurant & Corner Bar
Great late night hot spot Downtown - 944 N Alabama St , Indianapolis, IN
Metro NightClub and Restaurant
Classic pub vibe with great drink specials Downtown - 707 Massachusetts Ave , Indianapolis, IN
Classic gay Indy 1517 N Pennsylvania St , Indianapolis, IN
Saunas & Bathhouses
The location downtown is convenient to all the gay clubs in town, and there is free parking with in/out privileges. Cruisy steam room, sauna, tanning facilities, large indoor Jacuzzi and heated pool. Fully-equipped gym, TV lounge to relax or cruise in, and comfy changing rooms and suites available.
620 N. Capitol Indianapolis, IN 46204 Downtown
(317) 635-5796
Open 24 hours a day.
Meet Indy's hottest guys while pumping up in (and out of) the fully equipped gym. Steamy videos in each dressing room. One interesting feature of this gay bathhouse is that you can call up that interesting man next door or down the hall with room-to-room telephones, or shop for gay movies or other products in the store.
4120 N Keystone Ave (Millersville Road) Indianapolis, IN 46205 (317) 547-9210
Open 24 hours a day.
Sexual Services for Women
Internet is full of Male escorts selling sex for men and women. Usually the ones who sell sex for ladies are cheapest. You can get sex from male prostitutes as cheap as $50. But high-class Male escorts usually charge $150-$250.
Sex Shops & Adult Stores
6038 E. 82nd St. On the North side of E. 82nd St. Indianapolis, Indiana 317.849.9300
Store Hours Mon - Sat: 10am to 9pm Sun: 12pm to 6pm
The Indianapolis Lover´s Lane store is one of our medium size stores that features a wide variety of items to stimulate your desires; such as sensuous lingerie in a variety of materials and colors, intimate bedroom toys that include everything from premium vibrators to sex furniture, and shoes and boots to accentuate any lingerie outfit as well as any clubwear outfit. There are also many other things that Lover's Lane carries that the average person may not know about.
8601 N. Michigan Rd Indianapolis, IN 46268 (317) 228-9345 cirillas.com
Store Hours: Mon-Sat 10 am - 12 am Sun 12 pm - 10 pm
Spicing up sex lives since 1992, Cirilla's stocks an impressive collection of lingerie, vibrators, adult toys and romance essentials. Boutique size stores offer customers a fun and upscale environment where they can feel comfortable shopping for intimate products.
Escort Services & Agencies
There are many escort agencies and escorts advertising online. You have a good variety to choose from. Average escort charge $200-$300 per one hour. There is Black, Caucasian, Asian & Latino escorts from all different age groups. You can hook up with a hot teenage girl escort or naughty milf escort, it´s your call.
Sleeping
Budget
Quality Inn 8325 Bash St, +1 317 577-0455 An Indianapolis hotel, the Quality Inn hotel is a pet-friendly hotel near the Indianapolis Zoo, that offers guests free local calls, and high-speed Internet access in every room. Has an outdoor heated pool friendly pets (cat and dog), and breakfast is served freshly made! Walking distance of Fountain Square. Vegetarian friendly.
Suburban Extended Stay Northeast Hotel 8055 Bash St, +1 317 598-1914 All standard guest rooms come with microwaves, refrigerators, coffee makers, spacious work desks and cable television with free movies. Handicap accessible and non-smoking rooms are available upon request.
Mid-range
All Nations B&B 2164 N Capitol Ave, +1 317 923-2622 Downtown bed and breakfast located in the home of a couple who have travelled the world. This has led to their creation of their B&B, with themed rooms decorated in the motif of visited countries, i.e. New Zealand, China, Ireland and Zimbabwe. Clean, friendly and comfortable the beautiful home offers a well mainted backyard and front decks, family room, and dining room, where the owners cook guest meals.
Brick Street Inn 175 S Main St, Zionsville. +1 317 873-9177 A bed & breakfast home built in 1865. Placed right in the heart of Zionsville, a quaint arts and food district north of Indianapolis, it's family operated with has a restaurant and gift shop as well. 8 bedrooms offer different regional design styles common to Indianapolis' past. Zionsville is quite cute, filled with antique shops and art galleries.
Splurge
Crowne Plaza at Union Station 123 W Louisiana St, +1 317 631-2221. Stay in one of the 26 authentic Pullman train cars or one of the other guest rooms and suites at this hotel situated in historic Union Station. A great downtown location that is smoke-free. All rooms are equipped for high-speed internet connection. Light sleepers should ask for a room on the quiet side of the hotel, as you may hear the rumble of a train passing by.
Canterbury Hotel 123 S Illinois, +1 317 634-3000. One of the cities oldest and most beautiful hotels. Award winning, built in 1858. With a beautiful lobby bar and restaurant, French/European decor overwhelms you. Turndown service doesn't have a mint - it offers truffles. This is for the creme de la creme of hotel experiences in Indy, where celebrities often stay.
Stay Safe
Indianapolis is a very safe city in the center, but some suburbs of the city are prone to crime. Use common sense as you would in any other large city.
See Also