Augsburg
From WikiSexGuide
Augsburg Sex Guide advises where to find sex, working girls, prostitution, street hookers, brothels, red-light districts, prostitutes, erotic massage parlors, strip clubs, FKK Clubs and escorts in Augsburg, Germany.
Augsburg is a city in the south-west of Bavaria, Germany. It was a Free Imperial City for over 500 years.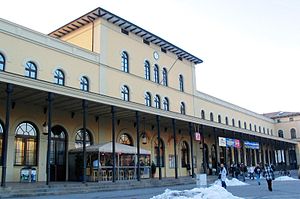 Sex Scene and Prostitution
Prostitution in Germany is legal, and so are brothels. In 2002, the government changed the law in an effort to improve the legal situation of prostitutes. However, the social stigmatization of prostitutes persists and many prostitutes continue to lead a double life. Authorities consider the common exploitation of women from Eastern Europe to be the main problem associated with the profession.
Red Light Districts
The Hasengasse, to the east of the center. The Roter Hahn, a drinking place at the entrance to Hasengasse, apparently has a discreet and silent back door.
Prostitutes and Sex Workers
In 2004, the large FKK-brothel Colosseum opened in Augsburg, and police suspected a connection to Arabaci's gang, which owned several similar establishments and was supposedly directed from prison by its convicted leader. After several raids, police determined that the managers of the brothel dictated the prices that the women had to charge, prohibited them from sitting in groups or using cell phones during work, set the work hours, searched rooms and handbags, and made them work completely nude (charging a penalty of 10 euros per infraction). In April 2006, five men were charged with pimping. The court quashed the charges, arguing that the prostitution law of 2002 created a regular employer-employee relationship and thus gave the employer certain rights to direct the working conditions. Colosseum remained in business.
Street Hookers
Strip Clubs & Lap Dance
Brothels
FKK Colosseum - Augsburg - Gubener Straße 13,86156 AUGSBURG
Phone : (0) 821 - 246 1993 Homepage : http://www.fkk-colosseum.de/ Open: Sun-Fri 2pm-1am, Mon-Sat 2pm-3am Entrance : 60 € Price: 50 €/30min
Great Things About Colosseum:
good selection of women
seems to be a tough management that keeps women under control
women are not approaching you
friendly bar people (also got other opinions)
easy to find
on main time lot of guys and heavy traffic to the rooms
very clean
Bad Things About Colosseum:
only 1 room, no space to relax without beeing in the middle of the scene
rooms are very standard
sex cinema is not good
no food in the club
no alcohol
Erotic Massage Parlors
Transsexuals / Shemales
Augsburg is not the best place for tranny lovers, but you should still find some shemale escorts if you search online.
Gay & Lesbian
The attitude towards gays and lesbians is rather tolerant with openly gay politicians and celebrities being considered increasingly normal. While some, especially the elderly, Germans inwardly still don't approve of homosexuality or bisexuality, they usually suppress open utterances of homophobia. Therefore, in most cases, display of homosexuality (holding hands or kissing) will at most provoke stares or sometimes comments by children or elderly people. In some areas of Berlin and eastern Germany 'gay-bashing' is popular with Neonazis or other gangs, so use common sense and be geared to the behaviour of the locals around you: if they display homosexuality, it is safe for you; otherwise, if not better avoid it. In small towns and in the countryside, display of homosexuality is almost unknown while it may be commonplace in Berlin and other big cities.
Gay Friendly Clubs
Centro - Maximilianstraße 35, Augsburg
Kleiner Löwenhof - Barthshof 3, Augsburg
Wandel Bar - Donauwörther Straße 157, Augsburg
Expressbar Freud - Göggingerstraße 104, Augsburg
Kerosin-Club - Göggingerstraße 26 28, Augsburg
Okult - Lange Gasse 27, Augsburg
Gay Cinemas
Inkognito - Theaterstraße 6
Hours: Mon-Thu 12h-24h Fri -Sat 12h-2h Sun- public holidays 14h-22h
Sexual Services for Women
Sex Shops & Adult Stores
Escort Services & Agencies
Sleeping
Stay Safe
Augsburg is a very safe city, maybe nearly as safe as Munich. Virtually all crimes are domestic violence, drug abuse or drunk people getting in a fight at a bar, so no dangers for tourists, except if you get drunk and then get into a fight. There is a drug scene in Augsburg, which has been a little more spread over the city after the police wiped them out of the Königsplatz. However, if you are not behaving very stupid (showing off as a tourist & having an easy pickable wallet or alike), you will not be bothered. Augsburg also tends to be pretty safe at night. Don't be afraid of using the small and poorly lighted streets in the historic district, since this is one of the best areas in the city!
See Also