Abu Dhabi
Abu Dhabi Sex Guide advises where to find sex, working girls, prostitution, street hookers, brothels, red-light districts, prostitutes, erotic massage parlors, strip clubs and escorts in Abu Dhabi, United Arab Emirates.
Abu Dhabi is the federal capital and center of government in the United Arab Emirates. It is the largest city of the Emirate of Abu Dhabi and one of the most modern cities in the world.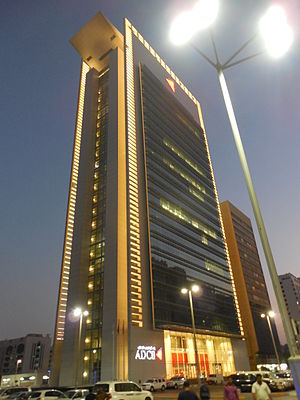 Sex Scene and Prostitution
United Arab Emirates government usually sooner or later will block all adult, pornographic and escort related websites, so you probably will not be able to use these kind of websites in a normal way when visiting UAE.
Prostitution in the United Arab Emirates is illegal, but attracts many foreign businessmen as the UAE is slowly gaining a reputation as one of the Middle East's sex tourism destinations. Many of them arrive regularly from the post-Soviet states, Eastern Europe, Far East, Africa, South Asia, and other states of the Middle East.
However, you will realize quickly that there is some difference between the law and its implementation, both in Abu Dhabi and Dubai. Prostitution is actually very common, and you will see many unmarried couples. In all cases, remain discreet, and know that, for these practices, fines and prison sentences can be very heavy, and especially if you're Muslim.
See also: Abu Dhabi Escorts
Abu Dhabi Female Escorts
You can find plenty of escorts online in Abu Dhabi. Prices are much higher than can be found on the streets and in the bars.

WARNING: On some Middle East areas there are few con artists who try to steal money from the customers. They have for example advertisement with a phone number and they tell that they have many "girls who are looking for some fun" etc. Some of them ask you money in front and after all you will receive nothing! Be careful and never pay anything before you can see value for your money!
Red Light Districts
There are no RLDs in Abu Dhabi.
Prostitutes and Sex Workers
Prostitution is rampant in Abu Dhabi, much less than in Dubai but common nonetheless. In just about any tourist hotel you can find ladies that "play for pay". Some venues are more active than others. These women are not the "crack whores" one would find at street level in many Western countries. They are regular women that are supplementing their meager day jobs as housekeepers and cooks. Many of them are Filipinas and Chinese but a large number of Eastern Europeans are showing up. This type of activity is about as open as can be without being obvious to the average citizen.
On the streets of Abu Dhabi, in particular, the bar downstairs there are many girls in prostitution, their price is very cheap, the price per hour in about 300AED per hour, but the bar girls prices are more expensive, the bar has a large number of Russian girls, Filipino girls, Chinese girls, their price will 500AED per hour, although prostitution is a violation of the UAE, as the UAE is a Muslim country, but every year there will be a lot of people come to this country, and even some people will spend a lot of money to sneak into the United Arab Emirates in Dubai, Abu Dhabi and other cities for prostitution.
Non-Pros
Not all "working" girls are direct prostitutes in Abu Dhabi. How easy it is for you to get a girl who are hunting for better life? That depends on your passport. If you are a Westerner - no problem at all. You can be old and ugly as long as you carry the right kind of passport. Most of these foreign girls here are on a visit visa and looking for somebody to take them to a Western country.
Street Hookers
Abu Dhabi does have prostitutes working the street. Walk along Hamdan Street in the evening looking for Asian girls who make eye contact. They will often offer "massage" which is easily converted into full sex. Later in the evening in the area of the Mercure Hotel on Hamdan there can be quite a street scene. This comes and goes as law enforcement ebbs and flows. You will see elderly Asians and Africans offering themselves to lower level working guys. These ladies often to not have enough identification to get into a hotel. Bar girls prostitutes who hang out in the hotel bars and discos are usually Russian, Chinese and Filipinos. These Bar girls frequent these places looking for a money and they may approach you and have a little chat. These girls are a lot cheaper than the Escorts on the internet.
Strip Clubs & Lap Dance
There are no strip clubs in Abu Dhabi, but many clubs frequented by prostitutes. These clubs are similar to the Kontaktbars in Germany & Austria. Then there are basic clubs just like in Europe and North America where you can find one stands.
The Colosseum, Abu Dhabi Marina, Abu Dhabi, UAE Tel: +971 2 644 0300
The Colosseum is Roman style nightclub where girls usually get in free and drinks are fairly priced. It is also one of the most well known Abu Dhabi's party spots, with a young international crowd. The Colosseum is a place where you can listen and dance to all the latest dance hits, which are played out by a regular great DJ.
Example the AMPM is a well known famous bar in Abu Dhabi, located at the Intercontinental hotel. Just a 1,5km away from Marina hall, this English style bar is a great place to have chill and have a drink. The AMPM opens at 5:00pm and closes around 2:00am. This bar is very popular amongst the youth and plays good music and is great place for picking up sexy girls.
Captain's Arms, Le Meridien, Abu Dhabi, UAE Tel: +971 2 644 6666
Captain's Arms is located in the luxurious Le Meridian Hotel, which also has famous nightclub called Al Birkeh. Situated in the vicinity of major tourist area of Abu Dhabi like Abu Dhabi Cultural Foundation and Abu Dhabi Mall, Captain's Arms is famous for its good service and interiour. It is also popular with tourists who sip cheap drinks during happy hours.
Chequers, Al Diar Sands Hotel, Abu Dhabi, UAE Tel: +971 2 615 6666
This is an in-house bar and nightclub located in Al Diar Sands Hotel. It is the place for a amazing night in Abu Dhabi. Just listen rocking music or enjoy exquisite wines in a beautifully decorated bar.
Hotels
Prostitution is rampant in Abu Dhabi, much less than in Dubai but common nonetheless. In a number of tourist hotels you can find ladies that "play for pay". Some venues are more active than others. In some hotel bars the girls are more aggressive than in others. The leading venues are 49rs and The Trap at the Dana Hotel and the Blitz at the Mercure hotel.
In many cases the hookers blend in very well, they don't dress very tacky.
Brothels
There are brothels in private apartment complexes. These red light establishments are hard to find, but locals and temporary workers usually know where to find them.
Erotic Massage Parlors
Check out WikiSexGuide Adult Classifieds!
There are lots of escorts online who are willing to give massage and "other" services. Many women are also available through the usual dating websites like Tagged and DIA.
Massage & Body Rubs
Check out WikiSexGuide Adult Classifieds!
Escort Service & Agencies
Check out WikiSexGuide Adult Classifieds!
Transsexuals / Shemales
Gay and Lesbian
There can be heavy penalties for homosexuality, so gay and lesbian tourists should be very discreet. Fillipinos are ready available for homosexual activity.
There are few outdoor cruising areas but the guests are completely mixed:
The Corniche
Capital Garden
Al Hosn Family Park
BDSM
Swingers
Sexual Services for Women
Check out WikiSexGuide Adult Classifieds!
Male Escorts
Check out WikiSexGuide Adult Classifieds!
Sex Shops & Adult Stores
Sex toys are not permitted in the UAE, but can be often found sold under the table. Most people will just order their sex toys and fetish gear from internet.
Sleeping
Virtually any 3-5 star hotel is girl friendly. She must have identification and will be required to have her ID scanned. It helps if her dress is not too provocative.
Following hotels in Abu Dhabi are girl-friendly:
SHERATON BEACH
ROYAL MERIDIAN BEACH HOTEL
Stay Safe
There is absolutely zero tolerance regarding drugs in the UAE. Never joke with this matter, as the penalties are very heavy, and can go up to the death penalty.
All drugs, soft or hard, are illegal in the UAE: cannabis, heroin, crack, weed, cocaine, Ecstasy. Even the smallest amounts can be detected at the airports and can lead to heavy prison sentences; quantities no bigger than 1 milligram have already sent their holders directly to jail. Detection methods are technologically very advanced at airports in Dubai and Abu Dhabi, and the authorities do not make distinctions in sentencing according to the amount owned.
The sale and trafficking of drugs most often leads to life imprisonment or to death penalty, still in force in the UAE.
Alcohol is not illegal in the UAE, but only for non-Muslims.
See Also