Zavist

- Saint Petersburg Strip clubs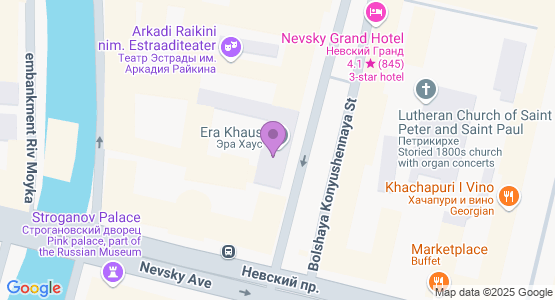 Description
"«Zavist» — is a first chain of men bars, with a wide range of entertainment opportunities and pleasures, starting from easy flirting up to erotic show and seductive beauty of a women body. Each place has its own atmosphere and charm, and its own specific entertaining thematic programs: SHOW-BAR - a night club atmosphere, you can enjoy gorgeous show and party hard... STRIP-BAR - a true striptease and a private foam-show in jacuzzi... LOUNGE-BAR - a comfortable lounge rest in the pleasant female company... TOPLESS-BAR - nearly all staff reveals the beauty of the female body... CABARET-BAR - a show program and seductive private dances... GENTLEMAN-BAR - a new format of the men's entertainment... A large choice of drinks, shakes and cocktails is at your service. Not to mention hookah and snacks, private VIP zones, entertaining karaoke, SPA rooms and a crazy-menu."
Lovely bar
Josegevara76 13 January 2017
Atmosphere
Dancers
Location
Value

Like this strip on Bol'shaya Konyusnennaya. It's the place where i like spending my weekends. Cool place, nice atmosphere, very sexy girls that's all i need to spend my time perfectly.
Awesome strip bar
Johnwilson29 12 January 2017
Atmosphere
Dancers
Location
Value

Pretty cool place in saint-petersburg. I celebrated there my birth and i had so much fun and an enjoyment. Those russian strips were super duper hot things. When they were dancing and moving around i felt like i was in a dream)
The best bar
Nickrossy 12 January 2017
Atmosphere
Dancers
Location
Value

In general it was my greatest visit to strip bar. Girls were so cool hot and gentle that i almost forgot about the time so i spent there about 5 hours and had so much fun especially with private dance that girl was incredibly sexy so she turned me on at once.
Post a review