La Rambla
Barcelona Las Ramblas can also be roughly divided into seedy and non-seedy areas. This distinction between seedy and non-seedy becomes a lot clearer during the night time when the Southern most end of the Ramblas becomes something of a red light district and is frequented by night women (prostitutes).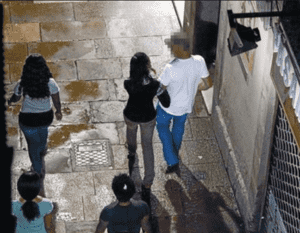 There is no place in Barcelona like La Rambla. At the daytime La Rambla is the beautiful, tree-lined street and at the night it turns in to street full of scams and whores.
People who have been and experienced the La Rambla its rich nightlife—simply know it as "fitting" praise. That's why this street is quickly becoming one of the Barcelona´s most visited areas—and why so many tourists are eager to return.
Regal during the day time and filled with tourists, La Rambla takes a big turn at night, when one of the Spains most well known red-light districts comes out of hiding. The street is actually de separation line between the neighbourhoods of El Raval and El Gotico. Both of them are most visited areas in Barcelona together with El Born too which are by the way one next the other, so it is easy to visit them on the same time. Between these three quarters are two main streets, Via Laietana between El Gotico, El Born and La Rambla street between El Gotico and El Raval. All these neighborhoods are well known for the nightclubs and the top bars in Barcelona and for his nightlife and also an area of La Rambla and old El Raval known for its many whores, tranny street hookers and gay prostitutes who are offering their sexual services once the night comes, is without a doubt the best Barcelona RLD.
Sex business in La Rambla does not wake up until the sun goes down. But don't get wrong during the day it is full of people too and it's quite hard to make your way through the streets because of so many tourists are in this area. Inside in these three districts you can find plenty of whores, normal girls, and you will find some strip joints and bars where the world's sexiest women throw off their clothes, top-quality beer is served over the counter, and unforgettable sexual encounters are made with beautiful escorts of Barcelona.

Stay Safe
There are no luxury hookers at La Rambla. In Amsterdam the red light district you have sexy girls behind the windows, but in here, there are no glass windows protecting you from the sometimes aggressive sex workers!
Pickpocketing is also very common at La Rambla 24 hours a day, so be a careful!
See Also