Bananen Bar

- Amsterdam Strip clubs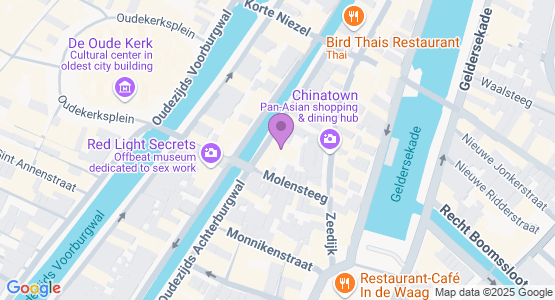 Description
In the centre of the Red Light District you will find the most fun and surprising bar in erotic Amsterdam, the Bananenbar. Needless to say that the Banana plays a central roll in the entertainment and we are not talking cocktails here! The scarcely dressed waitresses who will make your heart beat faster, will make sure your glass is always filled up!
The bar is on the first floor and contains a wide bar on which the girls perform one amazing trick after the other. It is the perfect location to hang out with your friends or to celebrate a bachelor, bachelorette, or business party. Don't miss out on a unique and fun experience in the, by far, most eccentric bar in Amsterdam, the Bananenbar!
Let yourself be seduced by the sensual dance and teasing look of the sexy dancers. The ambiance in the strip club is friendly and invites men as well as women to come enjoy a drink and to let their eyes discover the sensually dancing and exciting women. Let your imagination go wild, treat yourself or your partner to a lapdance and watch a beautiful woman uncover her erotically to the music moving body, bit by bit. For those who are intrigued, yet find beautiful half undressed women intimidating, there is also pole-dance or table dance.
Another must see place.
MagicMike 6 July 2015
Atmosphere
Dancers
Location
Value

After visiting Casa Rosso, I recommend everyone to check out the Bananen Bar. It is located right at the red light area.
Post a review