Mazatlan
From WikiSexGuide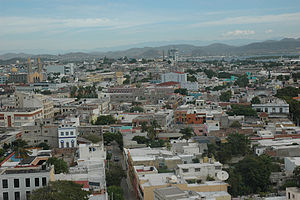 Mazatlan Sex Guide advises where to find sex, working girls, prostitution, street hookers, brothels, red-light districts, prostitutes, erotic massage parlors, strip clubs and escorts in Mazatlan, Mexico.
Mazatlán is a socially and economically diverse city, with more than 350,000 welcoming people of all races. It is a popular vacation and retirement destination for Europeans, Canadians and Americans, and also provides opportunities for working immigrants. It has several distinct inner city districts, as well as outlying suburbs that are mainly inhabited by poor and middle-class Mexicans, but there are two primary areas of interest to visitors: the Zona Dorada where the tourists go and the Centro Historico with several lovely plazas and many recently renovated 18th century commercial buildings and private residences.
Sex Scene and Prostitution
Prostitution is legal in Mexico but pimping and soliciting on the street are not.
Red Light Districts
Boys town close to airport is a bar area with the girls and some people call it red-light district of Mazatlan. But better option is to find a Casa de citas.
Prostitutes
Jusk ask for Casa de citas from any taxi driver thats the most common way to score in Mazatlan. Check the brothel section.
Street Hookers
Usually streetwalkers in Mazatlan charge about 500 pesos for fuck. Some girls who are not so pretty or are not having many customers can be fucked for as cheap as 200 pesos! Just ask taxi driver to take you for some street action.
Strip Clubs
Any taxi or pulmonia driver will take you to a strip club. The taxi driver may ask you if you want him to wait for you to take you home. This isn't really necessary because there are always lots of taxis out front of the strip clubs.
Here are a few
Caballito - located in an Old Rundwon part of Twon
Terranzas - have most girls in town
Brothels
Casa de cita. (Literally, "house of dates", or brothel.) There are many reasons why prostitution is legal in Mexico. It's safe, clean and affordable. The girls health are checked regularly, and they all use safe sex. For as little as $300 pesos you can have a "quickie" with a nice Mexican Girl. The going rate for the two high class brothels, La Fonda and Tamaulipas is $800. Includes the girl and the room for one hour, with condom, soap and towel.
Try Red Dragon there is a laid back feeling and a lot of girls. Prices around $300.
Erotic Massage Parlors
There are massage parlors all over at downtown Mazatlan and it should not be hard to find one. Most of the massage salons offers extra services.
Transsexuals / Shemales
Most of the tee-girls are nowadays online and there are a few in Mazatlan also. If your lucky you might find some from the streets.
Gay & Lesbian
In many respects, Mexico is still a developing country, and attitudes towards LGBT travelers can at times be hostile.
Gay Bars
Apaches Martini Bar - Olas Altas 439, Mazatlan
Bench & Bar - Olas Altas 508, Mazatlan
Sama Martini Bar - Olas Altas 510, Mazatlan
Passion Club - Av. Playa Gaviotas 417
Baños Sodomas Private Club - Genaro Estrada 712 Mazatlan
Kit Cat Pizza Deli - Sixto Osuna 22 Mazatlan
Old Mazatlan Inn - Pedregoso 18 Mazatlan
Pepe Toro - Av. de las Garzas 18, Zona Dorada Mazatlan
Vitrolas Bar - Heriberto Frias 1608 Mazatlan
Sexual Services for Women
It is really easy for a western woman to find a companion in Mexico.
Sex Shops & Adult Stores
Viagra is available in all Mexican pharmacies at a reasonable price without prescription.
Escort Services & Agencies
You'll find a lot of escorts in Mazatlan online.
Sleeping
There are many hotels and short-time hotels where you can take a girl with you. All the prostitutes know the places.
See also: Global list of girl friendly hotels
Stay Safe
Even a $10 prostitute will pull a condom out. Twenty years ago, there were girls, at the request of the client, that did not use condoms. Today, most will use condoms but you may be able to convince a girl by not a using a condom, by paying extra or a lot extra. Drugy prostitutes will do it, but it's extremely dangerous. Using a condom is highly recommended.
Mazatlán has the problems that all large Mexican cities do. It's wise to walk in groups or with someone else in any city after dark. Some places in the Centro Histórico and Golden Zone are well lit and occasionally busy at night. Don't let this deceive you into believing it is safe to walk around after dark. Don't be afraid to walk around the Cathedral, Malecon or Plaza Machado during the day. In most areas of the city there's almost no activity at night, and it would be unsafe to be anywhere after dark. Incidents of chain-snatching and robbery at knife point have been reported as occurring directly in front of Valentinos Disco in the Golden Zone even when it is very busy and several hundred people are standing outside.
See Also