Kaohsiung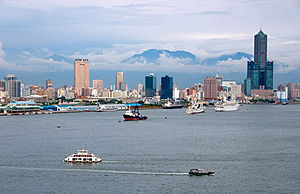 Kaohsiung Sex Guide advises where to find sex, working girls, prostitution, street hookers, brothels, red-light districts, prostitutes, erotic massage parlors, strip clubs and escorts in Kaohsiung, Taiwan.
Kaohsiung (高雄; Gāoxióng) [1]) is, with over 2.7 million inhabitants, the second most populated city in Taiwan after New Taipei and is located in the south of the island. Kaohsiung is known for its harbor, although more for commercial than tourism reasons. Hence it is also known as the Harbor Capital (港都) of Taiwan. Its year-round fine weather and the low cost of living make Kaohsiung the place to visit.
Sex Scene and Prostitution
There are hundreds of sex workers in Kaohsiung who have arrived from mainland China and lots of prostitutes also from South Korea and Vietnam.
Kaohsiung is Taiwan's second largest city and its largest port. Although the ranking has declined steadily over the last few years, Kaohsiung is still the world's sixth largest cargo-container seaport. The city has high concentrations of heavy industry, including steel production, shipbuilding, and other exports that have led to Kaohsiung's relatively high levels of air pollution (though the situation has improved substantially in recent years). Unlike Taipei, Kaohsiung is a planned city with wide streets and slightly less traffic congestion than the capital. In recent years the city has made great strides in transforming itself from a primarily industrial city into a modern Asian metropolis, and several areas of the city, such as along the banks of the Love River (Ai He, 愛河), have benefited from major beautification projects under the tenure of former mayor Frank Hsieh. The city is often known as Taiwan's "Harbor Capital" (港都) because of its close connection and heavy reliance on the ocean and maritime transportation.
Red Light Districts
There is no window type red-light district in Kaohsiung.
Prostitutes and Sex Workers
The area is a bit off the beaten path. You'll take Jiu Ru Road. All the road down towards Feng Shan. Directly after you pass the freeway, Jiu Ru Road. You'll will come to an end at Cheng Qing Road. There'll be a bridge on your right side, and two roads on your left. Take the one in the middle, it's called Jian Guo Road. It's a big road with a curve. Stay on the right side. Along the entire length of the curve, you'll see a bunch of massage parlors and spas with advertising. prices are around 2000 and up
Street Hookers
Kaohsiung Railroad station. Be careful of the street action, you may pay a little less ($1600 - $2000NT) and you probably will get what you want, but you are taking a chance of getting ripped off.
Strip Clubs & Lap Dance
Strip bars in Kaohsiung are illegal so they operate in KTV-like rooms. Like Cashbox but with girls. Each person pays NT$4,500 to NT$6,000, but inclusive of all the liquor and food you consume. Now, that's pretty expensive! But you get a discount when a regular brings you in. Actually, you'll probably be admitted only if a regular brings you in.
KTV's
When you walk into a Lady KTV, you are basically served a buffet of girls. Most Lady KTV don't charge covers, though you are expected to buy a bottle when you walk in and that will cost you $1000NT (~$35US). You might also have to pay $200-300NT (~$7-10US) to buy one of the girls a drink, and then sit and chat with her and see how you like her. If you like her, you can get yourself a booth. Now, you don't have to go that route. You can just walk in, buy a bottle of Scotch, point to a girl and say, "I'll take her!" and that's that – off to the booth with you!
Booths cost $3000-$4000 (~$110-145US) for two hours, unless you're going to crazy expensive places.
Generally-speaking, you have three grades of KTV girl:
Grade A: slammin' hot and not obligated to do much, because of that. They'll sit, drink, flirt, and sing – if you're lucky, they might get topless.
Grade B: not as hot as Grade A, but are willing to do much more. They will likely be completely naked after an hour and will be extremely friendly and fun. Sometimes, you might even get a blowjob, depending on how much of a gentleman you are.
Grade C: just like a strip club, you'll always have the busted cast. They might be uglier or older, but they're going to be extremely willing to please; even having sex is not off-the-table.
So it's really a question of what you want, when you go. Most guys will tell you to go for a Grade B – it's a good compromise. But, understand, these grades are made my the clients – you can't ask the KTV, "Can you give me a nice B-Grade girl?" They won't know what you mean. So it's best to bring a Taiwanese friend to negotiate, to be sure you get what you want. Negotiating with a pimp in a Red Light District, you can be as direct as you want…but at a Lady KTV, you have to have a little finesse.
Barber Shops
When you see two spinning barber poles outside the barber shop, you will get there something else than a hair cut. Cute girls are standing there in the colorful kimono-like silk gowns and they make an eye contact when you are passing by.
Brothels
Brothel culture is similar here than many places in mainland China: usually they are barbershops, spas, bath houses, massage parlors and so on.
Erotic Massage Parlors
There are Thai massage places all over Kaohsiung and most places you have a good chance to find extra services.
Alice Spa - right side of Jian Guo Road price around 2400NT for full service.
Transsexuals / Shemales
Try Da Heng Game - No. 8, Lane 56, Wu Fu 3rd Rd this pleace have usually t-girls. If there are non so at least they can inform you where to go.
Gay and Lesbian
Bars
Cai Se Min - 5 Da Yong St, 551-3757, 561-7276
My Place - 2-2 Yuzhu 1st St. 282-8567
Vanity - 176 Siwei 4th Rd.
Hi-Bar Club - 2/F 228 Nanhua Rd, Sanmin Dist, 236-1069
Gay Karaoke
Colorful Pad Pub - 2/F, 5 Tayou St, Yen Chen District, 551-3757, 561-7276.
Da Heng Game - No. 8, Lane 56, Wu Fu 3rd Rd, 215-5512. (Club for mature men, their admirers and t-girls)
Marui - No. 120 Shing Tieb Rd, 271-4523. (Stylish gay-owned coffee shop with karaoke club downstairs.)
Ming Chiang - 7/F, No.249, Chi Hsien 2nd Rd, 215-8335.
Possible - 2/F, No.461, Chung Shen 2nd Rd, 330-3083.
Sexual Services for Women
Sex Shops & Adult Stores
Escort Services & Agencies
You'll find a lot of escorts in Kaohsiung online.
Sleeping
See also: Global list of girl friendly hotels
Stay Safe
Kaohsiung is one of the safest cities you will ever visit, and violent crime is extremely rare.
See Also