Hello Baby

- Valencia Brothels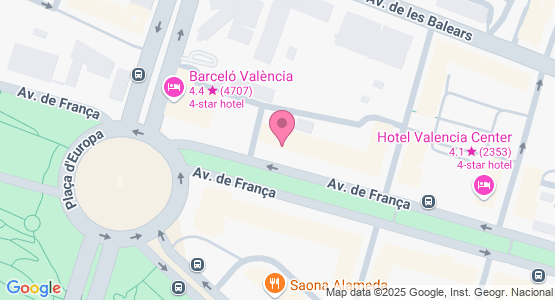 Description
EXCLUSIVE VALENCIA BROTHEL
New Hellobaby is an exclusive hostel located on the Avenida de Francia in Valencia. In our hostel they attend the best Escorts in Valencia, appointments for men, women and couples.
Our facilities meet all the necessary requirements to meet with the luxury companions that form New Hellobaby.
In our hostal relax you will enjoy an exquisite atmosphere in order to enjoy all the sensuality and eroticism that will show the best Escorts of Valencia.
Our facilities and the Freelance Escorts that we serve New Hellobaby guarantees discretion and quality when visiting our Relax Hostel.
If you think about discreetly, it is our maximum premise, the ladies of company of New Hello Baby guarantee seriousness and discretion.
On the website of New Hello Baby we will inform you daily of our new stuff . Visit our social networks and our Blog!
New Hello Baby is located in the most avant-garde area of Valencia, opposite the Torre de Francia, El Parotet, the Puente de Monteolivete and the City of Arts and Sciences.
Our Hostal Relax can easily be reached by public transport (bus line 19 E.M.T) and by Metro (Alameda or Amistad stops), taxi or private car from anywhere in the city of Valencia.
New Hello Baby has 600 m2 of facilities. We have: 2 Bars, 2 rooms with Jacuzzi and 10 rooms equipped with shower or hydromassage cabin.
We are open 24 hours 365 days a year!

In New Hellobaby your escorts will be from fractions ranging from 30 minutes, 45 minutes and 1 hour onwards. Check our Services.
They can enjoy a great variety of alcoholic drinks.
You can pay in: Cash, we accept payment in foreign currency as in Dollars and Pounds Sterling. You can also pay with all credit or debit cards except American Express.
Come visit us!
Post a review