Riga
From WikiSexGuide
Riga Sex Guide advises where to find sex, working girls, prostitution, street hookers, brothels, red-light districts, prostitutes, erotic massage parlors, strip clubs and escorts in Riga, Latvia.
Riga is experiencing a new Renaissance as the capital of Latvia, and many large-scale restoration projects on old buildings have made Riga one of the most attractive cities in Europe. Most famously, Riga is home to the largest concentration of Jugendstil (German Art Nouveau) architecture in the world. Riga has become an increasingly popular destination for Europeans drawn by its old town, its historical importance, and its reputation as having one of the most sparkling nightlife scenes in Europe.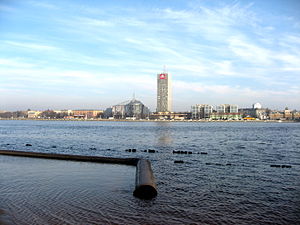 Sex Scene and Prostitution
One of the biggest disagreement reasons is extended on prostitution in Riga. By law of Latvia third-party involvement is prohibited to organize prostitution, so running a brothel and PIMP is a criminal activity in Latvia. The law cannot condemn individual prostitute if she is not giving her services in a self-representing brothel or with intermediation of PIMP.
Sex industry is rather developed in Latvia, although the myth about Thailand on the Baltic shores and cheap sex widely available is a considerable exaggeration.
Riga Female Escorts
Riga is one of beautiful Europe girls capital city. Special mix of Slavic and Baltic beauty is the reason why tall slender light hair Latvian girls will take Your breath away! And it is a fact that You can find extremely high class escort "models" in this city. Unfortunately quality sometimes can be very variable and there are a lot of scams to avoid.
Most escort services advertise online. Also in some hotels you can ask for the receptionist about escort services and they will make a call for you.
Check out WikiSexGuide Adult Classifieds!
Red Light Districts
There is no specified Red-light district in Riga like the ones in Germany and Amsterdam. Ten years ago "Old Town" was almost like a Red-light district, but now most hookers are gone from there to work online.
Prostitutes and Sex Workers
Nobody will deny that Latvia has a lot of incredibly sexy women. Although Riga has been known as very popular sex tourism destination, this is no longer the case. Prostitution has been cracked down on big time and has been almost wiped out. Although prostitution is technically legal in Latvia, the many restrictions effectively nullify it. What is far more prevalent are scams based around prostitution. Online prostitution sites are full of phoney profiles and fake pictures. Latvia is simply not a best choice for sex tourism. Additionally Latvian people are not friendly, so your chances of meeting women in a club or bar are less than that of a friendlier country. Overall, unless you are an astute local or expert pick-up artist.
Street Hookers
- WARNING SCAMS/RIP-OFF - Stay away from bars / night clubs in Kalku iela(street) & woman in old town that are too friendly(flirty), for more info: Facebook Riga Scam reporting group inyourpocket.com - Riga
Street prostitution has been virtually eliminated in Riga. Out-call or brothel prostitution is much more common.
Intersection of Pernavas Iela and Caka Iela is a place to go if you like cheap hookers. Most of the hookers here look like drug users and they charge 20-40€. Caka Iela (Caka street) was a well know street hookers zone but the scene moved now towards the little streets between Caka street and the railway.
Usually hookers hang around the Statoil gas station and in the smaller streets around it.
On Tallinas street, Pernavas street and Jana Asara street you can also spot some street hookers late at night.
Strip Clubs & Lap Dance
Avoid strip clubs in Riga. During night on Riga's main street Kalku guys will give you flyers of clubs and push you to go there and will assure you many beautiful girls and free entrance. It is not recommended to take those invitations since the incidents of tourists forced to pay sky high prizes once they entered a club are numerous. Also be on guard when you meet up a beautiful girl in a bar who suggest to visit together another place. It might be tempty but be warned that very often those girls are just bait to get you to some place where the chances of being cheated are relatively high.
There are many cities in the world where you can safely visit strip clubs. In Riga it's more often that you will be ripped off.
Anyway, if you like to visit one, here is a list of strip clubs in Riga:
Golden Dolls Night Club • Aspazijas Bulvāris 32 • 0037126222370. Probably the most distinctive and exclusive nightclub in Riga, close to the National Opera, located under Hotel de Rome.
Jockey Club • Elizabetes 49 • (371) 722 88 44
Penthouse the night club Riga • Valnu iela 19 • (371) 67212218
Royal • Brivibas 46-14 • +371 22131111
Cleopatra, Stabu street in the centre of Riga.
Relax centre Glamour on Tallinas street 32 offers a wide range of services like striptease, private dance and erotic massage. In Glamour you also have the opportunity to spend private time with the girl of your choice in Finnish sauna or swimming pool.
Nightclub Monroe, located on Skarnu street 7. Monroe has beautiful models available which whom you can stay in on the 7 private rooms.
Check out WikiSexGuide Adult Classifieds!
Brothels
Easiest way to find brothels in Riga is to get a cab and tell taxi driver to take you to the brothel. Average cost is 30-50 lats for one hour. Just tell taxi driver what price girls you want.
Erotic Massage Parlors
There are many different massage studios in Riga offering erotic massage on their menus. Usually prices start from 50€ per hour. Some places offer only sensual massage with a hand job, but some places will also offer sex (you have to negotiate the price in the room). Overall Riga is one of the best places in Europe to go if you like erotic massage. In Riga most of the time you actually get a good massage and not just a little rub. Also the hand job is done by nice strokes with warm oil. You can get very good erotic massage in Labi sex shops. Regular massage with handjob, bondage massage or even anal stimulation massage. Some of the girls are very hot and some are also fat, so you have usually two girls to choose from in each shop.
Lilami has 5 massage houses spread over the city, which can be found in Brivibas 46, Brivibas 64, Bruninieku 46 and Baznicas 24. Other salons are Okinava (also sauna), Zvaignzu Salon (Zvaignzu street 26) and Lily (Elizabetes street). For more addresses it is recommended to check out the magazines "Riga this week" or "Reklama" (Russian version).
Lami is a chain of sex shops in Riga with private rooms in the back for erotic massage and a private striptease.

Labi Erotic Massage & Striptease Sex Shop - A. Kalniņa 8. - Open 24hrs.
Labi Erotic Massage & Striptease Sex Shop -B-5, Brīvības 98 - Open 24hrs.
Labi Erotic Massage & Striptease Sex Shop -Lāčplēša 61. Open 10:00 - 22:00.
Labi Erotic Massage & Striptease Sex Shop -Lāčplēša 47 Open 10:00 - 22:00.
See also LABI Adult shop from the "Sex shops" section above.
Siacu Massage, Bruninieku Str. 50, Back entrance. Sauna: Phone: +371 67278501. Hours of Operation: 00-24. Massage Room: Phone: +371 80005577. Gsm: +371 29294020. Hours of Operation: 11.00 - 21.00. Sunday: Closed. http://www.siacu.lv/eng/index.html
Bikini, Kr. Valdemara street 49
Ecstasy, located on Kr. Valdemara street 20
Ladyland, near Reval Hotel Latvija.
Barbara Massage, Matisa street 40/42-24.
Salon Sofija, Stabu street 81
Indigo Massage Studio, 62 Stabu street, Riga. Tel. 00371 / 27 700 118 or 00371 / 67 298 830. Call center operating hours: Mon-Fri 10:00-23:00. Sat-Sun 11:00-23:00. Website: http://www.indigostudio.lv/ E-mail: info@indigostudio.lv
Most of the Riga erotic massage parlors mentioned above have fair number of pretty masseuses providing diverse menu of exciting and relaxing massages.
Check out WikiSexGuide Adult Classifieds!
Transsexuals / Shemales
Trany scene is quite silent in Latvia. There is couple of shemale escorts advertising online. If you are lucky you might find some from the Riga´s gay clubs.
Gay and Lesbian
Many gays and lesbians call Riga their home. If You are interested in partying with gay and lesbian community in Riga we suggest to use Riga entertainment company offers. The reason for that is simple - most of the gay and lesbian parties usually are private. Clubs and party places for gay community in Riga are not advertised in public. These parties are visited by established customers.
It is a fashionable club with a restaurant, a bar and a dancing floor hosting lesbian and gay parties. However, straight visitors are also welcome and form a large part of the clientele. There are many girls amongst the visitors of this place and the general atmosphere is very friendly. Friday and Saturday are the busiest days in the club whereas the rest of the week may be somewhat quieter.
Address: Kalnina 4, Phone: +371 67 282 276
Address: Gertrudes 33/35, Phone: +371 25 505 050

Porn video theatre with two rooms- straight and gay. Free walk between rooms and 2 toilets where you can have privacy.
Lachplesha Str.
Directions:Tram no 6. Cross street: Chaka and Barona Hours: 00 -24 Best times: 3:00 pm - 01:00 am
Sex Shops & Adult Stores
For nearly 20 years this chain of sex shops has offered private video booths, live strip shows and a huge selection of sex films, sex toys and other gear to spice up one's love life. Unlike many clubs that are out to rip you off in Riga, Labi provides professional staff and decent prices should you be one of this planet's many financially challenged lonely males. Private strip show costs 15-30€ for 10 minutes and you can masturbate while you watch. Girls will usually do extra services with tips. Handjob costs usually 20€ For about 60-80€ you can get 1 hour massage with a happy ending. You can choose from regular, anal or lady domina massage.
Lāčplēša 47. Open 24hrs, A. Kalniņa 8. Open 24hrs, Lāčplēša 61. Open 10:00 - 22:00, Brīvības 98
Sleeping
Most hotels will allow you to bring hookers to the room. But if you want to be 100% sure that you can have your sex orgies, then you should rent an apartment: http://estatelatvia.com & http://www.rentriga.lv
Girl friendly Hotels
To these hotels in Riga you can bring guests (girls):
The comfortable Radisson SAS Daugava Hotel on Kugu street 24. It's a hotel that easily accepts taking girls to your room. Radisson SAS Daugava Hotel is situated on the banks of the Daugava River and overlooks the old city of Riga.
The centrally located and reasonable prized Hotel Laine has a girl friendly attitude as well. Hotel Laine is situated in Art Nouveau building on Skolas street 11.
In the Islande Hotel near the Vansu Bridge and the Kipsala Exhibition Hall it is not a problem either to invite company for the night.
The Skyline Bar on the top of the Reval Hotel Latvija provides great views of Riga by night and good opportunities to meet girls looking for foreign company.
See also: Global list of girl friendly hotels
Stay Safe
CAUTION TO BARS & WOMEN
pay attention in the area of the "Freedom Monument" by night:
- LIVU laukums(square);
- KALKU iela(street), especially number 22;
- Krušovice Sporta bārs (Kaļķu 22)
There are places where often WOMEN APPROACH you quite easily in the street (or inside the bar) and propose you to drink. Those bars are ruled by organized crime, the will eventually try to:
- Make you PAY EXTREMELY high BILLS, give the incorrect change and even in some cases force you to take money out on your bank card/credit card, stealing eventually the codes of the latter;
- Drug you and STEAL ALL you have (eventually shoes and glasses too);
- AGGRESS you if you complain;
Calling police can be helpful, it may help against aggression s, but they will not do more, they are all aware of the situation, but don't stop the crime from the roots, there are some reason maybe why police don't act strongly against those bars. Pay extra attention if you are ALONE or DRUNK.
Bar scams in Latvia
Latvia are home to a number of fraud/extortion scams in bars, run by the local mobs. A common scam, which targets men, begins by coaxing you into a bar, where most often a girl will strike up a conversation with you and convince you to buy her a drink. You will then be presented with a bill for several hundred Lats. Don't worry, the bar will take credit cards - or you might be forced to withdraw money from their handy ATM. If you ask, you will even be presented with a menu and the price listed. The trick to avoiding this scam is not to enter a bar recommended to you by someone on the street or, if you do, insist on seeing the price of a drink in writing. If not, leave immediately, although this may not be possible if the exit is being blocked by a large bouncer. Here is a list of bars/clubs in Riga the U.S. Embassy specifically warns against visiting (and bars all embassy personnel from visiting):
"Foxy Lounge" - Terbatas 2; located below the "Fashion Café" in the basement of the "Vegas" casino at the corner of Terbatas and Merkela streets near the flower market.
"Babylon" (formerly "Roxy Klub") - Kalku 24; located near the entrance to Old Town on Kalku street.
"Livu Krodzins Bar/Pizzeria" (formerly "Lord's Pub"/"Groks Pub"/"Royal Pub")—Kalku 22; located next door to Babylon.
"Enigma" (formerly "Puzzle"/"Pink Panther")—Kalku 22; also located next door to Livu Krodzins Bar/Pizzeria.
"A13" (formerly "Mary") - Audeju 13; located on the east side of Galleria "Centrs" Mall.
"DD Bars"
"Lion Pub" (Formerly "Saxon") - Laipu 7; located near "Livu Square" in a small street to the right of restaurant "Steiku Haoss".
"Doll House" a.k.a "Zig Zag" – Marstalu 12; located to the right of Reformed Church.
"Bar Fly" - Vagnera 8; located near "Livu Square" in a small street to the right of "Babylon", "Livu Krodzins Bar/Pizzeria" and "Enigma".
"Kapsula Bar" (formerly "Zephry Bar") - located near Galleria Center in Old Town, near the youth hostel.
"Mademoiselle Cigar Club" – Valnu street; located in Old Town across from "Lounge 8".
"Nobu Sushi" - Grecinieku 28; located in Old Town.
"Angels" - Elizabetes 22
"Blow Style" (formerly "Monroe's nightclub") - Skarnu Iela 7, behind Indian Raja.
"Hostel Pub" - Teatra street 12
"Sonali Pub" - Brivibas street 46
These shady establishments periodically change their names so as to escape lists like these and continue extorting unwitting travelers. The above list was derived from the official U.S. Embassy warnings[1] on this particular scam, which should be used before you travel rather than solely relying on the list above which may well be outdated.
For your own safety, you should not patronize any of these locations. Many are strip bars or locations of prostitution rings. Consider yourself warned.
When visiting bars and restaurants make sure you know the price before you order and keep track of your spending, so no cheating is possible. Beware of scammers who strike up conversations out of the blue and invite you to visit their favorite club or bar; this is often a favorite way for the fraudsters to rob the foreigners, and the police are unlikely to help if you get scammed.
US embassy has issued travel advisory for clubs and bars in Riga which are involved in crimes against foreign clientele.
See Also