Agadir
Agadir Sex Guide advises where to find sex, dating, working girls, prostitution, street hookers, brothels, red-light districts, prostitutes, erotic massage parlors, strip clubs and escorts in Agadir, Morocco.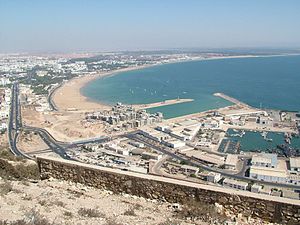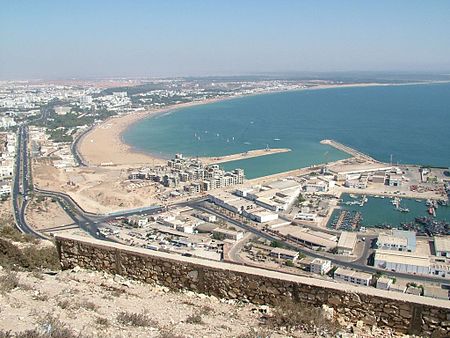 Agadir is a major modern city in the southern part of Morocco. It is of interest primarily because of its location, as it is surrounded by the Anti Atlas, the Sahara Desert on the Atlantic coast with many national parks, and secluded beaches which are all easily accessible.
Sex Scene and Prostitution
Tens of thousands of rural Moroccans who fled the drought-ravaged interior to find work in the city are struggling under high unemployment rates and expensive housing. The poverty, prevalent in slums on the city's outskirts, has led to high rates of crime, drug use and prostitution.
Most of the girls want to find a way out of the country or a rich man husband.
Remember that Morocco is a colony of France so most of the girls speaks french. Some girls get along with english but it's a bit rear.
Tips
The standard price for girls is 500 DH ($50) per night. Most will be between 18 and 30 years old. As far as looks most are 7 to 10. Most will provide BJ at no extra cost. It is rear to find a virgin girl, but if your lucky enough you'll get only anal because she's saving pussy for her husband. This is rear these days at least in Agadir because of the tourism. In general there are three ways to find women in Morocco:
Rent a furnished apartment or villa.
Nightclubs, bars, and discos for professional girls.
Shopping centers, restaurants, and cafes for semi-professional girls.
Red Light District
Morocco does not have an Red-light district as such, things are done more discretely as this practice is illegal.
Prostitutes and Sex Workers
Agadir is a famous tourist destination from the 80's. Prostitutes are all around Agadir. You can start day time with the beach and beach boulevard. Many coffee places where you see local girls are "so called brothels". Those girls who are with out an man an gives an eye are looking for company. Evening time all the bars and nightclubs which offers alcohol are filled with prostitutes.
Street Hookers
Steert hookers in Agadir are rooming around the touristic beach boulevard and sitting in coffee places. Also many hotel lounges has a few girls waiting for clients. Evening time it comes more clear and girls might even approach you. Street walkers should not cost more than $50.
Strip Clubs, Bars, Discos & Lap Dance
There are no legal Strip clubs in Agadir.
Zanzibar, Bp 901, Chemin des dunes Agadir, Morocco
Florin - I have been here ... a very nice place full of girls trying to hook you up ... they ask for 1500MAR but the best deal I got was 1000 ... I Didn't took no girl do to da hotel price ..... around 600 for 1-2 hours
This place closes early morning (8am), sometimes beautiful babes too.
Beautiful cabhoura
Very nice place.
Expensive. Lots of Saudis
Brothels
There are illegal brothels in Agadir, but most of the coffee places, bars and night clubs offer all the same services. In a muslim country girls should not be alone outside with make up and without a male family member. So it is easy to spot the girls who are looking for companion.
Erotic Massage Parlors
Hammams in Agadir is strictly for getting washed. There will be no girls in mens side and the same other way around. So big no for sexual activities. But some hotels offer you massage and there you may be lucky for some action. Addition 2014: From my own experience I can say that Hammam houses tend to 'service' a guy, especially when he is alone. erotic washing and erotic massages with HJ is possible in several places in Agadir. Normal price is 100 dirham (10 Euro) for Hammam, massage costs 200 dirham. For 100-200 dirham you get an erotic wash, HJ is also most of the times 200 dirham
Massage Parlors in Agadir
Royal Mirage Agadir & Spa Hotel Oasis, Bd Mohamed 5 -B.P 339, Agadir 80000, Morocco
Open till 20:00
30 minute massage for 200 dh. If you ask a massage Sabrina (she is little bit overweight) for 200dh more, the girl should give you some extra services. 200dhs for HJ. Nadia does body 2 body massage for 300dh including a BJ. Hanane is a little young 22 years old lady who also gives extra. Some of the girls also offer anal. Leila at the Oasis is the prettiest and she provides the full service but only with protection, 300dh should make her happy. Fatime does CIM for 300dh.
Spa Hotel Tildi, Rue Hubert Giraud, Vile Nouvelle, Agadir 80000 (located a little further up the street from Oasis)
HJ or BJ costs 300-400dh. One of the girls is very cute and maybe 20-25yo.
FLORIN . I have been here few times .... 250 massage +250-300 sex ... normal one of them do anal ... bring condoms with you they don't have !!
Palais des Roses, Secteur Touristique et Balneaire, Cite Founty, Agadir 80000, Morocco
There is a massage spa in the hotel.
Oriental Massage Riad Assala, 20 Bloc 11,Rue de Marrakech-Agadir 80 000 Maroc, AGADIR (Tel:028 84 75 89 )
You can get a handjob and anal massage for 200dh.
Founty massage - Assia Spa, Residence khalij Annakhil 4 Founty Sonaba Agadir (Tel 0540057813)
Extras cost around 300dh.
SPA by Terrake located at the end of the Marina, Spa tres chic.
https://www.facebook.com/pages/SPA-BY-TERRAKE/145554748876664 Hotel atlas marina beach Agadir, Morocco 10am-10pm
Massage costs 400dh. There are some reports of people getting extras in here for paying 300dh more and some reports people not getting any extras.
Cabins have showers and girl will wash you. Some of the masseus have short uniforms and pretty face. BJ is also offered.
Quant au Spa, Baie des Palmiers, Cité Founty P5, Secteur touristique, Agadir 80010, Morocco
+212 5288-49200
Atlantic Park Royal Atlas, Avenue 20 Aout | B.P 20012, Agadir, Morocco
Sofitel Agadir Royal Bay Resort - Agadir, Bp 226 Cite Founty P4, Baie Des Palmiers, Agadir, 80 007
There is a steam room with possible extras.
Hannane Spa, neighborhood tafkout
300dh for a great massage.
Spa C, Tel: 05 29 90 09 00
Riad Assala, Block 11, No. 20 Rue de Marrakech, Agadir. (Tel: 212528847589)
200-300dh should give you a happy ending, ball licking and BJ.
Spa Maiva, VIlla n"236 - Bloc 109 Cited Charaf, Agadir (Tel: 05 47 04 85 44)
https://www.facebook.com/SpaMaiva
1h massage costs 200dh. No extras.
Dating
Dating in Agadir can be a bit tricky due to cultural differences, so your best bet is to sign up for a dating site before your trip so you can meet a few locals ahead of time. AdultFriendFinder.com, for example, lets you meet local members in Agadir and get to know them on a personal basis before you arrive. Take advantage of features like live chat rooms and member webcams so you know who you are chatting with before arranging a face-to-face meeting. Since time in your destination may be limited, get to know each other's desires beforehand so when you do meet, you can skip the awkward introductions and start having some real fun.
Transsexuals / Shemales
Morocco has a lot of transsexuals, but because of the religion they are still online or very hard to find from the city.
Gay and Lesbian
Morocco sex tourism also attracts homosexual men and women. While homosexual acts are actually illegal in Morocco, there is still an underground gay and lesbian Morocco sex tourism scene that is particularly popular with the Arabs.
Gay Cruising Areas, Clubs and Bars
Lots of sexy arab guys who want to fuck gays. There is a lot of action in this area. Show with your eyes when you are interested and go somewhere in private. It gets cruisy after dark. Always be careful for robbing.
The disco pub is situated just to the left of entrance to 'Occidental Caribbean Village - (also has other names) Hotel & apartment complex. Used by Thomson, Pannorama, and other UK tour operators. It is on same street as Central and about 10 min walk going away from 'the square'.
Bar Vallee des Oiseaux, Mohammed v Near the Park la Vallee des Oiseaux
Macho local person personal are gay, be vigilent with some of them, take care if they invite you for a drink they dont have any cash so you will be oblige to pay for them. Lots of gay friendly, local moroccan cute guys. Hours 09h00 am till 03h30 am, busiest after 9pm.
Sexual Services for Women
Agadir is one of the world's leading female sex tourism destinations. Female sex tourists from Europe and other continents head to Morocco for the purposes of meeting locals and having a romantic relationship or 'holiday fling' while they're on vacation. This is very different to male Morocco sex tourists who plan on paying for sex services when they arrive.
Sex Shops & Adult Stores
There are no European style sex shops in whole Morocco. Some pharmacies in Agadir will sell you viagra without prescription.
Escort Services & Agencies
There is a large selection of escorts online.
Sleeping
Usually hotels require marriage certificate for having a girl in your room whether it is your girlfriend or a prostitute. Most muslim countries act this way. Agadir is a bit open because of the tourism.
Stay Safe
If you get a girl from some place other than your hotel, avoid sharing a taxi if it is late at night because you may get stopped by police. If you are stopped nothing will happen to you if you pay a few hundred dirhams, but you will loose the girl. To be on the safe side just take separate taxis.
See Also