Agadir
From WikiSexGuide
Agadir Sex Guide advises where to find sex, working girls, prostitution, street hookers, brothels, red-light districts, prostitutes, erotic massage parlors, strip clubs and escorts in Agadir, Morocco.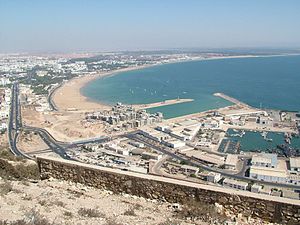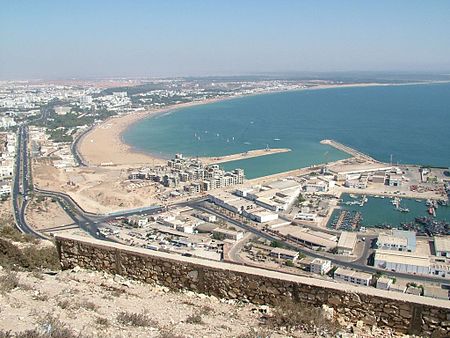 Agadir is a major modern city in the southern part of Morocco. It is of interest primarily because of its location, as it is surrounded by the Anti Atlas, the Sahara Desert on the Atlantic coast with many national parks, and secluded beaches which are all easily accessible.
Sex Scene and Prostitution
Tens of thousands of rural Moroccans who fled the drought-ravaged interior to find work in the city are struggling under high unemployment rates and expensive housing. The poverty, prevalent in slums on the city's outskirts, has led to high rates of crime, drug use and prostitution.
Most of the girls want to find a way out of the country or a rich man husband.
Remember that Morocco is a colony of France so most of the girls speaks french. Some girls get along with english but it's a bit rear.
Tips
The standard price for girls is 500 DH ($50) per night. Most will be between 18 and 30 years old. As far as looks most are 7 to 10. Most will provide BJ at no extra cost. It is rear to find a virgin girl, but if your lucky enough you'll get only anal because she's saving pussy for her husband. This is rear these days at least in Agadir because of the tourism. In general there are three ways to find women in Morocco:
Rent a furnished apartment or villa.
Nightclubs, bars, and discos for professional girls.
Shopping centers, restaurants, and cafes for semi-professional girls.
Red Light District
There is no window type red-light district in Agadir.
Prostitutes
Agadir is a famous tourist destination from the 80's. Prostitutes are all around Agadir. You can start day time with the beach and beach boulevard. Many coffee places where you see local girls are "so called brothels". Those girls who are with out an man an gives an eye are looking for company. Evening time all the bars and nightclubs which offers alcohol are filled with prostitutes.
Street Hookers
Steert hookers in Agadir are rooming around the touristic beach boulevard and sitting in coffee places. Also many hotel lounges has a few girls waiting for clients. Evening time it comes more clear and girls might even approach you. Street walkers should not cost more than $50.
Strip Clubs & Lap Dance
There are no legal Strip clubs in Agadir.
Brothels
There are illegal brothels in Agadir, but most of the coffee places, bars and night clubs offer all the same services. In a muslim country girls should not be alone outside with make up and without a male family member. So it is easy to spot the girls who are looking for companion.
Erotic Massage Parlors
Hammams in Agadir is strictly for getting washed. There will be no girls in mens side and the same other way around. So big no for sexual activities. But some hotels offer you massage and there you may be lucky for some action. Addition 2014: From my own experience I can say that Hammam houses tend to 'service' a guy, especially when he is alone. erotic washing and erotic massages with HJ is possible in several places in Agadir. Normal price is 100 dirham (10 Euro) for Hammam, massage costs 200 dirham. For 100-200 dirham you get an erotic wash, HJ is also most of the times 200 dirham
Transsexuals / Shemales
Morocco has a lot of transsexuals, but because of the religion they are still online or very hard to find from the city.
Gay & Lesbian
Morocco sex tourism also attracts homosexual men and women. While homosexual acts are actually illegal in Morocco, there is still an underground gay and lesbian Morocco sex tourism scene that is particularly popular with the Arabs.
Sexual Services for Women
Agadir is one of the world's leading female sex tourism destinations. Female sex tourists from Europe and other continents head to Morocco for the purposes of meeting locals and having a romantic relationship or 'holiday fling' while they're on vacation. This is very different to male Morocco sex tourists who plan on paying for sex services when they arrive.
Sex Shops & Adult Stores
There are no European style sex shops in whole Morocco. Some pharmacies in Agadir will sell you viagra without prescription.
Escort Services & Agencies
There is a large selection of escorts online.
Sleeping
Usually hotels require marriage certificate for having a girl in your room whether it is your girlfriend or a prostitute. Most muslim countries act this way. Agadir is a bit open because of the tourism.
Stay Safe
If you get a girl from some place other than your hotel, avoid sharing a taxi if it is late at night because you may get stopped by police. If you are stopped nothing will happen to you if you pay a few hundred dirhams, but you will loose the girl. To be on the safe side just take separate taxis.
See Also