Queens Tabledance & Nightclub

- Munich Strip clubs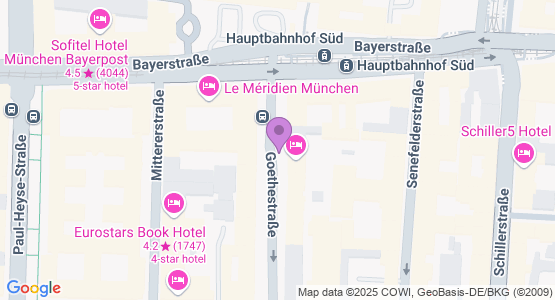 Rating
Add Review
Telephone
Show Number
Mention WikiSexGuide 
Email
Contact
Website
Open Hours

| | |
| --- | --- |
| Monday | 21 - 5 |
| Tuesday | 21 - 5 |
| Wednesday | 21 - 5 |
| Thursday | 21 - 7 |
| Friday | 21 - 8 |
| Saturday | 21 - 8 |
| Sunday | 21 - 5 |

Address
Goethestraße 3, 80336 Munich
Location
View Map
How to Get There?
opposite of Munich central station
Description
The exclusive Queens Nightclub Munich, is world famous for our beautiful hostesses and attractive nude dancers. You'll get a first class service from the minute you walk through the door.
great experience worth a visit
Marcus.H 19 March 2017
Atmosphere
Dancers
Location
Value

Nice experience so far, ladies are lovely and polite, prices are affordable, the club has many areas and VIPs, one main stage where the entertainment starts. The crowd seams to be chilled and enjoy the shows. Private dance costs 50€ which is the average price in Munich, the price of 1 Queens Dollar is 1€. I defiantly recommend a visit
unforgettable experience
Dimitri.V 19 February 2017
Atmosphere
Dancers
Location
Value

A lovely welcoming at the door, I was with some friends we ordered couple of drinks had a seat at the stage, the shows have been amazing and the ladies are extremely pretty and polite. We had great time, the club is modern and quiet big for a Tabledance, many private and VIP areas. I totally recommend it for those seeking a classy and fabulous erotic night ;)
real shows real gentlemen's club
Brinkman 26 January 2017
Atmosphere
Dancers
Location
Value

Ideal place to have some champagne and enjoy the night with the hot ladies, the club have a variety of lounges and VIP rooms meeting deferent tastes also the main hole is amazingly designed to enjoy the non stop full strip show.
Best Tabledance in Munich
Queens 11 January 2017
Atmosphere
Dancers
Location
Value

The interior is amaizenly modern t, ladies are extremly hot, lovely and playful also they do shows and pole dance, generaly its a party athmosphare but for those who prefers privacy the Club offers many lounges and VIP rooms. Special offers for Bachelor parties of group reservations is also taking place.
Post a review