Sagebrush Ranch

- Carson City Brothels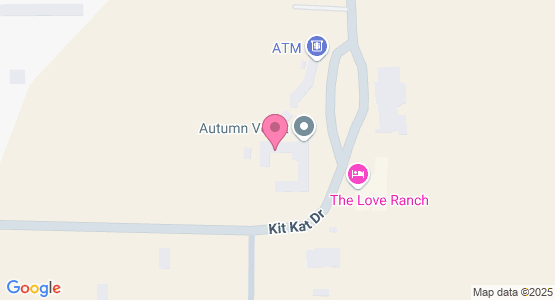 Description
The Sagebrush Ranch is a legal, licensed brothel located about 7 miles (11 km) east of Carson City, Nevada in the unincorporated town of Mound House, in Lyon County, at 50 Kit Kat Drive.
It sits along the west side of a loop at the south end of Kit Kat Drive, which also is the home to two competing brothels: The Love Ranch and the Kit Kat Guest Ranch. The Sagebrush is now owned and operated by a Nevada corporation.
For a time, the Sagebrush Ranch was two separate (but connected) licensed brothels: the Sagebrush I (originally known as the Sagebrush Red-Light Ranch) and the Sagebrush II, just north of the original brothel. In 1999, the Sagebrush I building was destroyed by a fire that was accidentally sparked by an overturned candle in one of the ladies' rooms. While no one was seriously hurt in the fire, the Sage I building was a total loss. During its rebuilding, the Sage II building housed a combined operation. When the lavish new replacement facility opened in mid-2001, the ladies all moved into the new building, called simply the Sagebrush Ranch. Save for a few remodeled rooms at its south end which connect only into the new brothel, the Sage II building was then closed and converted into a "gentlemans club". When construction was finished, the Squeeze Play Lounge was opened, and remains as a separate adult entertainment facility. However, the Squeeze Play entertainers are not brothel courtesans and the Sagebrush ladies do not perform there. With the proximity of the two facilities, it is hoped that customers of the club might be so entertained as to visit the brothel next door.'
Nearby Places
Carson City/Brothels/Moonlite BunnyRanch
View Map
Naughty girls, great drinks and fine cigars since 1955. Dennis Hof's world known Bunny Ranch is located in northern Nevada between Reno and Lake Tahoe....
Address: 69 Moonlite Rd. Carson City, NV 89706.
Post a review