D'Angelo Sex-Shop + Peep-Show

- Barcelona Sex Shops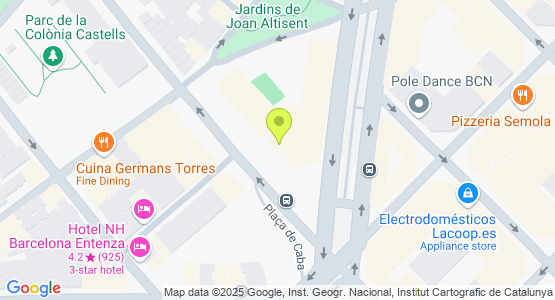 Rating
Add Review
Telephone
Show Number
Mention WikiSexGuide 
Email
Contact
Open Hours

| | |
| --- | --- |
| Monday | 10 - 24 |
| Tuesday | 10 - 24 |
| Wednesday | 10 - 24 |
| Thursday | 10 - 24 |
| Friday | 10 - 24 |
| Saturday | 10 - 23 |
| Sunday | 10 - 23 |

Address
Carrer d'Entença, 218, 08029 Barcelona
Location
View Map
How to Get There?
For Metro see map below. For all the various bus lines check out time tables on www.tmb.cat/en/home or www.maps.google.com
Description
Services: Peep-show, Sex-Shop, cinema-cabins, cinema / bang-room, glory-hole, "Zona liberal", "Vis & Vis" incl. toilet facilities. And even very kind staff!
D'Angelo is part of a chain of 7 sex-shops, 5 of which in Barcelona plus 1 each in ALicante and Madrid, but this shop has different and very interesting services on offer! Its (internet-) appearance looks gay at first, but D'Angelo's is a liberal, creative, erotic place for everybody: For the straight / hetero and the gay people!
It offers now the only remaining PEEP-SHOW in Barcelona! (After the one in the lower Las Ramblas closed in 2014/15.)
Details about the Peep-Show: It has about 8 single-cabins with locks, paper napkins and a basket are arranged a round stage which was not rotating. All in very good and clean conditions. Peep-Show times are shorter than the shops timetable because it involves a lot of staff: Peep-Show is open from Mon-Fri from 12:00 noon to 21:00 (9pm) ; Saturdays only from 16:00 to 21:00; Sunday closed. (In August only Mon-Fri from 14:00-20:00.)
There are usually 3 really nice girls working until 17:00 and another 3 girls from 16:00 to 21:00, so Monday to Friday from 16:00 to 17:00 you can enjoy the biggest choice of girls. One of the 8 girls is trans-sexual.
The girls change one after the other about every 10 minutes in the order of their numbers, which are displayed in two showcases together with their photos and working hours for the day. Dating them in a private cabin is nagotiable while they are on stage or maybe later with the management. The Peep-Show takes 2 Euro-coins for a nice duration, so it's really worth to come a long way to this Peep-Show!
Facebook: DangeloBarcelona
Maybe Europe's best PEEP-SHOW + other interesting services + even customer-friendly staff!
Peepshow 19 June 2016
I checked out this great peep-show this week. Saw 6 of the 8 girls + they're nice to cute. For 2 EUR you really get a lot to see! Shows noon (Sat 16h) to 21h. All very fair+reliable! Interesting other services + very helpful staff + toilets. Meeting girls in a private cabin is about 20 EUR. Haven't done that because I want to negotiate not only the price, but also the conditions - but communication was not really easy through the walls. But I'll come back to Barcelona for this great Peep-show!
Post a review