Senegal
Senegal Sex Guide advises where to find sex, prostitution, hookers, brothels, erotic massage parlors and escorts in Senegal, Africa.
Senegal is a country in Western Africa. With the Atlantic Ocean to the west, Senegal has Guinea-Bissau to the south, Guinea to the southeast, Mali to the east, and Mauritania to the north. The Gambia is almost an enclave of Senegal in the middle of the western coast.
Sex Scene and Prostitution
Prostitution in Senegal is legal and regulated. Prostitutes must be at least 21 years of age, register with the police, carry a valid sanitary card, and test negative for sexually transmitted infections. NGOs working with prostitutes claim that the police abuses prostitutes.
Senegal is becoming a popular destination for Female sex tourism. Senegal's gigolos actually have no nickname. But, according to a source quoted in a 2010 Globalpost report, female tourists target "rastas" who play the djembes (drums), because drummers are good in bed. Some observers brand the Senegal scene as male prostitution. Others see it as a harmless commercial take on dating.
The deal is a woman hits up with someone half her age and gives that new friend an all-expenses-paid ride in exchange for sex and a new lease of life. The Senegal gigolos apparently see themselves as tour guides who offer extras: a familiar pattern that puts the tour industry in a new light.
Regions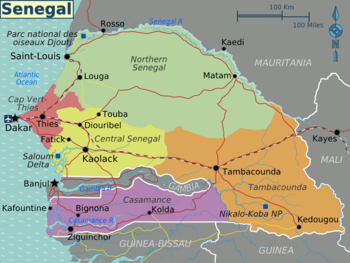 Cities
Dating
Dating in Senegal can be a bit tricky due to cultural differences, so your best bet is to sign up for a dating site before your trip so you can meet a few locals ahead of time. AdultFriendFinder.com, for example, lets you meet local members in Senegal and get to know them on a personal basis before you arrive. Take advantage of features like live chat rooms and member webcams so you know who you are chatting with before arranging a face-to-face meeting. Since time in your destination may be limited, get to know each other's desires beforehand so when you do meet, you can skip the awkward introductions and start having some real fun.
Gay & Lesbian
Lesbian, gay, bisexual, and transgender (LGBT) persons in Senegal face legal challenges not experienced by non-LGBT residents. Senegal specifically outlaws same-sex sexual acts, and has prosecuted men accused of homosexuality in the past. Homosexuals face routine discrimination in the society.
According to the 2013 Pew Global Attitudes Project, 96 percent of Senegal residents believe that homosexuality is a way of life that society should not accept, a figure essentially unchanged from 2007.
Escort Services
Stay Safe
Although highly exaggerated, there is still fighting going on in the Casamance region of Senegal.
In Dakar, take care when walking the streets: petty theft and scams are abundant. You will be approached by aggressive street vendors who will follow you for several blocks. If refused, often accusations of 'racism" will be leveled at non-local, non-buyers. Also, pickpockets use the following two-person tactic: one (the distraction) will grab one of your leg while the other (the thief) goes into your pocket. If someone grabs your clothing, beware the person on the other side more. Wear pants/shorts with secure (buttons or snaps) pockets and leave your shirt untucked to cover your pockets.
See Also